What To Look For In A Sustainable Backpack + 12 Brands To Shop

mbg Sustainability + Health Director
By Emma Loewe
mbg Sustainability + Health Director
Emma Loewe is the Senior Sustainability Editor at mindbodygreen and the author of "Return to Nature: The New Science of How Natural Landscapes Restore Us."
Last updated on May 11, 2022
Our editors have independently chosen the products listed on this page. If you purchase something mentioned in this article, we may
earn a small commission
.
They may be one of our first fashion accessories as kids, but backpacks really never go out of style. A well-constructed pack will last you years, if not a lifetime, making it an investment piece that's worth putting some thought into. We're here to make the process a little easier with this vetted list of 12 backpacks that are sustainably made and durable enough to go from the trail to the airplane, to wherever life takes you next.
Advertisement
This ad is displayed using third party content and we do not control its accessibility features.
What it means to be ethical & sustainable.
Terms like "sustainable" and "eco-friendly" get thrown around pretty liberally these days, but here's how we define them: In order to be sustainable, an item should not harm the environment at any stage of its production process. It should be constructed in a way that can be sustained into the future, without any negative effects on the people or places it comes in contact with.
Things to look for.
Here's what to look for in a backpack that fits this definition of sustainability:
Advertisement
This ad is displayed using third party content and we do not control its accessibility features.
Most backpacks are made from synthetic materials like polyester or nylon, often made from petroleum. Instead, look for:
Natural materials: Opting for a bag that comes from naturally occurring crops like cotton or animal products like leather will help keep those harmful fossil fuels in the ground. (Bonus if they are grown organically, without herbicides that pollute local ecosystems.) Depending on what these materials are treated with, they can also be compostable.
Recycled materials: Recycled polyester is another increasingly popular backpack material. You can also find bags made from post-consumer plastics (like plastic bottles retrieved from the ocean). While still petroleum-derived, these backpacks are at least keeping plastics out of landfills and giving them a second life so they have a slightly lower carbon footprint. Addie Fisher, the sustainable living enthusiast behind Old World New also notes that since backpacks aren't washed very often, they're less likely to contribute to microplastic pollution than other synthetic clothes like swimsuits.
Repurposed materials: Finally, you can find backpacks made from innovative repurposed materials like old sails or tarps. From a sustainability perspective, these are a cut above recycled materials because you don't have the emissions of breaking down a material to rebuild it as something new. Fabrics also lose some of their strength during the recycling process, whereas these materials are super strong and durable. Just the fact that they can be turned into something else at the end of their life is proof of that!
Advertisement
This ad is displayed using third party content and we do not control its accessibility features.
Backpacks are often treated with finishes that make them water-resistant and more resilient to wear and tear. Some of these, like Perfluoroalkyl compounds (PFCs), have a negative impact on the planet (they stick around in the environment forever) and human health (they are suspected endocrine disrupters1).
Avoid harmful finishes by looking for backpacks that are certified by Oeko-Tex or bluesign—both verifiers of safer textiles.
The construction quality of a backpack is probably the most important thing to consider. Unlike items like underwear, which you'll likely need to dispose of after a few years of use, backpacks can last you forever! After all, they'll never stop fitting. So read what reviewers say about how a certain pack is holding up over time. (We took the time to do that for you below.)
Advertisement
This ad is displayed using third party content and we do not control its accessibility features.
Finally, you'll want to consider how you'll actually be using your backpack. If it's meant to be a work bag, for example, make sure its dimensions will fit your laptop before you press purchase. Comfort should play a role in your choice too.
"Will the straps be comfortable to wear? Is it ergonomically designed? All of these aspects will help ensure that the backpack actually works for me, and thus, will last a long time for me to use," notes Fisher.
This means that you might want to try on a backpack in person before committing—especially if it's something you'll be wearing for an extended period of time like a hiking pack.
Brand recommendations.
While no brand is doing sustainability perfectly (the most sustainable option is always to use what you already have as opposed to buying anything new), the following dozen have shown commitments to the criteria listed above.
Advertisement
This ad is displayed using third party content and we do not control its accessibility features.
How we chose:
I've reviewed hundreds of products for their eco-merits over the last seven years as a sustainability editor. To put this list together I called on my own knowledge of sustainable materials and practices as well as customer reviews that gave me a sense of a product's fit, functionality, and construction quality.
While sustainable backpacks should be investment pieces, I know that not everyone has hundreds of dollars to shell out for them. That's why I made sure to include lower-priced options, even if it meant giving up a sustainable perk or two. Whenever a brand has some work to do in a certain category, it's called out in the description.
Be it an indestructible work bag made from truck tarps and compostable textiles or a diaper bag that doubles as a cute crossbody, there's a sustainable something for everyone on this list.
Best all-around: Cotopaxi Batac Del Día
Eco perks: Made from repurposed material, hand-sewn
Other perks: Lightweight, durable
Cons: Made from plastic materials, bright colorways might not be for everyone
This bright bag is made from a patchwork of colorful nylon fabric scraps: discards from the fashion industry that would have otherwise gone to waste. The fun part is no two bags are alike, and Cotopaxi's sewers are free to design the unique pattern of each one. (You can either choose your palette from the day's selections or let the brand surprise you!)
Reviewers rave about how the 24L size is perfect for everything from storing schoolbooks to taking on a day hike. The pack also has a padded area for your laptop, comfortable shoulder and chest straps, and mesh waste bottle holders so it can take you from the office to the outdoors in a flash.
Cotopaxi Batac Del Día (from $80); amazon.com, zappos.com, cotopaxi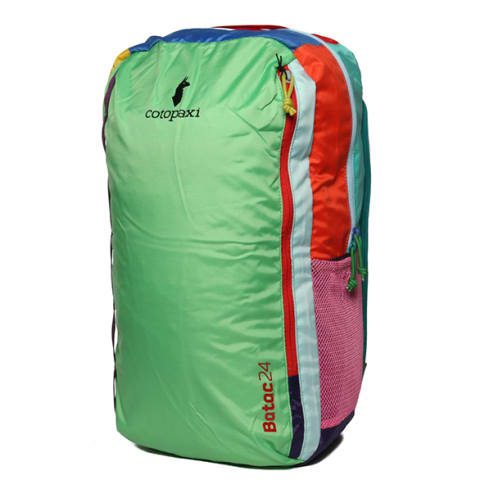 Cotopaxi
Best laptop backpack: Fjallraven Tree-Kånken
Eco perks: Made from semi-natural materials
Other perks: Bottom straps, interior cushion
Cons: Not a ton of pocket space
A play on the Swedish heritage brand's original Kånken bag, the Tree-Kånken is made from—you guessed it—a lyocell material from trees grown in a sustainably managed, traceable forest. (While this fabric is derived from plants, it does need to go through some hefty processing before it can get the soft, cozy feel that Fjallraven fans rave about. Read more about that here.)
It's a great size for lugging around a laptop, and its lightweight materials mean it can double as a hiking daypack. Like the original Kånken, this bag comes with a removable seating pad for a little extra cushion whenever you need it. It also features bottom straps so you can secure your yoga mat and head straight to class from work.
Fjallraven Tree-Kånken (from $124.95); amazon.com, nordstrom.com, fjallraven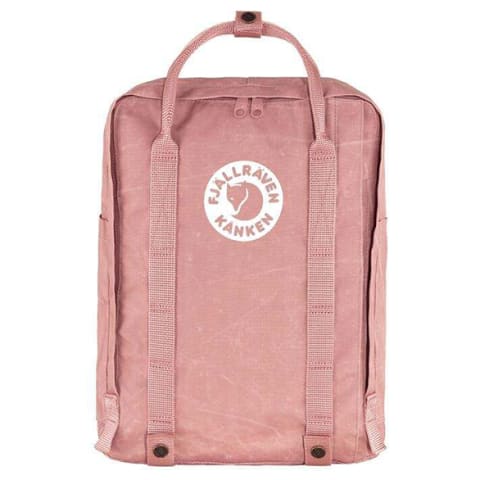 Fjallraven
Best for commuting: Modern Picnic The Backpack
Eco perks: Designed for waste reduction
Other perks: Multipurpose
Cons: Made from synthetic materials and finishes
As someone who's used to packing a work lunch every day, I'm no stranger to spills, leaks, and the occasional Mason jar crack. Modern Picnic's sleek backpack packs an unsuspecting cooler section that keeps food cold all day and takes the pain out of the prepacked lunch. It makes the process of commuting with food (and reducing your packaging waste in the process) so much smoother, with a spill-proof insulated compartment and a little slot for reusable cutlery. Perhaps the best part is the vegan leather bag also has a separate slot for your laptop. (Though some reviewers note that their larger laptops didn't quite fit, so check the size of yours first to make sure.) This 2-in-1 bag is so good that it has some reviewers saying they're "never buying another backpack again."
Modern Picnic The Backpack (from $210); modernpicnic.com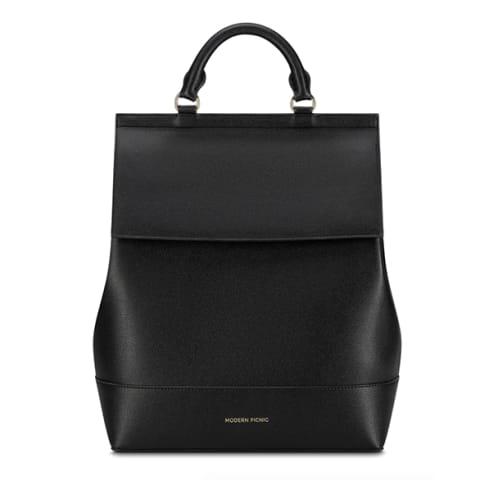 Modern Picnic
Best travel backpack: Patagonia Black Hole Duffel
Eco perks: Uses recycled materials, bluesign certified
Other perks: Durable and spacious
Cons: Made from plastic materials
Patagonia is super transparent about what goes into its products, and this bluesign-certified bag is made from 87% recycled polyester materials. I personally use this one when I travel, and when I say it fits everything, it fits everything. It feels much roomier than every other duffel I've tried, and the comfortable straps ensure it's never too much of a pain to lug through the airport or train station.
Patagonia Black Hole® Duffel Bag 70L (from $159); patagonia.com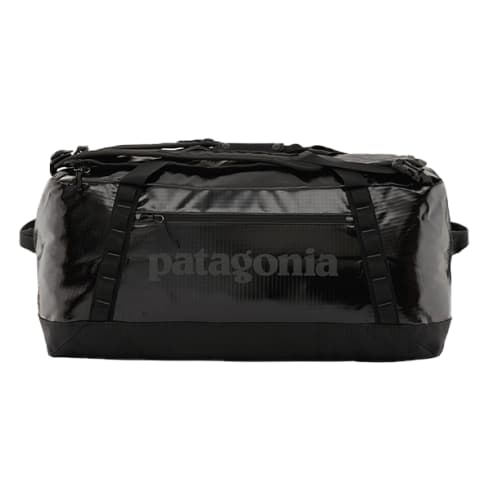 Patagonia
Best budget: Herschel Standard Daypack
Eco perks: Made from natural materials
Other perks: Timeless design
Cons: Lacking transparency about supply chain and sourcing
This affordable midsize bag is made from natural materials (cotton) and features Herschel classic, minimalist design. If you're on a budget and looking for a comfortable bag without the bells and whistles, this one is for you. We do wish the brand was more transparent about its supply chain and manufacturing practices, however, as its website—like its backpacks—is pretty bare-bones.
Herschel Standard Daypack (from $44.99); amazon.com, herschel.com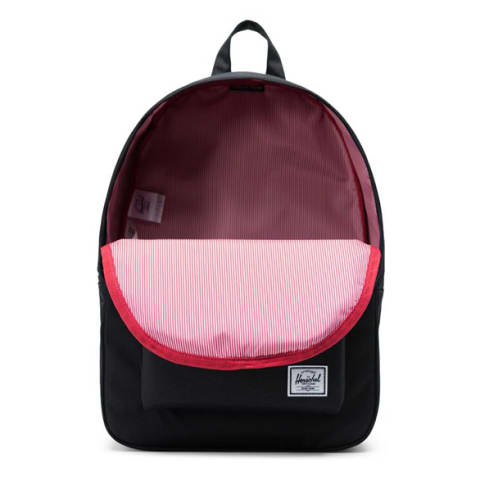 Herschel
Best backpack cooler: YETI Hopper M20 Backpack Soft Cooler
Eco perks: Durable
Other perks: Ergonomic design
Cons: Synthetic materials and finishes
YETI has earned a reputation as the cooler brand for outdoor enthusiasts, and its signature products are incredibly rugged and durable. The Hopper combines the functionality of a cooler with the comfort of a backpack, and all kinds of discerning reviewers—from miners to adventurers—rave about how awesome it is for keeping up to 18 cans cool for a day away.
In terms of sustainability, we'd like to see more recycled materials in here and more information about the finishing materials they use, though YETI has made commitments to reduce its corporate emissions by 50% by 2030 and use renewable energy to power all of its U.S. facilities this year.
YETI Hopper M20 Backpack Soft Cooler (from $325); yeti.com, amazon.com
YETI
Best for day hiking: Osprey Daylite Plus Pack
Eco perks: Made from recycled materials
Other perks: Lightweight, comfortable
Cons: Made from plastic materials
To find out what makes the perfect hiking pack, we called on someone who knows her way around a trail: outdoor photographer Kat Carney. Carney said, for starters, a chest strap is key. "Even if you're just walking, it's nice to have to be able to take a little bit of weight off and have the pack more securely on you so that if you bend over and pick something up, it's not flopping all over." From there, a simple, lightweight design without excess bells and whistles will be the easiest to adventure with on a short trip. This Osprey recycled nylon pack fits the bill, with ergonomic shoulder and chest straps and a lightweight ventilated design for long days of exploring.
Osprey Daylite Plus Pack (from $60); osprey.com, amazon.com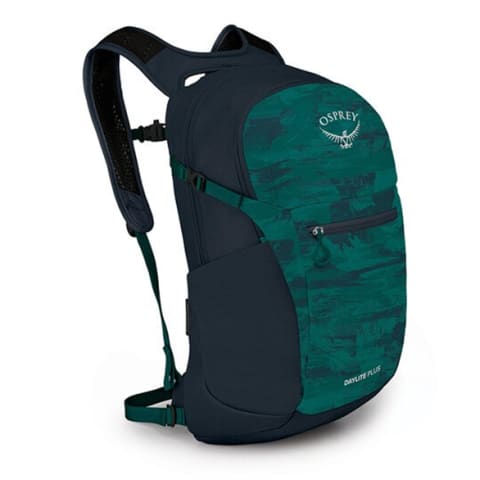 Osprey
Best for backpacking: Gregory Kalmia 50
Eco perks: Made from recycled materials
Other perks: Lightweight, comfortable
Cons: Made from plastic materials
For overnight camping, Carney notes that comfort is key, so you'll want a padded waist strap and a ventilated back panel for breathability. Small pockets on the sides and straps can also come in handy for grabbing items you need right away, like lip balm or sunscreen. This option from Gregory—also made from recycled materials—earns high marks for its comfort, design, and weight distribution. "I loved how comfortable this pack was," writes one reviewer. "I took it on a 21-mile trip the first time I used it and there was no 'break-in' period." Gregory also offers repair services for its products to ensure that they stay in use for a long, long time.
Gregory Kalmia 50 (from $279.95); backcountry.com, gregory.com
Gregory
Best kids backpack: Ten Little Recycled Backpack 12"
Eco perks: Made from recycled material, Oeko-Tex certified
Other perks: Customizable
Cons: Made from plastic material
For the eco-conscious kid in training, this recycled polyester pack (with an Oeko-Tex–certified waterproof finish) could not be a better fit. Designed for little ones ages 2 to 4, it's about a foot tall and wide—which most reviewers say is a perfect size, not too big to overwhelm their kiddo, but not so small that it doesn't fit anything. The main interior pocket, mesh water bottle holders, and separate customizable sticker pack were the big selling points for this one. And we love that its interior name tag has multiple spots so it can be passed down between proud owners.
Ten Little Recycled Backpack 12" (from $36); tenlittle.com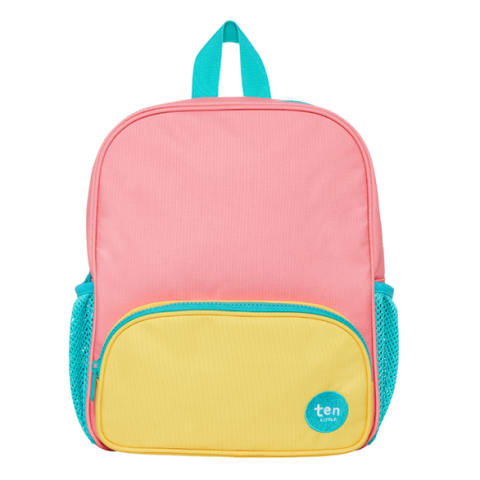 Ten Little
Best leather: Milaner The Haley Woven Backpack
Eco perks: Made from natural materials, made to order
Other perks: Durable and timeless
Cons: Pricey
Leather is a naturally water-resistant, biodegradable material that will last forever with proper care. And Milaner's leather bags are made-to-order and hand-crafted by Italian and French makers to minimize waste. This timeless woven backpack has a nifty interior zip pocket and magnetic top, making it the perfect day bag. Despite its deceptively compact size, one reviewer notes that it can comfortably fit a laptop, a book, a makeup bag, and a sweater.
Milaner The Haley Woven Backpack (from $375); milaner.com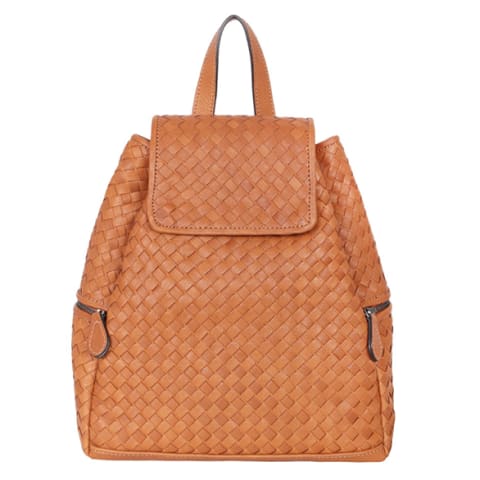 Milaner
Best diaper bag: Upper La Madison Elegant Vegan Leather Diaper Bag Backpack
Eco perks: Durable, multipurpose
Other perks: Roomy with 13 pockets
Cons: Made from plastic materials
This vegan leather (read: plastic) gets its sustainability perks from its functionality. Reviewers report getting tons of compliments on it from people who don't even notice it's a diaper bag, meaning you can get good use out of this one long after your baby grows up. The spacious bag with 13 (!) internal pockets can also be worn as a backpack, crossbody, or messenger bag. Moms also note that it's comfortable to wear and durable enough to stand up to any baby mess, and that's saying something!
Upper La Madison Elegant Vegan Leather Diaper Bag Backpack (from $109); uppernewyork.com
Upper New York
Most durable: Freitag F306 Hazzard
Eco perks: Made from reused & recycled materials, durable
Other perks: Unique design
Cons: Made from plastic materials
Yes, this backpack is prohibitively pricey, but the fact that it's made from water-repellent PVC truck tarps means it's almost guaranteed to last you forever. Think about how much trucks have to withstand; your commute is nothing in comparison! Freitag is a Swiss company known for its innovative materials (thinkivory nut buttons and compostable tags), and the lining on this bag is made from recycled PET bottles.
With a roomy laptop compartment and front zipper, it would make a great one-of-a-kind work bag.
Freitag F306 Hazzard (from $380); freitag.com
Freitag
The takeaway.
Backpacks let us carry the world on our shoulders—and these 12 more sustainable ones will lighten the load just a bit. It pays to take a "slow fashion" approach to your shopping because once you find your perfect pack, you've got a companion for life.