How 3 Psychologists Are Staying Socially Connected Right Now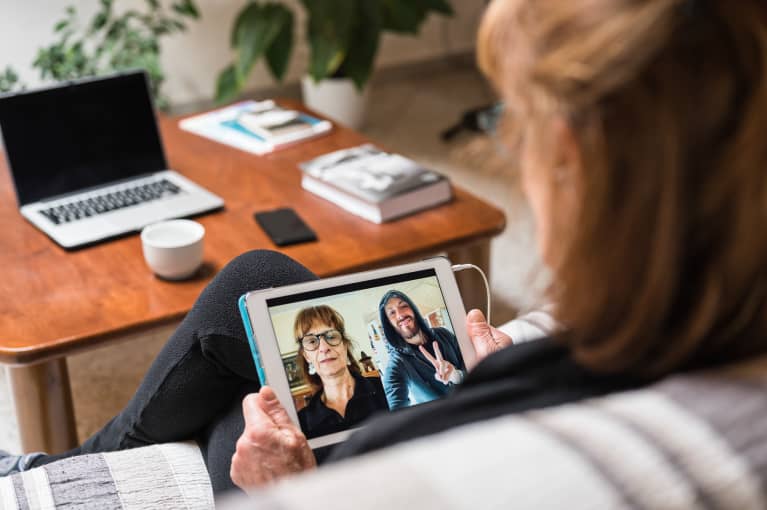 Our editors have independently chosen the products listed on this page. If you purchase something mentioned in this article, we may
earn a small commission
.
I am not a hugger. The thought of hosting a large dinner party in my less-than-spacious apartment gives me anxiety. I am terrible at reaching out to friends who don't live nearby. These were all truths before the days of social distancing.
Now, I long to hold my loved ones tightly, to fit an unreasonable number of people into my living room, and cook for all of them—with zero regard for the dishes that pile up. While I can't do those things just yet, I can reach out to friends, family, and co-workers.
After reflecting on the changes in my social routine, I no longer take for granted my ability to stay connected, even if virtually. It also made me wonder how others are staying connected right now, both professionally and personally. I reached out to three psychologists who shared their current strategies for maintaining connection:
I'm practicing telemedicine with clients and texting with Grandma.
During this time of sheltering in place and social distancing, it has become really important to stay connected with other people. Our team at the clinic has transitioned patients to telehealth, which is working well to stay in contact with patients and make sure they continue to get the care they need.
Internally, we have always used Slack to communicate throughout the day, but it has become an even more valuable way to connect with employees while working from home. We're being deliberate about checking in throughout the day to find out how everyone is doing, share funny memes, and have the kinds of conversations we normally would in the staff lounge over lunch.
On the personal side, I'm being much more intentional about reaching out to friends and extended family members via text and phone throughout the week. My best friend and I have instituted a Monday morning coffee chat on Zoom to start the week. That has been great for keeping in touch and making sure we're still having face-to-face connection.
My family set my grandmother up with a smartphone several years ago, and I've never been more grateful. Even at 94 she is a pro with texting and FaceTime, which makes it much easier to check on her and keep her company while she's alone in her apartment for all these weeks.
—Nicole Beurkens, Ph.D., CNS, Holistic Child and Family Psychologist
I'm prioritizing connection but also taking time for myself.
I'm staying connected with the people I love several times a week through texts, FaceTime, Zoom, and good old-fashioned phone calls. Generally, the conversations are short, more of a "check-in," and sharing updates and laughs.
I'm working with most of my clients over video conferencing, which, unfortunately, is much harder than seeing them in person.
The other thing I'm doing is making sure I have time for myself to wind down and de-stress. Connecting with others is vital, and having alone time to process and recharge is also a high priority for me.
—Kristina Hallett, Ph.D., ABPP, Board-Certified Clinical Psychologist
I'm using this as an opportunity to know people more deeply.
Whether you're working from home for the first time or social distancing, you can still be socially connected. While group texts and video chats are obvious answers, there are fears of not knowing what to say to each other.
This pandemic can be a time to strengthen your social bonds and your communications with friends or family. I'm doing this by: