Peep At This Couple's Epic Road Trip Across All 59 US National Parks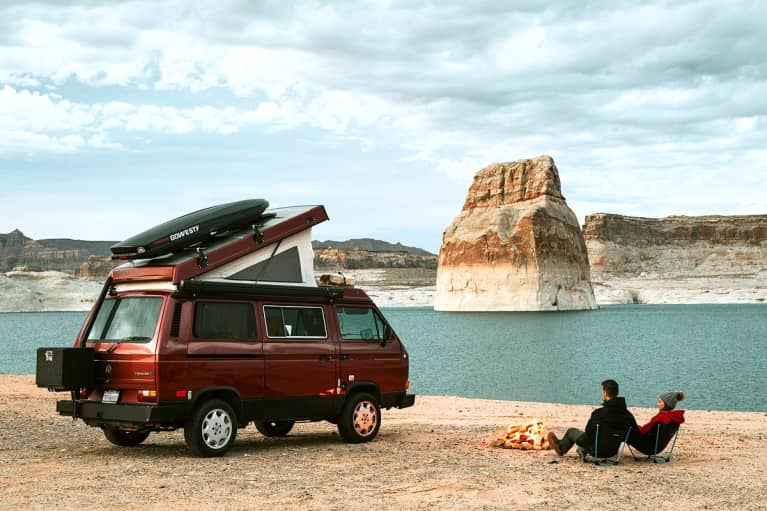 Photographers Matthew and Renee Hahnel have spent the last six months roaming cacti-dotted deserts, hiking mountainous terrain, admiring serene lakes, and lounging on sun-splashed beaches—and they haven't even left the U.S.
The Aussie-born couple is nearing the end of an epic transcontinental road trip spanning all 59 of America's national parks. Piled in a trusted GoWesty camper named Ruby, they're hell-bent on taking in everything the country has to offer.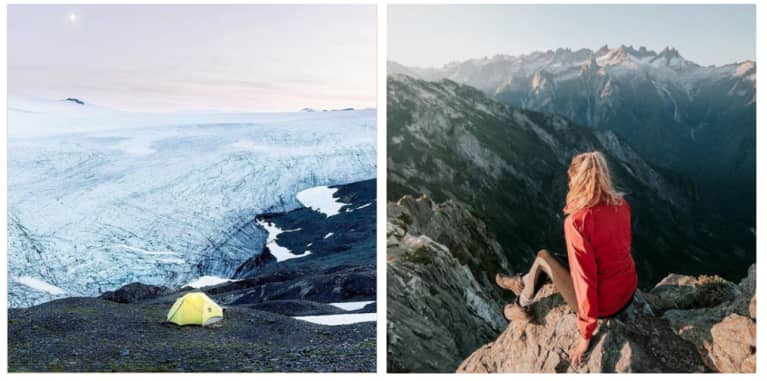 "How many places in the world have deserts and sand dunes and massive mountains? Beautiful beaches too; the list just goes on," Renee says, beaming. "America seriously has it all. I feel like the possibilities in nature here are endless."
Their love affair with our national park system started brewing on their first road around the states five years back. At the time, they both had 9-to-5 jobs in Melbourne, but a love of travel had them constantly saving up for trips. The varied terrain they found in the United States inspired them to make exploration and adventure a way of life instead of a hobby.
With a few freelance photography gigs lined up, along with an ongoing campaign with plant-based drink company Evolve, the couple set out to document all of the national parks this April. With only a few weeks left to go, they've covered nearly every one on the mainland, as well as Alaska and the Virgin Islands. They're about to say goodbye to Ruby and head off to Hawaii and American Samoa before their October 31 end date.
When the van is parked, the Hahnels typically spend their days snapping photos in the golden light of sunrise and sunset, editing them in the van, and doing plenty of hiking. "There are a lot of parks that some people don't even know about. They may be a little out of the way, but they're absolutely beautiful," Renee recalls. It's the mountainous landscapes that ultimately stayed with them long after they drove away. "The mountain parks are our favorites: Grand Teton in Wyoming, Yosemite in California, Mount Rainier in Washington, and Lake Clark in Alaska."
The opportunity to spend so much time immersed in nature has proved transformative. "We just had the most incredible time in Lake Clarke National Park," she says. "We were staying in this off-the-grid cabin in the middle of the national park. The gentleman who owns it keeps up these beautiful little log cabins on the water, with a little dock and outdoor shower.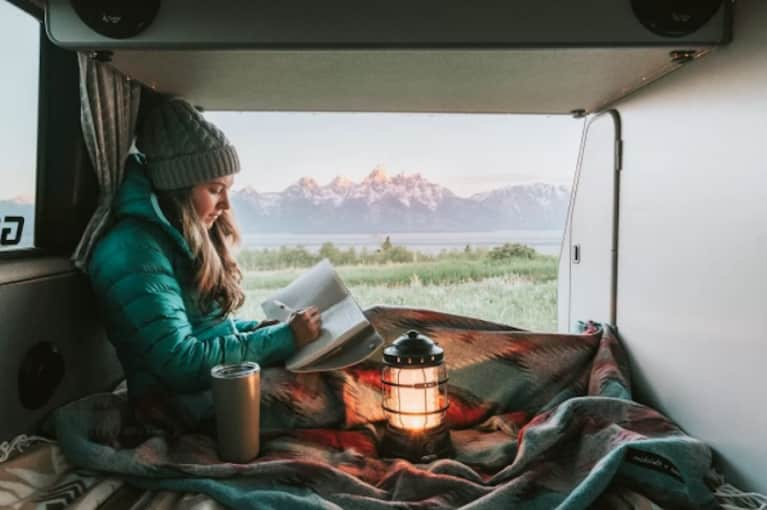 "We were staying there in the middle of nowhere, and it was dead silent. We've never heard that kind of silence before. It's really hard to describe. There was wildlife everywhere, with nothing but the mountains surrounding us, the turquoise lakes. It was the most bizarre and amazing experience all at once."
Disconnecting from the go-go-go mentality of the everyday and taking time to absorb scenes like these have been the highlight of their trip, but it hasn't all been so glamorous. When mbg caught up with the couple, their van was in the shop getting new breaks, and Renee recalled some of the uninvited visitors they had attracted along the journey. Namely, a little mouse who decided to call it home. "Matthew woke up to it running along the top of the blanket," she laughs. But through it all, they've stayed smiling, and though this trip may be nearing an end, their adventure is just getting started.
The ultimate national park trip.
If you're looking explore America's national parks on a slightly more abridged schedule, here's the route Renee and Matthew recommend. It gives you a little bit of every type of terrain and can be completed in under a week:
Within a couple hours of Seattle you've got Olympic National Park, which is mountains, rain forest, and beach all in one. Then you've got Mount Rainier National Park, which is absolutely stunning. Then a couple hours north of Seattle, you have North Cascade National Parks, which is actually one of the least visited national parks in the country. That's crazy to us because it's so close to Seattle and it has the most beautiful peaks and mountains, with lots of hiking and wildlife.
Inspired to lace up those boots and go hiking this weekend? Here are mbg's top picks for fall hikes around the country.