Reusable Paper Towels: Why & How To Use Them — Plus, 7 Brands To Look Into

mbg Sustainability + Health Director
By Emma Loewe
mbg Sustainability + Health Director
Emma Loewe is the Senior Sustainability Editor at mindbodygreen and the author of "Return to Nature: The New Science of How Natural Landscapes Restore Us."
Last updated on January 11, 2023
Our editors have independently chosen the products listed on this page. If you purchase something mentioned in this article, we may
earn a small commission
.
Unlike traditional rolls, reusable paper towels can do multiple cleaning jobs before being tossed in the trash (or in some cases, the compost bin). Here's an overview of their environmental benefits, how to use them, and a few places to buy them.
Advertisement
This ad is displayed using third party content and we do not control its accessibility features.
What are the environmental benefits of reusable paper towels?
Limiting the number of paper towels you throw away is one way to reduce your personal impact on the planet. It may seem like a tiny thing, but it makes a difference. When trash sits in landfill, it emits methane1—a greenhouse gas that traps more heat than carbon. Anything we can do to cut back on household waste will therefore reduce our personal emissions and contribute to a slightly cooler future. According to the U.S. EPA2, paper and paperboard products compose the largest percentage of all the materials Americans toss in a typical year, making them a great category to tackle first.
These days, reusable paper towels are most often made from cellulose (wood pulp), cotton, or bamboo. These materials need to be grown or extracted from the environment, just like paper does to make paper towels. However, fewer raw materials go into reusable products, meaning they're often more sustainable from a production standpoint. Some reusable paper towels can also be composted after use, another environmental benefit.
Advertisement
This ad is displayed using third party content and we do not control its accessibility features.
Aren't they annoying to use?
Reusable paper towels are only sustainable if you actually reuse them. From personal experience, I've found that it's tempting to give up on them at the start since they definitely are not as convenient as the single-use towels we all know and love. But they do eventually get better. (All good things take time, right?).
Once you invest in a pack, commit to trying them out for at least a week using the following tips and see if you can make it work:
Have at least three towels on rotation in your kitchen at all times. This way, you'll have backups if one is dirty or being washed.
After every time you use a towel, quickly rinse with water and dish soap, wring out, then place them out to dry flat on a rack.
To further disinfect between washes, you can put them in the microwave for a minute.
If your towels are dishwasher-safe (most of them are), also get in the habit of popping them in the top rack every time you run your machine.
Remember: They are more absorbent than a normal paper towel, so you should be able to get away with using one on larger spills.
Experiment with splashing a little water on your towels before use. Some varieties soak up more when a little damp.
Advertisement
This ad is displayed using third party content and we do not control its accessibility features.
After the week is up, let your newly empty trash can serve as motivation to keep up with the habit. There's no universal rule for the number of times you can reuse your paper towels (it's largely a judgment call) but some brands claim theirs can last for up to 100 uses.
Companies selling reusable paper towels.
1. If You Care
If You Care's towels are made from a mix of cellulose, cotton, and mirabilite, a natural mineral salt. They come 12 to a pack and are supposed to replace 18 rolls of paper towels. When you're ready to get rid of one, you can throw it (and its packaging) into your backyard compost bin.
If You Care Reusable Paper Towels ($11.79/12-pack)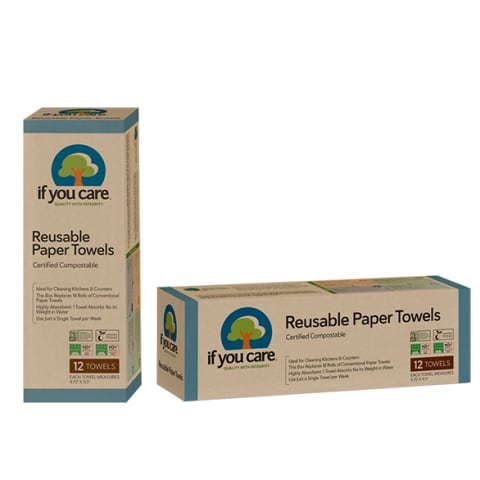 If You Care
Advertisement
This ad is displayed using third party content and we do not control its accessibility features.
2. Three Bluebirds
Three Bluebirds champions the Swedish dishcloth—a 70% cellulose, 30% unbleached cotton blend that's been a staple in Swedish homes for decades. Three Bluebirds dishcloths come in a variety of colors and patterns, with each one replacing up to 17 paper towel rolls. The company also sells 1% of revenue to environmental causes.
Three Bluebirds Swedish Dishcloths ($6.95/towel)
Three Blue Birds
3. Ever Green Cloth
Another Swedish dishcloth brand, Ever Green Cloth sells cotton-cellulose cloths that can hold up to 20 times their weight in water. They can also be composted in a backyard compost and take about four weeks to break down.
Ever Green Cloth Sponge Cloth ($14.99/towel)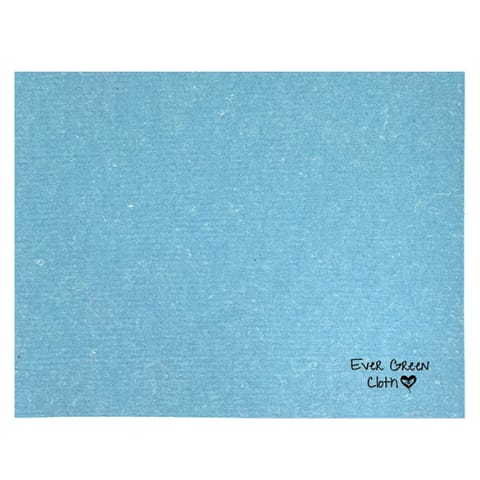 Ever Green Cloth
4. Lola
Lola's Wowables Reusable Paper Towels are made from the same materials as Swedish Dishcloths, but they come in roll form instead of individual sheets. One roll has 30 sheets, each a little larger than your normal paper towel sheet, and is made to last over two years.
Lola Wowables Reusable Paper Towel ($19.99/30-pack)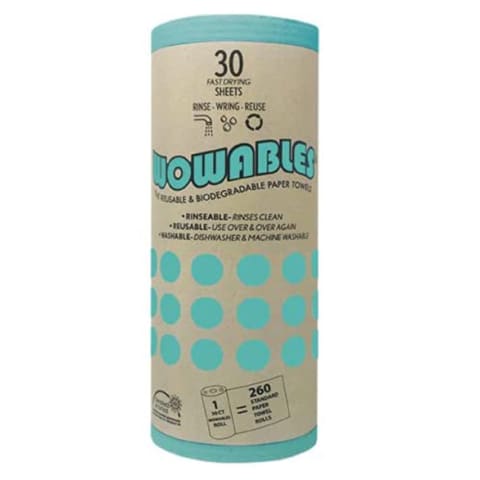 Lola
Advertisement
This ad is displayed using third party content and we do not control its accessibility features.
5. Eco Nuts
These reusable towels are made from fibers from the bamboo plant, which is quick to grow (some varieties can grow up to 2 feet every day) and super durable. Each roll comes with 25 sheets, and a portion of sales goes toward panda conservation.
Eco Nuts Reusable Towels ($9.99/25-pack)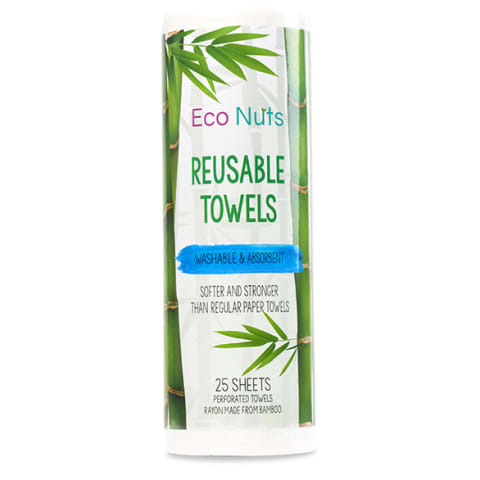 Eco Nuts
6. Food 52 Five Two Compostable Sponge Cleaning Cloths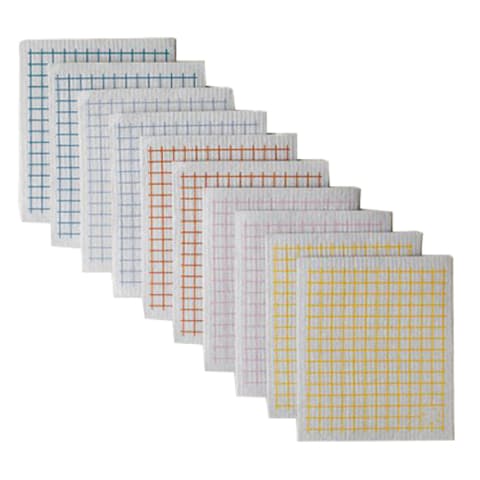 Food 52
7. Grove Co. European Dish Cloths
Finally, those with a Grove Collaborative subscription can toss these European dishcloths into their carts. They're dishwasher and microwave-safe and have thousands of rave reviews for their absorbency and ease of use.
Grove Co. European Dish Cloths ($7.95/2-pack)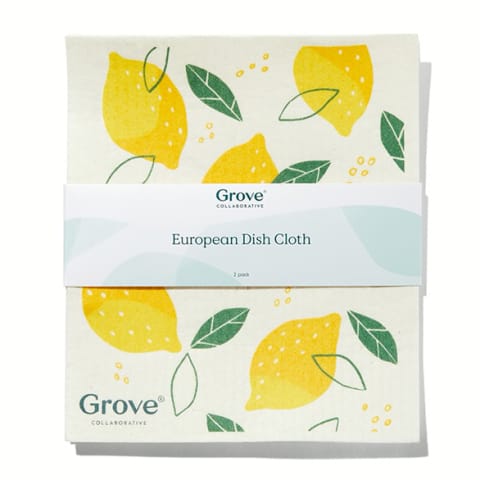 Grove Co.
The bottom line.
Replacing single-use paper towels with a reusable option can make a dent in your household trash. Reusable paper towels—often made from cotton, cellulose, or bamboo—are an adjustment to get used to but become easier to work with over time. A handful of companies are currently selling them so you can experiment before settling on one that works for you.