Our 5 Favorite Eco-Friendly Kitchen Products (Just In Time For Earth Day)
April 19, 2021
We carefully vet all products and services featured on mindbodygreen using our
commerce guidelines.
Our selections are never influenced by the commissions earned from our links.
We like to think of Earth Day as a reminder that going green and thinking sustainably can be an everyday intention. And what makes that possible? Breaking it down into small, manageable steps. The truth is, our simplest daily choices are packed with potential for making a positive impact on our environment. We can make big changes, one small step at a time.
More specifically, we're focusing on "greenifying" our kitchens, so that every day (not just Earth Day) can be a little more eco-friendly. And to make it easier for you, we've rounded up our favorite sustainable products that are better for us, better for the planet, and leave the kitchen more organized and refreshed. Step closer to nature with these sustainable swaps:
1. Reusable Glass Water Bottle
There's nothing more important to overall health and wellness than staying hydrated—which means that if we leave the house without a reusable water bottle, we're going to end up dehydrated or buying (and wasting) a bottle of water. We don't want either. The bkr Glass Water Bottle keeps us hydrated without the consequences of single-use plastic waste. This glass water bottle is both BPA- and phthalate-free—and coated with silicone in the season's best hues, it's as sleek as reusable water bottles come. Leaving the house with the bkr glass water bottle is more than hydration and sustainability on-the-go—it's a fashion statement.
2. Stasher Bags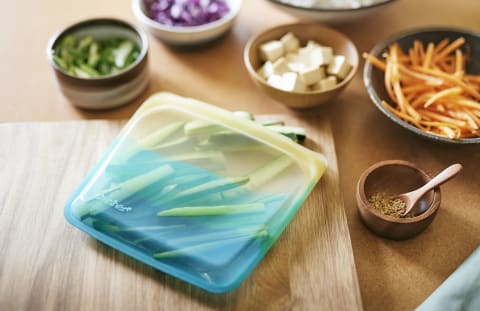 Image by Stasher / Contributor
We've learned the hard way: A sustainable kitchen is nearly impossible to achieve without a solid storage system. Cook just one curry and you'll see what we mean—where do we stash the other half of the onion we've cut, the rest of the cilantro, the extra rice? That's where Stasher bags step in, as versatile as they are convenient. Made of platinum silicone, they can withstand any fridge, freezer, microwave, or oven, and clean easily—just throw them in the dishwasher. Stasher bags help us (finally) ditch the single-use plastic—and it's about time: About 1 trillion plastic bags are used worldwide each year, many of which end up in the oceans. Join Stasher in protecting our ocean with their new Endangered Seas Collection, now available, featuring fresh, sea-inspired colors. A portion of the sales from this new collection benefit Surfrider Foundation, a nonprofit with ocean conservation initiatives.
3. Dish Washing Block 
Image by Martí Sans / Stocksy
Whenever we have an opportunity to ditch the plastic bottle, we're all over it. And sometimes, sustainable products just make more sense—like swapping out single-use bottles of dish soap for a dishwashing block. This vegan dishwashing block is made of nontoxic ingredients and zero harsh chemicals but still cuts through grease and lasts at least two months. All you have to do is leave the block by your sink, rub your wet sponge or brush against it (until sudsy), and get to scrubbing those dishes. One less plastic bottle in our lives is what we can gift our planet this Earth Day.
4. Compostable Trash Bags
5. Bamboo Towels
As far as convenience goes, nothing tops the role paper towels have played in keeping our kitchen clean. The problem is, paper towels are problematic for the environment in ways that most of us haven't realized. Paper towels aren't recyclable—they actually contribute to landfills, where they break down into methane. (Methane is a greenhouse gas with 23 times the potency of carbon dioxide.) Luckily, we can easily trade paper towels for these bamboo towels. Just as convenient as paper towels, one roll of this 100% bamboo alternative comes with 20 tear-off sheets, which are machine washable and can be reused up to 120 times.
One swap at a time...
Healing our planet and leading sustainable lives is going to take action—365 days of the year. But that doesn't mean we have to go zero-waste starting tomorrow. Our small, sustainable swaps add up quickly over time. Just making your kitchen more eco-friendly is a great way to celebrate Earth Day this year. If we can all commit to making sustainable choices, just one room at time, we'll be well on our way to enjoying a more sustainable planet.
Devon Barrow
Branded Content Editor
Devon Barrow is a Branded Content Editor at mindbodygreen. She received her degree from the University of Colorado. When she's away from her desk, Devon is teaching yoga, writing poetry, meditating, and traveling the world. She's based in Boulder, Colorado.
Devon's first book, Earth Women, is coming soon. To learn more, join the mailing list, and receive updates, head to www.devonbarrowwriting.com.