Close Banner
Advertisement
This ad is displayed using third party content and we do not control its accessibility features.
I'm A Sex Therapist. Here Are The 5 Most Common Sexual Complaints Couples Have
Sex Therapist
By Jessa Zimmerman, M.A.
Sex Therapist
Jessa Zimmerman, M.A. is an AASECT-certified sex therapist, licensed couples' counselor, author of Sex Without Stress, and the host of the Better Sex Podcast. She holds a bachelor's from Cornell University, a master's in Psychology from Saybrook University, and has completed a certificate in Sex Therapy from the University of Michigan.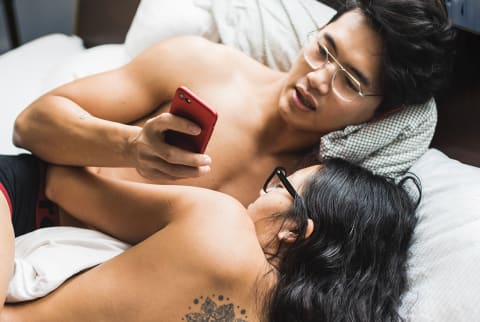 Photo by Irina Efremova / Stocksy
As a sex therapist, I see an amazing breadth of presenting issues and concerns in my practice. Despite the fact that I talk about sex all day, there is an incredible diversity in the people I work with, the stories they share, the goals they want to achieve, and the ways in which sexual difficulties show up and affect them. However, there are themes that emerge in my work. While every couple is different and their path to my office unique, there are several common problems people encounter in their sexual relationships. Here are five of the ones that appear the most, as well as ideas about how you might approach the situation if this is where you find yourself:
"We disagree about how often to have sex."
For most of the couples that come to therapy, sexual desire discrepancy has become an issue. When a couple is counting how often they have sex, treating their intimate life as a math problem, that's my clue that they have been having the wrong conversation. The answer is not about finding an average or creating a quota; it's about creating a sex life that can be truly engaging for both people.
In every relationship, there is one person who wants more sex and one who wants less. That isn't a problem by itself, but it can become one when people don't know how to manage that tension and don't know how to handle their part well. The person who wants more sex tends to take their partner's level of desire personally. They tend to feel rejected, undesirable, and unimportant. The person who wants sex less feels pressured. They can either feel like something is wrong with them (that they are missing a "natural" sex drive) or resentful that their partner can't accept them for who they are.
The more desirous person needs to stop treating sex as an affirmation of their worth. They need to separate their own sense of worth from their partner's level of desire. If sex has become something that needs to happen to make you feel better, it's lost its appeal. It's not sexy to have sex out of neediness rather than an authentic desire to connect with each other. It's also important that the more desirous partner continue to advocate for what they want. So many higher desire partners start avoiding the topic or waiting for the other to volunteer sex. Keep talking about the importance of sex and your desire to share that experience with your partner. At the same time, handle a "no" graciously.
The less desirous partner should start by identifying obstacles that are in the way of the desire they may otherwise have. Identify and address each barrier you find. Resolve the relationship issues that keep you feeling distant. Manage the environment to help you relax and shift gears into sex, whether that's cleaning up or putting a lock on your door. Speak up about what you need in sex itself, especially if you haven't been getting it.
It's important to understand that you may also have what I call "reactive desire." This means your sexual desire doesn't show up until after you've started. This means you need to create opportunity to get aroused and interested. Instead of saying no out of instinct, consider saying "maybe." Start talking, kissing, touching…whatever you like. And if you end up turned on and interested in sex, great! If not, that's OK too. Either way, the less desirous person should take an active role in creating a sex life that they can embrace.
"I do all the initiating."
There are two basic reasons one person ends up doing all or most of the sexual initiation. First, the desire discrepancy I described above tends to result in the higher desire partner being the one to suggest sex. The lower desire person often ends up accepting or rejecting the other's invitations. Second, the more desirous of you also tends to be someone who experiences what I call "proactive desire." This is the spontaneous desire that most of us think of as libido. This person thinks about sex, experiences spontaneous arousal or interest, and wants to seek it out and make it happen. This makes it easy to initiate. If your partner has "reactive desire," though, they may almost never think about sex. It legitimately doesn't cross their mind. This makes it more challenging to initiate sex.
The two of you need to accept that no amount of sexual desire is "correct" and that reactive desire is normal. Nothing is broken. You have to find a way to work together and collaborate on your sex life. To achieve more balance in your sex life, the person who struggles to initiate may need to do it on purpose. If you have reactive desire, you aren't going to initiate sex because it's on your mind and you're horny. You can do it from a more intentional place, thinking about the value of your sex life in general and the importance of taking a more active role in your relationship. It's OK to start with an engine that's cold; take your time, get going, and see if the engine turns over. If you end up turned on and interested, you may want sex—when you couldn't have imagined that just a few minutes ago. If you don't, that's fine, too. At least you connected with your partner and took some responsibility to tend to your intimate relationship.
"We don't like the same things in sex."
We each have sexual preferences and desires that interest us and turn us on. Early in a relationship, we tend to migrate toward the common ground, the things we both enjoy and that don't make either of us uncomfortable. Later in a relationship, though, this can become a problem. One or both of you may want to explore some of the sexual behaviors or activities that were held back or neglected early on.
It's worth trying to get out of your comfort zone and experimenting with some of the things that interest your partner. If you think about it, everything we've done sexually started off as uncomfortable. We have to develop comfort with things over time, whether it's French kissing or oral sex. So experiencing some discomfort or anxiety can be OK, if you're able to approach it as a willing partner and as an experiment. Of course, it's OK to have some hard no's (or to discover some), too. You do need to take care of yourself and not violate your own integrity or bottom line. You'll want to find a balance of saying no when you need to and yes when you can.
There are other ways to incorporate some sexual desires, too, if you determine that you can't do them with your partner. You may be able to talk about them and bring them into your experience in imagination. You may find a "lite" version that works for both of you. If nothing else, you can use that erotic material in solo sex, fueling your fantasies and arousal there.
"My partner masturbates and/or watches porn."
It's perfectly normal to masturbate, whether you're single or in a relationship. Solo sex and partnered sex are really apples and oranges. Sex with a partner is a collaboration, a give and take between two people. Solo sex is an opportunity to have a simpler experience, a quick release, or an exploration of your own eroticism. As long as masturbation is in addition to your sex life, not instead of, it is not a problem.
It may challenge you to think that your partner finds sexual arousal in anything besides you. We don't stop finding other people attractive just because we're in a relationship. And we don't stop finding sexual behaviors interesting just because our partner doesn't enjoy them. We don't own the thoughts in each other's minds, and it is futile to try to police what our partner is thinking about.
As long as the sex life you share is fulfilling and enjoyable, let go of the worries about what your partner finds arousing. And if your sex life needs work, focus on that rather than controlling their sexual thoughts.
Now, actually talking about the viewing of pornography and how you each feel about it can be a difficult and loaded conversation. For some, pornography is just another erotic medium that provides stimulation and fodder for the imagination. For others, it can become a compulsive and problematic behavior. Some people can enjoy watching porn; others cannot accept it at all based on moral, social, or ethical complaints. It's not that viewing porn is either "right" or "wrong." It's about having a conversation where you can truly be curious about each other's perspective and then coming to an agreement and understanding that works for you both.
"We find ourselves avoiding sex."
If you and your partner have struggled with sex, with any of the problems I've already described or any of the many others, it's likely you've started to avoid sex. It's natural to avoid things that make us feel bad. Once sex has become loaded, stressful, disappointing, or negative, of course you aren't looking forward to the next encounter. In fact, sex may feel like a test or an ordeal—one that you expect to fail.
You can take a two-pronged approach to addressing sexual avoidance: Deal with the things that make sex seem negative, and address your sex life together rather than avoid it.
The first step in dealing with what makes sex negative is to challenge your expectations. If you have the idea that sex should be easy, that sex should go a certain way, or that you have to perform, then you set yourself up to be disappointed. But if you adopt a view that sex is just about experiencing pleasure and connection with your partner, that anything you share sexually is a win, and that there is no way to fail at sex, then you set yourself up for success. Second, you can take steps (many that I've outlined in this article) to improve the sex you're sharing with your partner.
The more you can treat sex as a collaborative process and endeavor, the more enjoyable you'll find your sex life. Communicate openly with your partner about what's working and what isn't. Keep talking about what matters to you in sex and what would make it more engaging for you. Resist any urge to hide and avoid rather than deal with your issues.
It's normal and common to struggle in your sex life. A long-term, committed relationship takes work—in the bedroom and out. If you've encountered any of these issues in your relationship, take heart in the knowledge that they're common—and totally workable.
Jessa Zimmerman, M.A.
Sex Therapist
Jessa Zimmerman, M.A. is an AASECT-certified sex therapist, licensed couples' counselor, author of Sex Without Stress, and the host of the Better Sex Podcast. She holds a bachelor's from Cornell University, a master's in Psychology from Saybrook University, and has completed a certificate in Sex Therapy from the University of Michigan. She specializes in helping couples who have a good relationship but are avoiding sex because it's become stressful, negative, disappointing, or pressured. She educates, coaches, and supports people as they go through her nine-phase experiential process which gives them real world practice in changing their relationship and sex life.