5 Things I Learned About Love From A 60th Wedding Anniversary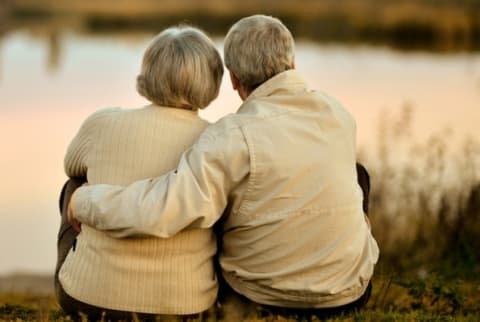 Photo by Shutterstock.com
February 14, 2014
I recently had the privilege of attending my grandparents' 60th wedding anniversary. Relatives, friends and colleagues spanning six decades all descended upon their small town in Virginia to pay tribute to this great accomplishment. Being their granddaughter and a newlywed myself, I paid particular attention to their interactions – every kiss, every hug, the witty banter back and forth—all in an attempt to decipher their "formula" for an enduring, happy marriage. Over the course of the week, what I discovered was that personally fulfillment and a fierce passion for life came first.
1. Work hard.
Advertisement
This ad is displayed using third party content and we do not control its accessibility features.
Helen and George each had long careers with the FBI. Even though they worked in the same building in downtown Washington, DC and commuted in together each day, they joke that once they stepped foot in the door, they went their separate ways. He went straight to the 4th floor, she to the 11th and they met again at 5 p.m. to return home together. What I found refreshing about this is their dedication to one another (commuting to work together each day), yet their lack of dependency on one another. There were no obligations to eat lunch or take breaks together. No massive texting, emailing or checking in on each other throughout the day. Between 8 a.m. and 5 p.m., they were individuals, working toward their personal career goals, interacting with colleagues throughout the day so that when they met again in the evening, they would have much to share.
In our modern age of technology, constantly checking in with a play-by-play throughout the day can leave you without meaningful post-work conversation, and can distract you from working, achieving your professional goals and feeling personally fulfilled. Consider what you can gain by tabling the conversations for later and focusing on fulfilling your unique needs and obligations throughout the day.
2. Stay busy.
At 82 and 83 years old, my grandparents seem to be busier than I am! I'll often call them up, expecting a nice, long, drawn-out conversation catching up on every member of the family, but nope – they are usually heading right out the door to meet with friends, play golf, work on charity events, etc. Their energy amazes and inspires me! Without meaningful activity, our bodies and minds start to deteriorate. By staying busy, physically and mentally, they're constantly stimulated, challenged and able to grow older, gracefully.
3. Find your passion.
Anyone who's ever been at a dinner table with my grandmother knows within the first few minutes her political beliefs. While conversations can get heated (and hilarious), I admire the fire and passion for life she has burning inside her petite, now fragile frame.
Watching her over the years has taught me a powerful lesson: everyone needs something that shoots them out of bed in the morning. "Life is either a daring adventure or nothing at all," right?! Helen Keller and my Grandma Helen have the same mantra when it comes to living life with passion and excitement. When you find that one thing that lights up your soul, stay connected to it. Dedicate your days to it and keep stoking the flame of that fire that burns inside of you. Don't back down from your beliefs, even if you're the only one who believes them. Speak your truth; it needs to be heard by the world.
4. Live within your means.
There's a running joke in our family that if a major natural disaster ever occurs, we'll all meet at Grandma and Grandpa's house. Their pantry has enough canned goods to feed a small army for at least a year! They are, and always will be of the Depression Era – kids raised in the 1930s who had to ration and stockpile everything out of necessity. Growing up this way taught them valuable lessons about money. Even to this day, when they make big purchases like houses and new cars, they still pay 100% in cash. "Don't buy it if you can't afford it" is their philosophy, which sadly has been lost on most of my generation.
My grandparents have always had very similar views on money and spending, never over-stretching themselves or stressing out over high credit card bills. This is one very important factor which I know has contributed to their longevity as a couple.
5. Love through it all.
Their 60-year marriage hasn't come without its share of heartache. Multiple lost pregnancies during their first decade together and battling several rounds of cancer in recent years have tested their dedication to one another. Even when Helen's neck was covered with radiation scarring from battling throat cancer, George still kissed her with the same amount of love as when they were first together.
This is what watching them face health challenges together taught me: Hardships will befall every marriage. Pain will rip your heart open to the point that you feel you can't go on. But, with the right partner by your side, love will put you back together. And when your partner needs to be mended, even if you don't feel up for it, you pull yourself together and love with all you've got until he's whole again.
Advertisement
This ad is displayed using third party content and we do not control its accessibility features.

Mandy Burstein
Mandy Burstein is a yoga instructor and writer based in La Jolla, California. Through yoga and writing, she passionately empowers people to become the best version of themselves, both on and off the mat. Mandy teaches Vinyasa Flow, Restorative Yoga and Stand-up Paddleboard Yoga, and coordinates international yoga retreats. Her next retreat is taking place January 2015 in beautiful Sayulita, Mexico - more details here.

To follow her movement towards a healthier and happier world, visit her blog The Zen Girl Chronicles and connect with Mandy on Facebook and instagram @zengirlmandy.