This Futuristic Hospital Is Using Greenery As Medicine

mbg Sustainability + Health Director
By Emma Loewe
mbg Sustainability + Health Director
Emma Loewe is the Senior Sustainability Editor at mindbodygreen and the author of "Return to Nature: The New Science of How Natural Landscapes Restore Us."
Image by Khoo Teck Puat Hospital
August 12, 2019
Communal gardens, landscaped rooftops, and wide-open windows aren't features of your typical hospital—but maybe they should be. Khoo Teck Puat Hospital in Singapore is a case study in what can happen when nature-inspired design is applied to the medical setting to promote healing.
The green treatment.
In 2005, CPG Corporation, a Singapore-based design firm, was tasked with creating a hospital that actually lowered visitors' blood pressure. "How do we challenge the idea of a hospital to deinstitutionalize it and make it look, smell, and feel unlike a hospital?" Jerry Ong Chin-Po, an architect who worked on the project, tells mbg of the initial challenge. "We felt the best way to do it was to integrate nature into the space."
The hospital, which opened its doors in 2010 and now serves 800,000 residents in northern Singapore, has masked the smell of medicine and chemicals with over 700 species of fragrant native plants. In the lobby, sounds of machines are drowned out by bird species in the central courtyard. And instead of walking through sterile white hallways, patients, caretakers, and the occasional butterfly navigate the space on outdoor bridges wrapped in greenery.
In Singapore, medical buildings have multiple tiers of patient rooms (it's part of how the country maintains its famously cheap health care). Some are private and have air conditioning; others have up to five beds and rely on natural ventilation. In order to ensure that all patients feel comfortable—regardless of how much they're paying to be there—Chin-Po's team again leaned on nature. They installed new windows that could be opened wider to allow for more airflow and made sure that every patient could see greenery from their bed, even if it was just a planter box on the other side of their window.
At mealtimes, patients are given organic food grown in a massive rooftop garden, and everyone fills their plates with fruits and veggies on the weekly, hospital-wide Meatless Mondays. "We always bring this idea of creating a total healing environment," Chin-Po says. "Not just for the patients but for the caregivers and staff as well. It's all part of the whole system."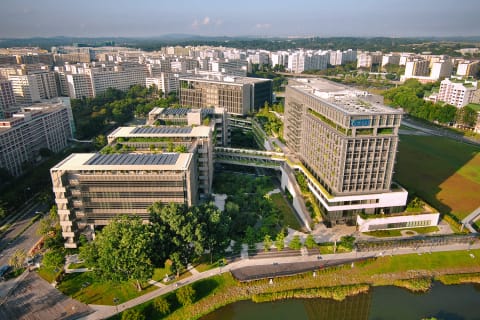 Image by Khoo Teck Puat Hospital
The healing power of nature and community.
In keeping with this commitment to creating community, the public hospital is a gathering place for more than just patients and their families. Local residents have been known to stop in to grab a coffee in the food court or read the paper in one of the property's dozens of gardens. Up to 15% of visitors who come to the hospital do so for social and recreational reasons, according to one survey.
"When we first opened in 2010, it came out in the papers that the hospital was a hot spot for students to study for exams," Chin-Po laughs. "It demonstrated that the environment we created was conducive not just to patients and caregivers but the community at large… You don't feel like you need to go there only when you have a problem."
In the years since its opening, Khoo Teck Puat has also added activity centers that anyone can join to do crafts, watch cooking demonstrations, and listen to talks on healthy living, and its Share a Pot program has become a place where the elderly can gather, eat soup, and do light exercise together.
In a world where loneliness has become a health epidemic thought to lower life expectancy by up to 15 years, turning hospitals into more social hubs makes sense.
But is all the greenery, natural light, and community actually doing what it set out to do? Is it getting people healthier? While there are no scientific studies to back this up, Chin-Po says that anecdotally, patients seem to appreciate the hospital's unique design and are actually willing to pay more to go there than other hospitals in the area.
And, though it's not extensive, there is a body of research showing that greenery and natural light do aid in recovery. One 2008 study found that patients who had plants in their rooms had lower blood pressure and reported less pain, anxiety, and fatigue than patients who didn't. Another one back from 19841 concluded that hospital rooms that had windows overlooking nature helped patients recover from surgery more quickly than ones that faced brick walls. Outside of a clinical setting, spending time around nature has been shown to reduce the risk of type 2 diabetes, cardiovascular disease, and stress.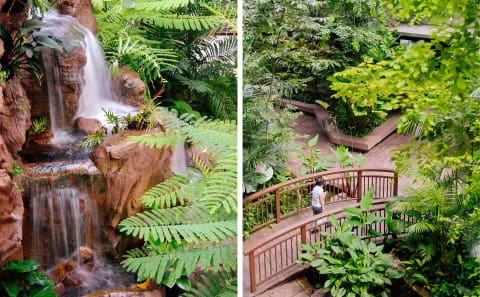 Image by Khoo Teck Puat Hospital
The future of hospitals is looking bright.
So why isn't every hospital greening up its act? Well, for starters, designing spaces like Khoo Teck Puat is technically challenging. "You are talking about creating gardens on a high-rise—so you need to design a structure to support that," explains Chin-Po. Not to mention, not every country is blessed with the lush, tropical growing conditions that Singapore, also known as "The Garden City," enjoys. Plus, creating a veritable jungle in a building isn't cheap, and Singapore's medical system is better funded and more efficient than most. (Every citizen is required to put a decent percent of their wages toward a health care savings account.)
Though Khoo Teck Puat is difficult to replicate, Chin-Po has since worked in other countries like Malaysia, China, and Pakistan to create similar spaces that fit their climate and culture.
The International Living Future Institute, a nonprofit that supports healthier, more sustainable communities, is in full support of projects like these. The Institute granted Khoo Teck Puat its inaugural Stephen R. Kellert Biophilic Design Award for its commitment to building spaces that support the health of visitors. "We noted the project because it's so unusual for hospitals to be integrating any of these strategies and to really be thinking about how you can connect people to nature and incorporate wellness strategies as a healing strategy," Amanda Sturgeon, FAIA, the Institute's CEO, says. "We hope that by giving it awards it would also influence other hospitals to do the same."
Here's hoping that projects like this continue to gain traction and the clinics of the future feel a little less—well—clinical.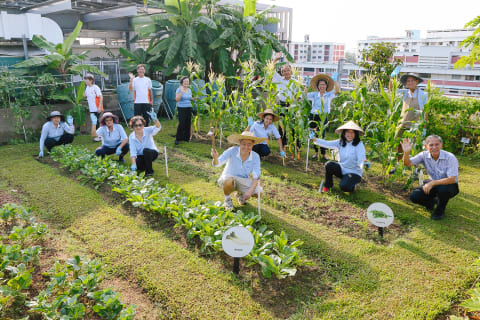 Image by Khoo Teck Puat Hospital