Jane Fonda's Best Well-Being Advice — From Building A Community To Getting 9 Hours Of Sleep A Night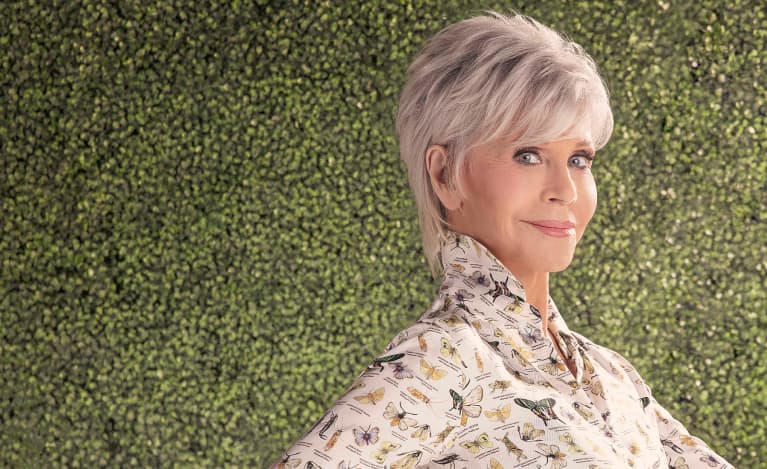 Our editors have independently chosen the products listed on this page. If you purchase something mentioned in this article, we may
earn a small commission
.
An icon of the highest order: Jane Fonda is not only beloved for her plethora of acting roles, but the activist has proved time and again that she simply does the work. Recently, you've likely seen her make headlines for her famous Fire Drill Fridays, in which she advocates for action on climate change. Or you've seen her comments on racial justice, mental health awareness, and so much more. Essentially, Fonda is a woman we'd all benefit from learning a thing or two from—ranging from how she keeps her skin healthy and the importance of community to advocating for smarter policies on climate change.
And what's the most refreshing part of chatting with Fonda? Her reassurance that we don't always have to have it all together—and that her confidence and enduring wisdom came with time and life experience. "It's hard to be young. No one ever tells you this when you're young: You don't know who you are, what you're supposed to do, and it's OK," she says. "It gets much easier as you get older. So don't give up, hang in there, and build yourself up as best you can."
Here, Fonda on her well-being life lessons.
Her most important healthy habit: sleep. 
Sleep, we know, is an essential part of our overall well-being routines. It's also notably one that many of us don't seem to get enough of. But Fonda says that it is the most essential part of keeping healthy and happy.
"To ground myself, I have two things I must stick to: meditation and sleeping nine hours a day. I have to sleep a lot," she says. As for another way she calms herself before bed, she practices meditation daily: "I used to do mindfulness meditation, but now I do transcendental. I've been doing it for 15 years."
Hydrate and protect skin—from head to toe.
So here's the thing about Fonda's skin: It looks good—like glowing-through-our-Zoom-call good. But with age, Fonda says one skin issue has become more prevalent: dryness. Now she says finding hydrating, soothing skin care practices is all part of her healthy-skin routine.
"Dry skin is a big issue for me. It's something that tends to happen as you get older. It's all about finding the right ointments and creams—different for my face and another for my body. I found these Uncle Bud's products that do the job. They keep me moisturized. I used body lotions, hand lotions, and something to moisturize my face at night. That's what I do on a daily basis," says Fonda, noting she regularly uses the Hemp Blue Light Face Mask. "I love the fact that it's connected to hemp. I am a big advocate for hemp."
Here at mbg, we're big advocates for the soothing, skin-healing powers of hemp too, thanks to its antioxidant content as well as abilities to soothe stressed-out skin.
As for the other skin care tips she'd like to share: Protect your skin from UV damage. "Don't get too much sun. I say as the ultimate sun worshipper. But after skin cancer and many operations later, I can say stay out of the sun," she says. And when you do go out, be sure to use an appropriate SPF protection.
Advocate for big climate changes—while taking small steps daily. 
Fonda has been on the climate activism beat for some time—with a huge focus on holding our leaders accountable, demanding large systemic changes, and lifting up previously ignored voices.
So while her real priority is the big picture, she does say there are small things you can do every day that are not only better for the planet—they're often better for you and your body.
"I want to just say, this is the on-ramp for climate activism: Even if we all do all the right things, it's not going to be enough," she says, noting there are larger forces that need to act in order to make substantial differences. "But if it makes you feel good, then there are plenty of daily activities to take since it's always good for us to try to reduce our carbon footprint. There are a number of different things. Turn lights off if you leave the room. Use as little water as possible in the shower and for your personal hygiene. Drive less, walk and bike more, and take mass transportation when you can. Oh, and eat less meat. It's better for you, too."
Another bonus about getting out, staying active, and advocating for good? Well, it can be good for your holistic mental well-being too. "Doing these things is also good for your heart and soul. You become part of a community," she says, noting the importance of joining together.
"When I was growing up in the '40s and '50s, people were much more likely to be part of and join groups, be it book clubs, garden clubs, and so on," she says. "But these are shrinking because we are being encouraged to become more individualistic by the powers that be. They want us to be individualistic because we're powerless when we are individualistic. We only gain power as a group: strength in numbers."
As someone who serves as inspiration for so many—I simply had to ask, How does she stay inspired? Unsurprisingly, perhaps, it comes back to her connection to our larger community.
"I have to stay inspired out of necessity. There's no choice. If I started to become a slug, which I'm often tempted to do, I would become very depressed," she says. "We are alive right now at a time when we are the last generation to make changes to see if there's a livable future. That's a huge responsibility, and that's a glorious responsibility—it's up to us to save lives, so let's do it. So if you think of it in those terms, you are sure to stay active, stay healthy, and stay focused so you can do it."