How To Teach Kids To Love Nature In A Tech-Obsessed World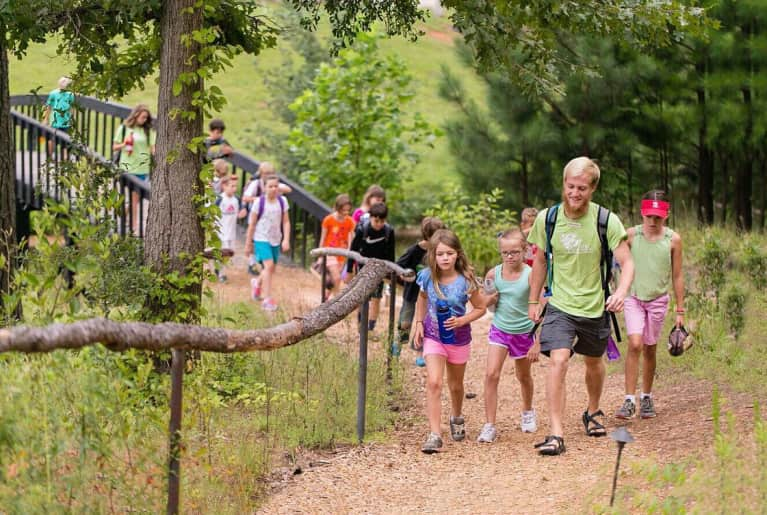 Our editors have independently chosen the products listed on this page. If you purchase something mentioned in this article, we may
earn a small commission
.
We know that nature serves as a calming force when we're stressed or anxious, and its effects on children may be even more profound.
"Nature has the power to make children happier, healthier, and smarter," Sarah Milligan-Toffler, executive director of the Children & Nature Network, explained during the Biophilic Leadership Summit, a gathering of dozens of thought leaders in nature-inspired design held this April.
The summit was sponsored by Interface, a sustainable modular carpet company, and the was backdrop—fittingly—was Serenbe, a buzzy wellness community where no home is more than a minute from a hiking trail, 70 percent of the land is reserved as protected green space, and unrivaled access to nature is practically guaranteed with a lease. With edible plants dotted throughout family backyards and trampolines embedded into the grass of public parks, the Georgian town served as a nearly utopian example of the outdoor exploration and play that Milligan-Toffler says is essential to childhood development—especially in an age when the average child spends 90 percent of their time indoors.
"Research supports that the more high-tech we become, the more nature we need in our lives," she tells mindbodygreen. However, recent studies show that the inverse is happening: One out of the UK found that 75 percent of children spend less time outside than prison inmates, and they harbor a growing fear of the outdoors preferring the safety of lives lived on screens.
"When we're focused on our screens, we almost have to close down our other senses. When you're outside, your senses are awakened and there's a wider focus, which allows the part of your brain that concentrates to rest and restore and be ready to take in information or concentrate in a very particular way."
Why all kids need to be spending more time outside.
Children & Nature Network works in 18 cities across the country to implement policies, programs, and leadership strategies that give children more equitable access to nature. In practice, that looks like implementing nature-based youth leadership programs, greening schools, and curating a public database with information on how to help children to thrive outdoors.
The organization's research library contains nearly 700 peer-reviewed research articles on the benefit of nature for kids of all ages—starting even before birth. Babies born to mothers with greater exposure to green space have been found to have healthier birth weights and a reduced risk of infant mortality. As babies grow into early childhood, these benefits only increase: "You really want to get young kids touching, feeling, playing, running in natural environments, not just for their physical development but their brain development," says Milligan-Toffler. "Children who are not exposed to nature on a regular basis in those early years have brain development that is compromised."
Research shows that learning in natural environments has the potential to boost grades, improve focus, and control impulses. In one study, an incredible 92 percent of newly "green" classrooms found that the changes caused higher standardized test scores, better GPAs, and increased enthusiasm for learning in students.
"As children get older, outdoor activities help them learn to communicate, problem-solve, and gain confidence," Milligan-Toffler goes on to explain of nature's cradle-to-grave benefits. It has also been shown to play a role in mental well-being by decreasing anger and anxiety and helping children cope with stressful life events—especially those who grow up in low-income urban communities.
Atiba Jones, an urban youth corps program manager at Greening Youth Foundation who also spoke at the Biophilic Conference, has seen this therapeutic impact firsthand. By connecting more youth, particularly youth of color, with public and private sector conservation jobs, the foundation has helped 500 to 600 students annually, across the United States and parts of Africa, get paid to get outside more.
Outside, kids are able to have a refuge of peace—away from a lot of the things they may be facing at home.
"Many of the kids I work with were raised in urban settings with little access and exposure to nature. At the same time, they've faced a lot of traumatic circumstances—broken homes, incarceration—and they need different forms of therapy," Jones, a longtime teacher and health counselor, tells mbg. "Outside standard counseling, nature can act as an informal but very effective method of therapy. Without realizing it, it helps them heal from a lot of the trauma they've experienced. Outside, kids are able to have a refuge of peace—away from a lot of the things they may be facing at home."
How to raise a nature-hungry kid.
If you're a parent or educator looking to give your kids more access to nature's medicinal benefits, even in a dense city, Milligan-Toffler has some tips:
"Adopt" a place close to home.
"Get to know the trees, the plants, the birds, the critters in your own backyard. Learn their names. Notice who's there. Notice their patterns and make a game of it," she recommends. By bringing your child back to one particular green space—no matter how small—you'll encourage them to ask more questions about what they're seeing. "Use that inquiry model and find out what your kids are interested in. That's where technology can actually be super helpful: You can look up pretty much anything from species of leaf to bird calls on your phone."
Any length of time works here. "It's great if you can take that hourlong walk in the woods. But if you can't, it's OK—go ahead and take the five-minute one."
Simplify their play space.
When it comes to retrofitting a younger child's play space, Milligan-Toffler recommends shying away from packaged toys that have prescribed uses and going back to the basics. Little relics of nature like sticks, acorns, stones, and pine cones can activate their imagination and encourage free, personalized play. If you do have outdoor space next to your home, carving out an open-air play area can help transport kids to their own little worlds. Think about setting aside little areas where kids can create little forts using leaves and green canopy, since these private spaces can help them engage in alone time and contemplation. If you don't have outdoor space, even moving indoor play areas next to a window with views of trees could have health benefits.
Start a family nature club.