You Can't Recycle Balloons & 16 Other Trash Facts You Didn't Know

mbg Sustainability + Health Director
By Emma Loewe
mbg Sustainability + Health Director
Emma Loewe is the Senior Sustainability Editor at mindbodygreen and the author of "Return to Nature: The New Science of How Natural Landscapes Restore Us."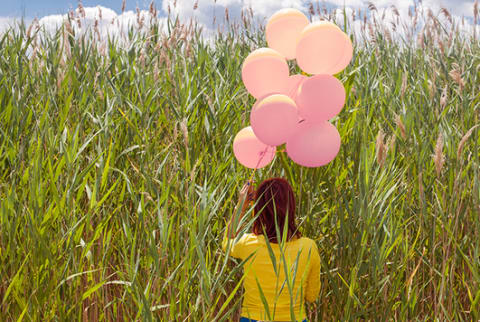 August 28, 2017
Earlier this week, I spent two minutes staring at our office trash can. In my hand, a manila folder lined with plastic Bubble Wrap sat ready to be discarded. But where? Did the paper envelope mean it qualified as recyclable? Or was the plastic wrap enough to render it trash-bound? This inner monologue went on long enough to become borderline obsessive, and it got me thinking about all the other everyday waste that falls into this gray space between trash and recyclables.
Thinking that I wasn't the only one who had these questions from time to time, I polled the mbg office to get their take. I was met with a resounding wave of "YES! What do you do with (insert misc. item here)!?!" So I reached out to one of mbg's go-to waste experts, Tom Szaky, the founder and CEO of recycling company TerraCycle, to clear up the confusion.
Keep in mind that recycling rules generally vary from state to state and region to region, so take his advice with a grain of salt and visit your municipality's sanitation page to double check. Let's take a look at the recyclability of nearly everything we throw away, focusing on NYC's curbside system as an example.
Paper envelopes with Bubble Wrap inside:
The paper of the envelope is recyclable curbside if separated (fully) from the Bubble Wrap, which you may be able to bring to your local shipping store. If your Bubble Wrap is popped, you can recycle it at a local supermarket that accepts plastic bags.
To-go containers with food residue:
Too much food residue will cause recycling facilities to send any potentially recyclable item straight to landfill, so do your best to wash it away. Aluminum foil trays, as well as rigid plastic food containers, can be recycled curbside; black plastic, cardboard with a plastic coating, and Styrofoam to-go containers cannot or will not be recycled curbside.
Plastic cups with drink residue: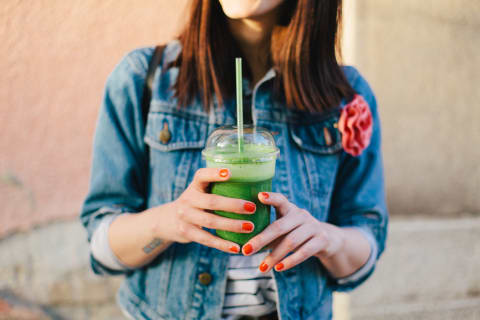 Again, residue can make it difficult for recycling facilities to process material, so rinsing out your plastic cups can help ensure that your item gets recycled. The rigid plastic of clean plastic to-go cups and drinking cups may be recyclable in curbside systems if they are rinsed out and separated from the lids and straws, which are not recyclable. However, it varies by municipality. Also, Styrofoam cups are not recyclable through any program other than TerraCycle or Dart Container.
Pizza boxes:
Cardboard pizza boxes are recyclable if all food matter is removed. A little grease won't hurt, but placing a box soaked in oil into your blue bin isn't increasing the likelihood that it will be recycled. If the box or parts of it have high levels of food residue, it can be composted.
Plastic bags used to store produce:
These are often #4 LDPE bags, which can be recycled at bag drop locations in many NYC grocery stores. New York state's Plastic Bag Reduction, Reuse, and Recycling Act requires certain retail stores in New York City and state to accept plastic carryout bags, newspaper bags, dry cleaning bags, shrink wrap, and clean food bags. Keep in mind that you can reduce waste in the first place by bringing your own carryout bag to stores.
Used paper coffee cups:
Paper cups with a light plastic lining, like that of coffee and beverage cups, can be recycled curbside as long as they are clean. These must be rinsed out beforehand, and the plastic lid and straws should be separated. Consider using a reusable coffee mug.
Juice boxes and straws:
Juice and beverage boxes (along with some cartons) are recyclable curbside. Remove the straw first, though, as straws are not recyclable through curbside systems at this time.
Lined boxes from frozen food:
The boxes themselves are recyclable curbside, while the liners can be recycled along with plastic bags at certain retail stores. Note that plastic food trays in which food is cooked (i.e., TV dinners, sides) and the plastic used to seal these containers are not recyclable since the latter is often comprised of multilayered laminates. Clean cardboard cooking trays are recyclable if only light food and grease residue is left.
Tea bags' paper wrapping:
While nearly every sort of clean paper is recyclable curbside in NYC, the paper wrapping of a tea bag is small enough to fall through the cracks. Composting might be a better choice, though these should be OK in the mixed paper recycling streams.
Used plastic utensils: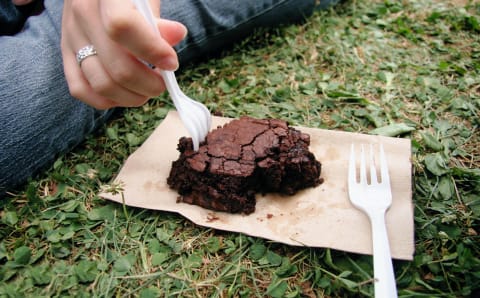 Used or not, most plastic cutlery is made of polystyrene (#6) plastic, which is not recyclable curbside. Some plastic cutlery is polypropylene (#5), which is sometimes recyclable, but it is rare that it is as the shape and size of these implements make them difficult to recover.
Drinking glasses:
The glass of drinking glasses, window glass, and other household items (i.e., decorative picture frames, lampshade glass) not only contains additives and chemicals that have a different melting point than glass bottles and jars, but it is very likely to break when placed in the blue bin and transported, so it is not recyclable.
Foam peanuts:
Foam peanuts are not recyclable curbside. Same as you would with Bubble Wrap or plastic air packs, call your local shipping company and see if they have a use for them.
Balloons:
The lids on plastic containers:
Rigid plastic caps and lids are often recyclable curbside if recycled with the caps/lids on. For example, the jar and lid of a peanut butter container may be #1 PET and #5 PP, respectively, but are recyclable when recycled together. It is important that they are cleaned out beforehand, as residual product should be minimized.
Plastic wrap:
Not recyclable. Unlike plastic bags and other films accepted via retail take-backs, plastic "cling" wraps contain a different set of chemicals.
Tinfoil:
Clean tinfoil (like that of food containers or wrap) that has been washed of any food residue is recyclable curbside.
Phone/USB/device cords:
Not only are cords of this kind not recyclable, but it is actually illegal to dispose of them in the trash in NYC. Find a free take-back program or drop-off location for device cord waste.
Though many items fall outside the scope of recyclability in New York City's municipal recycling infrastructure, TerraCycle has determined that no material is beyond recycling. They've created solutions for businesses, municipalities, and individuals like you that want to divert materials from landfills for those things that fall through the cracks. Free, brand-sponsored programs are available for items such as snack and baby food pouches, toothpaste squeeze tubes, toothbrushes, energy bar wrappers, water filters, and more, while their Zero Waste Box platform has solutions for nearly everything: disposable gloves, balloons, party supplies, athletic balls, and room furniture.
This comprehensive guide will answer any lingering recycling questions. And if you STILL can't figure out how to get rid of something, upcycle it!