A Beginner's Guide To Going Greener

By Florine Hofmann
mbg Contributor
Florine Hofmann is a student and lifestyle blogger, foodie, and creativity enthusiast with an environmentally friendly agenda. Her blog, Wasted, covers all things zero waste, sustainable fashion, healthy food and recipes, sustainable restaurants, clean beauty, sustainable travel, and sustainable home design.
All the information out there on how to live a healthier, more sustainable life can get pretty confusing pretty fast. In the end, it all comes down to finding a balance. And living green doesn't have to be a chore. Just like a new diet, there are simple steps we can take to ease into things. Here's how to get started:
Start by making these actions habits.
1. Replace disposables with reusable.
I'm willing to bet that most people already own some type of reusable bag. Simply start by adding a reusable bag to your "heading-out-the-door essentials," along with your phone and keys. This way, you'll save the approximately 540 bags you would have used throughout the year. Bringing a reusable water bottle everywhere you go is just as easy. I suggest opting for stainless-steel or glass options, as they are easily recyclable.
2. Start composting.
About 40 percent of your household waste is organic waste that can easily be composted and turned into new fertile soil. Organic waste that does go to the landfill doesn't get the chance to decompose properly due to the lack of oxygen, which produces methane, a greenhouse gas that contributes to global warming. If more people composted, we'd reduce the prevalence of methane and the use of chemical fertilizers and eventually cut down on the number of collection trucks on the road.
If you don't have a garden with its own compost bin, freezing your food scraps and composting them once a week at a public composting bin is an easy, smell-free option.
3. Switch to natural cleaners.
These days, only about 7 percent of cleaning products disclose all of their ingredients, as there are no regulatory requirements telling them to do so. Since making your own cleaning products is one of the easiest DIY projects out there, there's really no reason to expose myself to harmful toxins any longer.
I use scented vinegar and liquid Castile soap with the occasional teaspoon of baking soda for all of my cleaning chores and have found that it works like a charm.
4. Shop at the farmers market.
Skip packaged veggies in supermarkets, and buy fresh, locally grown produce instead. Farmers markets allow you to find inspiration for your next home-cooked meal, pick up vegetables you've never used before, and experiment and rejoice in the vibrant colors in your fridge—all the while knowing you've just done the environment a huge favor.
5. Shop preloved or with a brand you trust.
By shopping secondhand, you're preventing another item from going to landfill and saying no to using natural resources to create a new piece of clothing. Many fast-fashion items of today are also made of synthetic fibers, which are not biodegradable. We definitely do NOT need more oil to be drilled from the ground to feed yet another soon-to-fade trend.
If thrifting isn't your thing, do your best to support high-quality, sustainable businesses that aim to make a difference. Brands like Zero Waste Daniel, People Tree, and Zady set a great example for eco-friendly manufacturing.
Then start supporting better brands.
1. Dr. Bronner's Castile soap.
When it comes to living greener, less is definitely more. I am a big fan of multipurpose items that can tackle multiple jobs and are available in bulk. Dr. Bronner's Liquid Castile soap works really well as a body and face wash, as well as a cleaning liquid for pretty much every room in your home. I prefer the unscented variety, as you can mix in some of your favorite essential oils.
2. Eco-friendly floss.
Call me old-fashioned, but one of my most essential beauty items is definitely dental floss. Dental lace is a refillable and 100 percent natural compostable dental floss that comes in recyclable packaging.
3. Juniperseed lip gloss.
If you want to make your own lip gloss, there are tons of great recipes out there. However, if you don't want to take the time to make it yourself but don't want to compromise on the quality of your product, the beautiful lip glosses from Juniperseed are a great option. They come in colors for every skin tone and are delivered in compostable packaging. Yes, please!
4. W3llpeople mascara.
For those days when you want your eyes to do the flirting for you, I highly recommend the mascara by W3llpeople, as it is the best I have tried so far and definitely a favorite among eco-friendly bloggers. It also comes in recyclable packaging.
5. Weleda toothpaste.
For those of you who don't like the homemade toothpaste recipes but don't want to use conventional toothpaste either, I recommend Ratanhia toothpaste by Weleda as it is free of potentially harmful sodium fluorides, tastes delicious, and comes in recyclable packaging.
6. A natural, plastic-free water filter.
This activated charcoal stick can be stored in any reusable water bottle or water jug, making it a great option if you're looking to avoid BPA and go plastic-free.
All the while, making things for yourself when possible.
Making your own products is a wonderful way to save money and the environment at the same time. I prefer to apply the precautionary principle and make my own products so I know exactly what's in them. I've found that they really do work just as well as conventional products, if not better.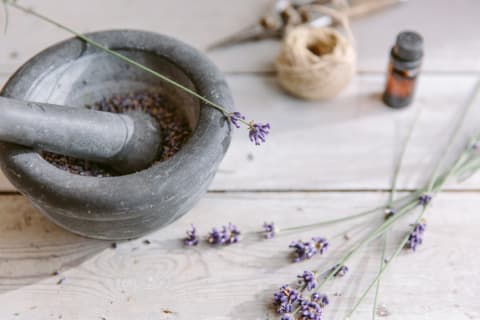 1. Deodorant.
Deodorant is one of those things I'll always make for myself. I have yet to come across a deodorant that works more efficiently than this one.
Melt 2 tablespoons of shea butter.
Once it has turned to liquid, add 1 to 2 teaspoons of baking soda and a few drops of your favorite essential oil.
Pour in your favorite container and let your mixture cool and harden in the fridge.
2. Home cleaners.
This is the recipe I mentioned earlier, and it's great for tackling any household mess sans harsh chemicals.
Soak half a lemon in white distilled vinegar for 1 to 2 days and squeeze it into a spray bottle filled with water.
For extra antibacterial properties, add a little tea tree oil to the mix.
Use it as odor neutralizer for your fridge, a hand sanitizer, a glass cleaning liquid, a bathroom and shower cleaner, a softening agent in your washing machine, a decalcifier in your dishwasher, and even as conditioner for your hair. You get the picture—it really is a wonder product.
3. Moisturizing body oil.
Nothing is easier to throw together than a nontoxic, moisturizing body oil that smells good, works well, and keeps your skin healthy and glowing. To make it, mix sweet almond oil, jojoba oil, and argan oil in your favorite bottle. Sweet almond oil helps to remove dark circles and inflamed skin and functions as a natural SPF (making it great for soothing burns and those pesky aftershave bumps). Jojoba oil has similar benefits and with its vitamin E and vitamin B complex, it is fantastic for skin repair. Argan oil is very high in vitamin E and fatty acids, which makes it perfect for softening and hydrating your skin.
Ready to take things up a notch? Give one of these green activist-approved steps a try.

Florine Hofmann
Florine Hofmann is a student and lifestyle blogger, foodie, and creativity enthusiast with an environmentally friendly agenda. On her blog, Wasted, she writes about all things zero waste, sustainable fashion, healthy food and recipes, sustainable restaurants, clean beauty, sustainable travel, and sustainable home design.