Is Nature Deficit Disorder Actually A Thing? How To Know If You Have It

mbg Sustainability + Health Director
By Emma Loewe
mbg Sustainability + Health Director
Emma Loewe is the Senior Sustainability Editor at mindbodygreen and the author of "Return to Nature: The New Science of How Natural Landscapes Restore Us."
January 18, 2018
When journalist Richard Louv interviewed thousands of children and parents across the United States for his book on family dynamics in the 1990s, a common theme emerged: Kids were better off when they spent time outside.
"Even then, parents were reporting a divide between the young and the natural world, and the social, spiritual, and psychological implications of this change. But at that point, there was little research about the divide or the benefits of nature to human development," Louv tells mbg.
Advertisement
This ad is displayed using third party content and we do not control its accessibility features.
Today, the science exists to prove their suspicion. Studies out of Japan1 found that taking a walk in greenery brings the average city dweller a 12 percent decrease in cortisol levels and 7 percent decrease in sympathetic (fight-or-flight) nerve activity. Others found that the act of wandering in a forest can actually reduce inflammation2 in the body. Researchers in the United States concluded that 90 minutes of exposure to the natural world is enough to quell negative thought patterns and may therefore lower risk of depression. And that's just the beginning of the new and fascinating research on nature's healing touch.
What is "nature deficit disorder"?
Needless to say that retreating indoors too much, as the majority of Americans who spend an average of 93 percent3 of their time inside do, has a less-than-desirable impact on the body. Intrigued by this newfangled malady that humans created for themselves, Louv dedicated years of his life to observing, and ultimately giving name to, the indoor illness.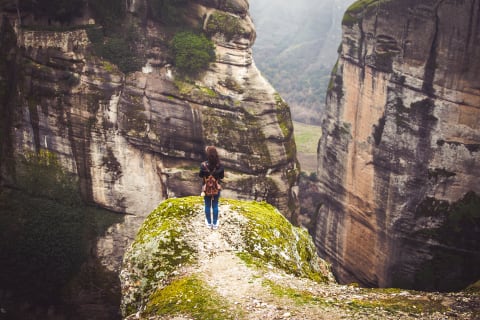 Advertisement
This ad is displayed using third party content and we do not control its accessibility features.
"Nature deficit disorder is not a medical diagnosis but a useful term to describe the human costs of alienation from nature, as suggested by recent research," he explains of the term he coined in his 2008 book Last Child in the Woods.
He lists diminished use of the senses, attention difficulties, higher rates of physical and emotional illnesses, and obesity as signs that you may benefit from a camping trip—or at least a stroll in the park near your apartment. Another telltale symptom of nature deficit disorder is the inability to fully connect to and find meaning in your surroundings, whatever they may be. Considering the continued interest in mindfulness meditation—a practice that promises to root you more in the nuances of the present moment—disconnection is something a lot of us struggle with.
How much time outside do we really need?
Louv says that when it comes to time outside, there is no magic number that will leave us feeling our best. "Having said that," he continues, "I often share this as a rule of thumb: Some experience in nature is better than none, and more is better than some."
His advice for anyone looking to get out into nature more? Schedule it in, like you would a gym class or doctor's appointment. "Make getting outside in a natural area an intentional act—a healthful habit, if you will—that becomes part of your life. It can be as simple as planning regular walks around a local park, taking picnics, or learning how to garden."
He says that making a few tweaks at home can help too, and he's a big proponent of open windows and plenty of houseplants. "Even images of nature, photos, paintings, videos, have been shown to have a calming effect on people," he says. "But the real thing is really what works best."
Louv's work is another reminder of the importance of protecting our natural world, so it can continue to do the same for us. As evidenced in mbg's new motto You. We. All, true wellness is only possible with a healthy planet.
For more ideas on how to make outdoor time a regular part of your life, check out Louv's latest book, Vitamin N, and peep these quick tips.
Advertisement
This ad is displayed using third party content and we do not control its accessibility features.