NYT Best Selling Author & Motivational Speaker
By Gabrielle Bernstein
NYT Best Selling Author & Motivational Speaker
Gabrielle Bernstein is the #1 New York Times bestselling author of The Universe Has Your Back, and has written five additional bestsellers. She was featured on Oprah's SuperSoul Sunday as a "next-generation thought leader," and The New York Times named her "a new role model."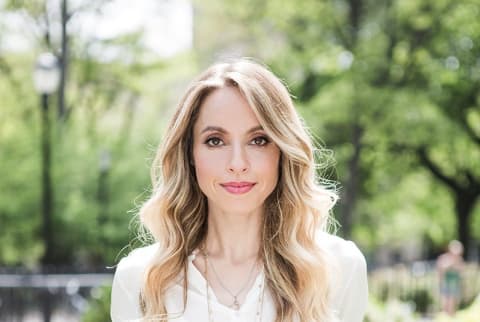 March 18, 2014
Sometimes the simplest way to drop the "baditude" and bring on the happiness can come through an everyday action. Certain actions activate oxytocin, aka "the love hormone," which is known to induce feelings of love, trust, and a sense of bonding. When you're feeling funky, oxytocin can turn your mood around, make you feel more connected and revive your overall energy.
There are a few natural ways to rev up the oxytocin engine when you've got the blues. These great tips can be applied anywhere, anytime. Take a minute for a miracle and let the love hormone lead the way.
Advertisement
This ad is displayed using third party content and we do not control its accessibility features.
The first tip is to place your hand on your heart. By putting your own hand on your heart, you stimulate the love hormone, which sends out the inner signal that it's safe to calm down.
Once you place your hand onto your heart, breathe into it. As you breathe into your heart, imagine feelings of love, compassion and ease passing over you. Proactively collaborate in your healing by breathing into your heart. This exercise will stimulate the flow of oxytocin. Then stress will subside and peace will set in.
Another great way to stimulate oxytocin is to give someone a 20-second hug. Yup it's that simple. Just give someone you love a little squeeze. Make sure the hug is reciprocated.
It's important that the gesture ignite a sense of connection, which will in turn stimulate oxytocin. Hug your lover, your best friend, or even your pet. The sweet connection between two beings can totally change your mood.
My last suggestion is to flaunt your pearly whites and smile at someone. A genuine, heartfelt smile can connect you to a complete stranger. Smile at people you know and feel free to smile at strangers. Just express authentic, heart-centered grace through the generous gesture of a smile. In an instant, you'll feel love rush in.
Love doesn't have to come from a romantic partner or a child. Love can come from any form of authentic connection. Take time in your life to create those connections and trust that you're not serving yourself but you're also spreading the love.
Excerpt from Gabrielle's new book, Miracles Now.
Advertisement
This ad is displayed using third party content and we do not control its accessibility features.

Gabrielle Bernstein
NYT Best Selling Author & Motivational Speaker
Gabrielle Bernstein is the #1 New York Times bestselling author of The Universe Has Your Back, and has written five additional bestsellers. She was featured on Oprah's SuperSoul Sunday as a "next-generation thought leader," and The New York Times named her "a new role model." She appears regularly as an expert on The Dr. Oz Show and co-hosted the Guinness World Record largest guided meditation with Deepak Chopra.
Gabrielle has been on an international speaking circuit since2004. She has presented lectures at Google, TEDxWomen, Oprah's SuperSoulSessions, The Chopra Center, The Omega Institute, L'Oréal, Philosophy and TheHuffington Post, among many other notable organizations. She is also a certified Kundalini yoga and meditation teacher.
Gabrielle is a regular guest on The Dr. Oz Show and has contributed to or been featured in media outlets such as SuperSoul Sunday, Today, CNN, Home & Family, Fox & Friends, PBS, KathieLee and Hoda, Access Hollywood, OWN's Help Desk, The NewYork Times Sunday Styles section, Teen Vogue, ELLE, InStyle,Marie Claire, Health, SELF, Women's Health, Glamour,The Sunday Times UK, People, The Wall Street Journal, TheThrive Global podcast, Lewis Howes' School of Greatness, Bulletproof Radio and many more. Gabrielle has also been on the covers of Success, Experience Life and Self-Made magazines; the latter named her one of the top 50 women in business.
Gabby is the creator of the Miracle Membership, a first-of-its-kind monthly subscription that helps people stay committed to their spiritual practices. Her flagship course, Spirit Junkie Masterclass, empowers people to awaken their confidence and live their purpose.
Her new book, Super Attractor: Methods for Manifesting a Life Beyond Your Wildest Dreams is out now.