The Unspoken Thing That Can Disrupt A Couple's Sex Life
Contributing Sex & Relationships Editor
By Kelly Gonsalves
Contributing Sex & Relationships Editor
Kelly Gonsalves is a sex educator, relationship coach, and journalist. She received her journalism degree from Northwestern University, and her writings on sex, relationships, identity, and wellness have appeared at The Cut, Vice, Teen Vogue, Cosmopolitan, and elsewhere.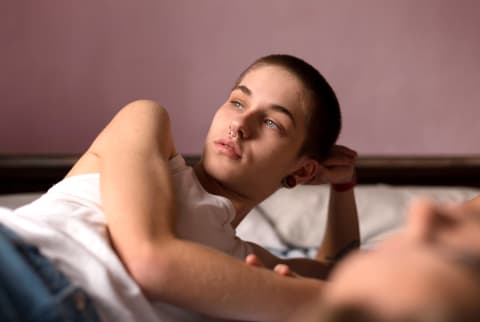 Image by Lucas Ottone / Stocksy
December 28, 2018
When a couple finds themselves in a sexual rut, it can be hard to even pinpoint what got them there in the first place, let alone figure out a way to climb out. Oftentimes it's a series of accumulated factors that have contributed to a slower or stagnant intimate life—a particularly time-consuming project at work, paired with the kids just entering a challenging new grade level, plus residual tension between the two partners after a recent argument, and then add in any health trouble that might be making physical touch difficult.
One other potentially major exacerbating factor? Mental health.
Advertisement
This ad is displayed using third party content and we do not control its accessibility features.
Depression can lower a person's libido, both as a symptom of the chemical imbalances present in a depressed person's brain and as a side effect of certain kinds of treatment. But additionally, a recent study1 published in the Journal of Social and Personal Relationships suggests there might be another explanation for how depression can disrupt a couple's sex life: a phenomenon that researchers call interference, which refers to the small but consistent ways being in a relationship can affect someone's daily life.
"Interference focuses on the ways partners can disrupt day-to-day routines and individual goals. It happens because our relationships have interdependence—our lives overlap with our partners' lives," Amy Delaney, Ph.D., a Millikin University assistant communication professor and lead author of the study, tells mbg. "The example I always give my students is my husband putting his socks on the floor instead of in the laundry basket (which is right there). Because our lives are interdependent, when he doesn't get his laundry in the basket, he's interfering with my goal of not having dirty socks on the floor."
Past research has posited that relationship turbulence is triggered by two qualities: relational uncertainty (that is, the degree to which each party feels confident or uncertain about the status of the relationship and each person's investment in it) and interference from a partner.
All this in mind, Dr. Delaney surveyed 106 different-sex couples where one or both people in the relationship had been diagnosed with depression, asking them about their depressive symptoms, their sexual intimacy challenges, their levels of relational uncertainty, and the ways each partner interfered with the other's daily life. Her findings? People with more depressive symptoms also tended to report more relational uncertainty and increased perceptions of interference. But it was the latter—perceiving interference from a partner—that predicted sexual intimacy challenges.
In other words, even just one partner's depression was associated with both partners feeling like their lives were being disrupted by the other person, and feeling this interference was associated with more stress on the couple's sex life.
"For couples with depression, interference could really damage partners' connection," Dr. Delaney explains. "First of all, interference means that couples are having trouble coordinating routines and goals. If two partners aren't working well together to accomplish their day-to-day goals, they probably won't feel very connected in a way that allows them to connect sexually. Second, the relational turbulence model says that interference prompts negative emotions, like frustration. If, for example, one partner is dealing with a lot of interference because their spouse won't take their medication, doesn't clean up their dishes, and keeps bailing on plans for date night, that is likely to cause some frustration! And if frustration is added to the already negative emotional climate of depression, partners probably have lots of barriers to creating a positive emotionally and physically intimate connection."
Interestingly, this effect was particularly significant for men with depression: Men with more depressive symptoms perceived more interference, as did their partners. Dr. Delaney's theory posited in the paper: "Perhaps men notice goal blockages when they are cognitively and emotionally taxed by depression, whereas women perceive interference when their partners are limited by depressive symptoms."
So why is this all important? Dr. Delaney believes these results highlight the relational effects of depression and the relational causes of intimacy challenges.
"Lots of existing research really dismisses sex problems as either a symptom of the depression or a side effect of treatment," she says. These two things can definitely be true, but her findings suggest the qualities of the relationship itself can also be important contributing factors. "Sex problems aren't just a lack of interest or difficulties with physical function; they're more nuanced than that."
If you and your partner are currently in a sexual slump and one or both of you struggle with mental health difficulties, it might be worth it for each of you to consider how your behaviors, habits, and lifestyle might be affecting the other's day-to-day life and energy. The effects of mental health difficulties, particularly depression, will not be solved over the course of one conversation, but just opening up that dialogue can be a good way to begin working toward improving your life together and minimizing the feelings of tension, disruption, and discordance between you.
"Approach rather than avoid," writes sex therapist Jessa Zimmerman at mbg. "I recommend that you come from a positive place, making it clear that you're interested in creating your best possible relationship. Express how you've been feeling about the cycle you're in and specifically acknowledge your own contribution, in thought and in deed, to keeping the two of you stuck."
Difficulties in the bedroom can indeed be one step in a frustrating cycle—life's struggles lead to less sexual energy and less sex, less sex can create turbulence in your relationship, and relationship turbulence just adds to more overall struggles, and then the cycle just spirals on and on. Having a healthy and satisfying sex life, on the other hand, can actually improve your mental health and your overall relationship well-being. That's an equal and opposite kind of cycle, one with so many ongoing positive benefits that it's certainly worth trying to set it in motion.
Advertisement
This ad is displayed using third party content and we do not control its accessibility features.
Kelly Gonsalves
Contributing Sex & Relationships Editor
Kelly Gonsalves is a multi-certified sex educator and relationship coach helping people figure out how to create dating and sex lives that actually feel good — more open, more optimistic, and more pleasurable. In addition to working with individuals in her private practice, Kelly serves as the Sex & Relationships Editor at mindbodygreen. She has a degree in journalism from Northwestern University, and she's been trained and certified by leading sex and relationship institutions such as The Gottman Institute and Everyone Deserves Sex Ed, among others. Her work has been featured at The Cut, Vice, Teen Vogue, Cosmopolitan, and elsewhere.
With her warm, playful approach to coaching and facilitation, Kelly creates refreshingly candid spaces for processing and healing challenges around dating, sexuality, identity, body image, and relationships. She's particularly enthusiastic about helping softhearted women get re-energized around the dating experience and find joy in the process of connecting with others. She believes relationships should be easy—and that, with room for self-reflection and the right toolkit, they can be.
You can stay in the loop about her latest programs, gatherings, and other projects through her newsletter: kellygonsalves.com/newsletter