How Better Sex Education Supports LGBTQ Kids' Mental Health
Contributing Sex & Relationships Editor
By Kelly Gonsalves
Contributing Sex & Relationships Editor
Kelly Gonsalves is a sex educator, relationship coach, and journalist. She received her journalism degree from Northwestern University, and her writings on sex, relationships, identity, and wellness have appeared at The Cut, Vice, Teen Vogue, Cosmopolitan, and elsewhere.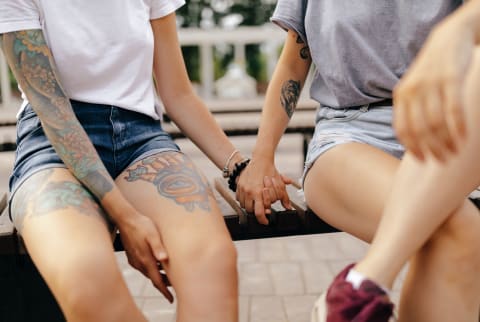 Image by Alexey Kuzma / Stocksy
April 29, 2019
We know sex education in America needs a lot of work. Not only do most states lack comprehensive, medically accurate, and pleasure-positive sex ed programs, but they also tend to leave out or outright antagonize LGBTQ kids.
And according to recent research, sex ed that excludes sexual and gender minorities can have a severely damaging effect on these young people's mental health: A new study1 published in the American Journal of Sexuality Education found a lack of inclusivity in sex ed was associated with more anxiety, depression, and suicidal tendencies in LGBTQ people both in high school and later in life.
Advertisement
This ad is displayed using third party content and we do not control its accessibility features.
Current LGBTQ sex education policies.
When it comes to American sex ed, the sorry stats speak for themselves: Just 24 states require sex ed be taught in schools at all, 27 states require abstinence be stressed in any sex ed programs provided, and just 13 states require all school sex ed programs to be medically accurate.
But if that picture looks grim, it's even worse for LGBTQ kids. According to GLSEN, a national organization that promotes inclusive education, seven states still have laws prohibiting the "promotion of homosexuality" in classrooms. Three states (Alabama, South Carolina, and Texas) require "only negative information" on sexual orientation be provided in sex ed programs. For example, here's a snippet of Alabama's law on the matter: "Classes must emphasize, in a factual manner and from a public health perspective, that homosexuality is not a lifestyle acceptable to the general public and that homosexual conduct is a criminal offense under the laws of the state."
There are nine states that require inclusive and LGBTQ-friendly sex education, thankfully. (You can find out more about each individual state's education policy from the Guttmacher Institute.)
Why LGBTQ sex education is important.
Researchers surveyed 263 people between ages 18 and 26, all of whom identified as sexual minorities (meaning they identified sexually as something other than straight). About 21 percent of them were also trans or nonbinary. They were asked about their experiences in their school sex ed classes, their mental health during high school and after presently, their substance use, and their sexual behaviors.
As expected, the results showed most sexual minority students received "highly heteronormative and exclusive sex education." The greater the level of exclusion in the program was, the greater their rates of anxiety, depression, and suicide risk were as well. "Many of these associations persisted among the sample even after graduating high school," the researchers noted. "Although poor mental health outcomes generally lessened over time, those reporting greater levels of exclusion endorsed lingering mental health consequences." And students who were trans or nonbinary in addition to identifying as a sexual minority reported even worse mental health outcomes compared to cisgender sexual minority students.
But the flip side was also true: LGBTQ people who perceived their sex ed program to have been more inclusive tended to have less anxiety, less depression, and fewer suicidal tendencies.
"More inclusive sex education may fulfill a protective role, providing normalization and visibility of sexual minority orientations in the curriculum," the researchers write. "These results highlight the potential power of sex education policies and laws at the national, state, and local level on sexual minority youth."
The study found LGBTQ kids were not more likely to practice safer sex just because a program was inclusive, suggesting comprehensive, medically accurate sex ed is still paramount to protecting young people of all stripes in addition to increasing inclusivity. But in general, research shows2 inclusive classrooms benefit sexual and gender minority students in many tangible ways, including making them feel safer, encounter less bullying in middle and high schools, be less likely to engage3 in risky sexual or substance-related behaviors, and have better academic outcomes.
Advertisement
This ad is displayed using third party content and we do not control its accessibility features.
Inclusive sex ed as a mental health issue.
Why would sex ed have such a powerful effect on mental health, in particular?
"The immediacy of sex education during the process of sexual identity formation may help to explain these associations," the researchers explain. Indeed, the major milestones of sexual identity formation tend to happen during middle and high school, around the same time kids are learning about sex in general and experiencing school sexual education programs. Gay kids, for example, tend to have their first experience with being attracted to someone of the same gender around age 11; by age 18, they've usually told at least one non-family member about their sexual orientation.
A large body of research shows denying or invalidating a person's sexual and gender identity can harm their physical and mental health. These effects might be especially devastating during these vulnerable and formative adolescent years: "Minority stress and internalized homophobia appear to be powerful negative influences on sexual minority youth, and exclusion in education and particularly sex education may contribute to these forces," the researchers write. "As students develop a sense of social and sexual identity, they receive messaging from their education about the acceptability and normality of their experiences. The connection between perceived inclusivity of sex education and mental health outcomes is unsurprising given these dynamic and powerful influences."
The effects of an inclusive program were associated with better mental health even after graduation and into their adult years. Considering LGBTQ youth are much more likely to struggle with mental health than their cis and straight peers, often due to the discrimination they experience, the fact that a school sex ed program can have such a lasting impact on their mental health matters a lot.
Clearly, providing quality sex education for kids is a matter of health and wellness, which is why it's vital that we push our schools to institutionalize better sex ed programs. If you're a parent, call up your kid's school and ask about how they do sex ed. Go to school board meetings, rally other parents, and make your voice heard. Parental buy-in can dramatically influence what kinds of sex ed curricula school administrators feel comfortable using.
Sex education classrooms have the potential to become sites of empowerment, both for LGBTQ kids and for everyone, as long as we're willing to invest in them.
Advertisement
This ad is displayed using third party content and we do not control its accessibility features.
Kelly Gonsalves
Contributing Sex & Relationships Editor
Kelly Gonsalves is a multi-certified sex educator and relationship coach helping people figure out how to create dating and sex lives that actually feel good — more open, more optimistic, and more pleasurable. In addition to working with individuals in her private practice, Kelly serves as the Sex & Relationships Editor at mindbodygreen. She has a degree in journalism from Northwestern University, and she's been trained and certified by leading sex and relationship institutions such as The Gottman Institute and Everyone Deserves Sex Ed, among others. Her work has been featured at The Cut, Vice, Teen Vogue, Cosmopolitan, and elsewhere.
With her warm, playful approach to coaching and facilitation, Kelly creates refreshingly candid spaces for processing and healing challenges around dating, sexuality, identity, body image, and relationships. She's particularly enthusiastic about helping softhearted women get re-energized around the dating experience and find joy in the process of connecting with others. She believes relationships should be easy—and that, with room for self-reflection and the right toolkit, they can be.
You can stay in the loop about her latest programs, gatherings, and other projects through her newsletter: kellygonsalves.com/newsletter