Is Dating Becoming More Authentic Thanks To COVID?
Contributing Sex & Relationships Editor
By Kelly Gonsalves
Contributing Sex & Relationships Editor
Kelly Gonsalves is a sex educator, relationship coach, and journalist. She received her journalism degree from Northwestern University, and her writings on sex, relationships, identity, and wellness have appeared at The Cut, Vice, Teen Vogue, Cosmopolitan, and elsewhere.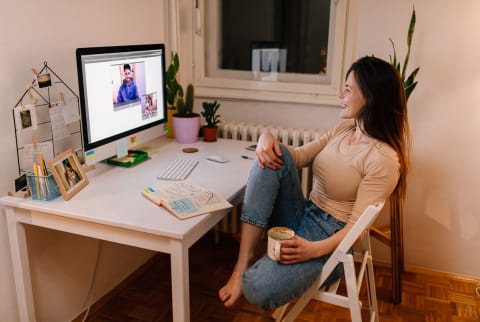 Image by Mihajlo Ckovric / Stocksy
October 14, 2020
Without question, COVID-19 has created some huge and often extremely frustrating barriers to dating. Video dates have become the norm, meeting a date in person with all the precautions still involves some level of risk, and there are far fewer safe group settings to meet people in person organically.
But despite all the new challenges, a new report from Match's 2020 Singles in America study suggests there's at least one positive change to the dating scene that's come thanks to COVID-19: People seem to be getting more real about dating.
The pandemic has made people more aware of what they want.
According to their survey of 5,000 U.S. singles, 58% of single people on dating apps say they've gotten more intentional about dating since the pandemic hit. Some 52% have changed what they're looking for in a potential partner, and 63% of active daters are spending more time getting to know potential partners.
Biological anthropologist Helen Fisher, Ph.D., who led the study, describes it as a rise in "intentional dating." The trend may be related to the amount of personal reflection people have been doing in isolation and as heightened uncertainty forces us to assess what we really need in our lives.
"During traumatic situations, people tend to do more self-analysis, realizing what they have and what they don't have. They assess. They become realistic," Fisher explains. "In fact, the data on depression has shown that when one is mildly depressed, they see their situation more clearly."
That clarity, she says, explains why people began to prioritize authenticity on their dates and being transparent about what they want. Some 69% of active daters say they're being more honest in their conversations with potential partners, according to the study, and 65% say they're more likely to directly ask others what kind of relationship they're looking for.
"Gone is the appeal of the 'bad boy' and 'bad girl,'" she says. "People realize what is missing in their lives and readjust their priorities."
Stressful situations can often lead to more self-disclosure.
The conversations have also gotten better. Some 59% of people who'd gone on a video date said they had more meaningful conversations during video dates compared to before COVID, 56% said they'd felt some chemistry on a video date, and a whopping 50% of people say they fell in love during a video date.
Part of this is because experiencing the collective trauma of a pandemic has made us all more willing to be vulnerable and talk about our inner worlds, according to Fisher.
"In stressful situations, people express more 'self-disclosure'—which leads to more meaningful conversations and more intimacy," she explains.
The bottom line.
Dating might be becoming more authentic these days thanks to the pandemic. Other dating apps have been finding similar results from their users too. Plenty of Fish earlier this year found singles seem to be more optimistic and serious about dating since the pandemic hit, and Hinge found 63% of people have felt a growing connection with someone they've been dating virtually via the new norm of video dates.
So if you've been looking to meet someone, now might be as good a time as any to dive into the swipe scene. Here are some tips for successful pandemic dating, whenever you're ready.
Kelly Gonsalves
Contributing Sex & Relationships Editor
Kelly Gonsalves is a multi-certified sex educator and relationship coach helping people figure out how to create dating and sex lives that actually feel good — more open, more optimistic, and more pleasurable. In addition to working with individuals in her private practice, Kelly serves as the Sex & Relationships Editor at mindbodygreen. She has a degree in journalism from Northwestern University, and she's been trained and certified by leading sex and relationship institutions such as The Gottman Institute and Everyone Deserves Sex Ed, among others. Her work has been featured at The Cut, Vice, Teen Vogue, Cosmopolitan, and elsewhere.
With her warm, playful approach to coaching and facilitation, Kelly creates refreshingly candid spaces for processing and healing challenges around dating, sexuality, identity, body image, and relationships. She's particularly enthusiastic about helping softhearted women get re-energized around the dating experience and find joy in the process of connecting with others. She believes relationships should be easy—and that, with room for self-reflection and the right toolkit, they can be.
You can stay in the loop about her latest programs, gatherings, and other projects through her newsletter: kellygonsalves.com/newsletter