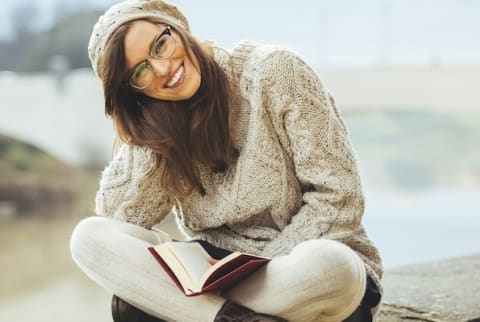 March 27, 2014
Spring will be here before you know it and most of us will be ready to bloom with the flowers. This is a great time of year to make a new dedication to yourself as the energy shifts from the inward, slow energy of winter, to the outward and vibrant energy of spring. Like New Year's Day, many of us have a new sense of purpose and are charged with motivation to bust out of old patterns and into some new ones.
It's a wonderful time to think about what you're ready to shed and what you might be ready to try on. So let spring fever get the best of you and get swept away with caring for someone who often gets overlooked: You!
Advertisement
This ad is displayed using third party content and we do not control its accessibility features.
Here are five ways to fall in love with yourself this spring.
1. Get in touch with your passions.
As we get older, we take on more and more responsibility. An unfortunate side effect is that we get swamped with things we "have" to do, and we forget about the things we truly "want" to do. So I encourage you to dig deep and find something you absolutely love doing. Then do it. Put it on your calendar and make it happen. If you've been neglecting your passions, then your soul can't breathe. Believe me, when your soul gets her groove on, the rest of your life feels that much more amazing.
2. Nourish your body.
Many people crave cooked, warm and comforting foods during the winter. If, like many people, you've overindulged in your favorite foods all winter and you're noticing that your waistband is a tad snug, this is the perfect time of year to nourish your body. Try eating a whole foods diet, or try a spring detox. Your body can let go of the weight and toxins it's accumulated over the winter, and you'll feel vibrant, alive and full of energy.
3. Pamper yourself.
Most of us are master caretakers to everyone in our lives except ourselves. So it's time for a little well-deserved "me-time!" It's almost sandal season, so get a pedicure or schedule a spa day. Get some essential oils and take a relaxing bath by candlelight. Romance yourself. The more love we give something, the more we love it, so it's time to direct that love at yourself.
4. Spring clean your emotions.
We're all familiar with the term "spring cleaning." We typically think of our physical environment when we hear this, but think for a moment of the emotional clutter that we carry around with us. It's time to lighten the load! Is there something you can let go of that you've been carrying around? Perhaps it's an old hurt that you're still nursing. It might be that you're in a toxic friendship and it's time to cut the strings. Think about what isn't serving you and what you're ready to part with. Then make the decision that's right for you, and for your highest good. You'll feel much lighter.
5. Find the beauty in yourself.
Once you've taken some time to really give to yourself, take a moment and really appreciate who you are and all that you do. Most of us excel at finding our faults and dwelling on them. We need to work at finding our strengths, giving ourselves credit and seeing our own beauty. When we can learn to deeply appreciate who we are and accept our own inner beauty, that is when we can really fall in love and shine.
Advertisement
This ad is displayed using third party content and we do not control its accessibility features.
Cortney Chaite
Health and Fitness Coach
Cortney runs online clean eating and fitness coaching programs to help women lose weight, improve their health and find their inner badass. She received her training as a Health Coach from the Institute for Integrative Nutrition's cutting-edge Health Coach Training Program. With her extensive knowledge in mindfulness, health coaching, and self-care, she draws on these skills to help people with lifestyle changes that produce lasting results. She is a mother, writer, speaker, culinary-dabbler, and ambitious photographer. She is a graduate of Vassar College and holds a Masters Degree in Architecture from The Catholic University of America.
To schedule a "get to know you" phone call or subscribe to her free newsletter for inspiration and news about upcoming programs, please visit her website at: http://www.cortneychaite.com.