Is A Bamboo Hut In Bali The Future Of Education?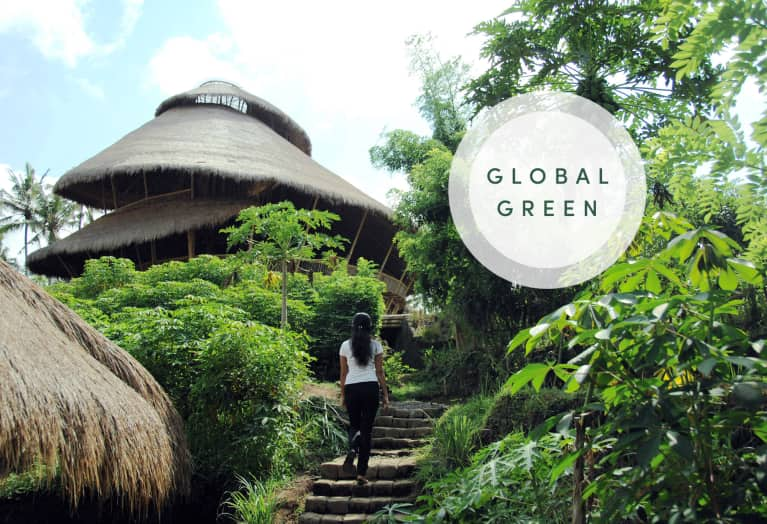 Our editors have independently chosen the products listed on this page. If you purchase something mentioned in this article, we may
earn a small commission
.
This Earth Month (why should it be only one day?), we're highlighting the innovative people, places, and technologies paving the way to a more sustainable future. We'll journey thousands of miles away and back to our own backyard to introduce you to the thought leaders making a serious mark on the eco-movement—and share how you can do the same. Get ready, get set, get inspired to go green.
Most of my memories from high school involve stale chocolate chip muffins, uncomfortable desks in artificially lit classrooms, and binders full of mindless notes, with a doodle or two thrown in. I definitely don't look back on these mundanities in angst; I've mostly just accepted them as givens. I mean, nobody's recollections from school are especially colorful, right?
Well, it turns out, not exactly. Graduates of the Green School reflect on wall-less classrooms immersed in the lush jungles of Bali; excursions to surrounding farms, beaches, and businesses; and a curriculum rooted in creativity and exploration.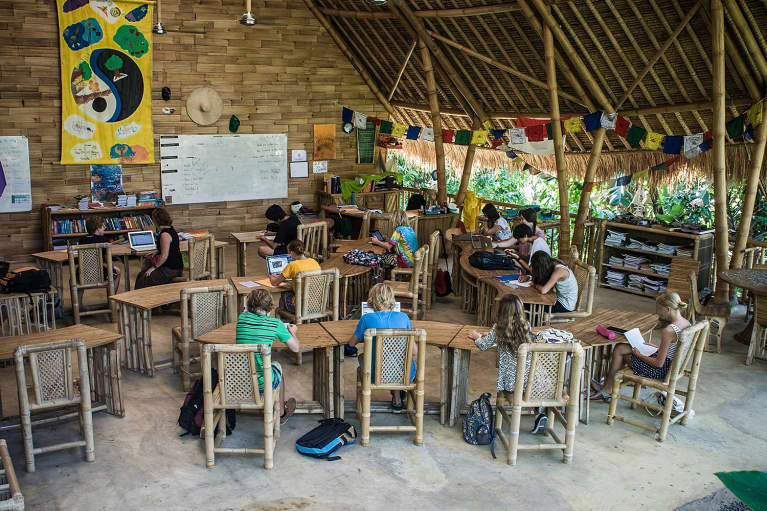 Opened in 2008, the school has become a model for holistic, sustainable education. Let's take a peek inside this unique campus, check in with the people running it, and see if we can all take a page or two from its curriculum.
Jewelers initially drawn to Bali for its cultural richness and emphasis on craftsmanship John Hardy and his wife, Cynthia, home-schooled their four kids for years before deciding they wanted them to have a more traditional experience in the country they'd grown to love. This desire, combined with an introduction to Three Springs (a design philosophy that puts a school at the center of a close-knit living community) and Al Gore's An Inconvenient Truth inspired the Hardy family to design their own school system in the heart of Bali—one that prioritized environmental awareness.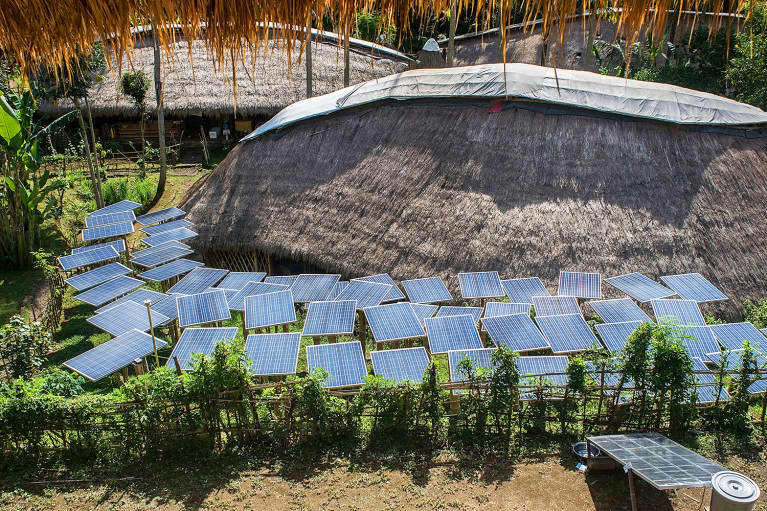 "For me it's just the idea that, if this little girl graduates as a whole person, chances are she'll demand a whole world—a whole world—to live on," John explained in a Ted Talk on his creation. What began with 90 kids has grown into a collection 420 students, from pre-K to high school, spread across 20 acres of rolling garden in south-central Bali. Equipped with 118 solar panels, an on-site permaculture farm for healthy cafeteria fare, a rainwater filtration system, buses that run on used cooking oil, and even a sewage system that recycles waste back into the soil as fertilizer, it is a nearly self-sustaining campus. Classes are either held in bamboo-frame structures or outside in nature.
The Green School may have a dreamy campus, but its unique, holistic curriculum is what's ultimately inspiring the next generation of environmental activists.
"Our curriculum is based on three frames of learning: proficiency, thematic, and experiential," Noan Fesnoux, the school's green studies projects coordinator, tells mbg. "The thematic frame is integrative, taking a topic and exploring it from all viewpoints. For example, for a unit on hydroelectricity, we incorporate geography through looking at dams around the world, physics through concepts like pressure and electric generators, social studies through stories of displaced families, and environmental science through impact studies of dams."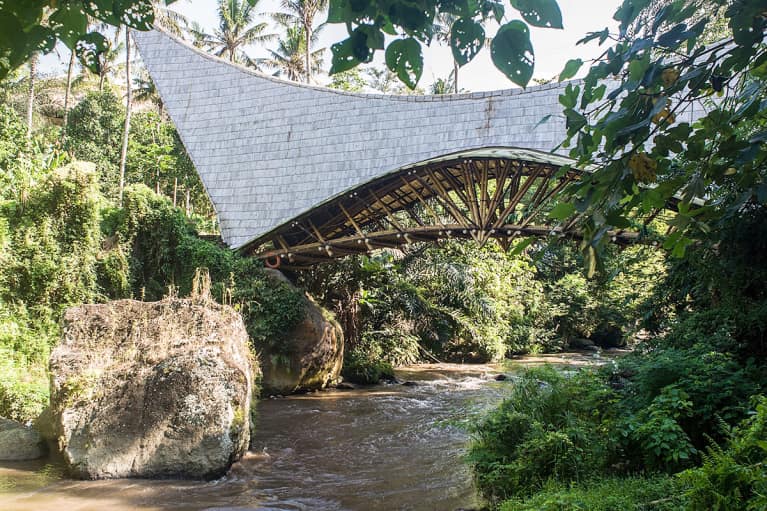 This experiential, multidimensional learning looks a little bit different for every age group. Colorful play structures made from recycled materials introduce pre-K kids to sustainable ideals. In elementary school, open-air classrooms invite students to get a little dirty and form personal connections with their natural environment. Middle schoolers begin to take control of their learning with optional electives like a Seed to Table class, which gets them cooking food from different countries using local ingredients they picked farm-fresh.
By the time high school rolls around, students are almost completely autonomous, invited to formulate and execute green projects of their choosing—with no assignments, grades, or timetables attached. In the past year alone, Fesnoux has watched his students build bamboo geodesic domes that can hold classes, craft bamboo bikes from all-natural resins and fibers, and make leather from mushrooms.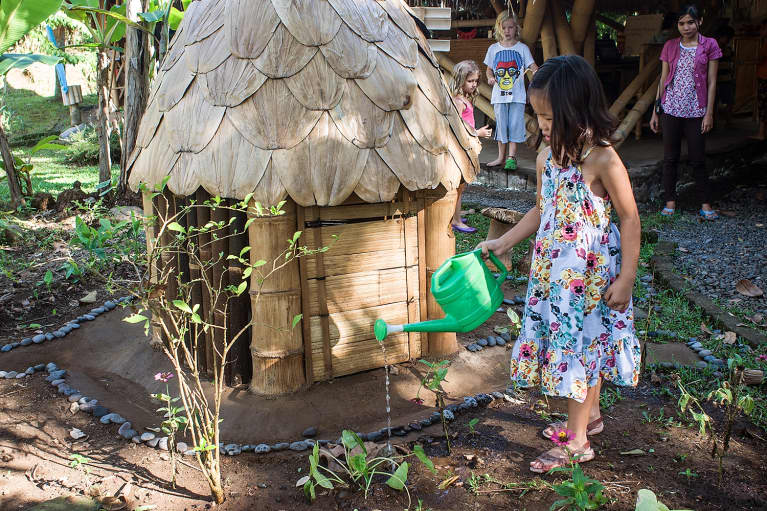 "As you walk through campus, it's not unusual to see high school students working on a project and creating prototypes, early year students walking from their wall-less bamboo classrooms to the yoga studio for yoga class, and primary school students nurturing their gardens during recess," explains Lee Ann McKee, head of marketing and communications for the school. By making the campus feel like a problem-solving incubator, the administration hopes that students are better prepared to face the complex issues they'll meet in the real world, both those that are related to climate change and those that are not.
This less traditional structure also helps the school attract a really dynamic group of teachers from all over the world. Fesnoux, a scientist by training, was building an off-grid eco-lodge for students in Indonesia when he was picked up by the school. "Many of the assumptions you have about school aren't givens here," he says. "Over the years, our faculty has challenged many pillars of traditional education: homework, grades, learning outcomes, even the core role of a teacher."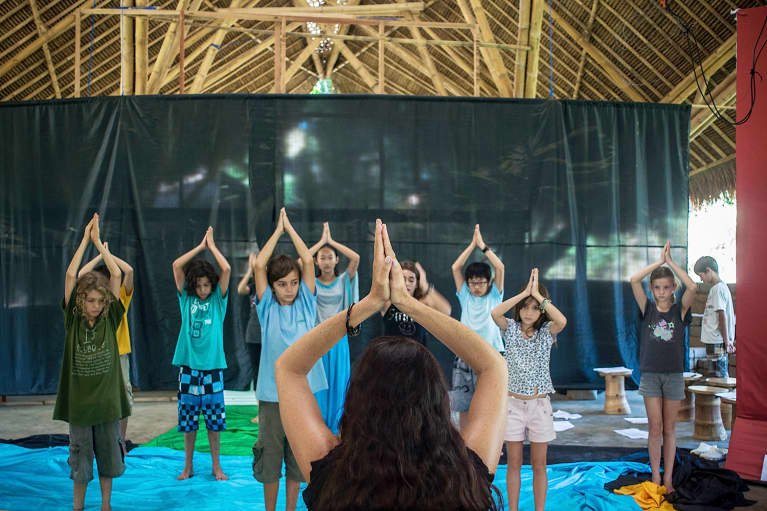 With its dynamic campus and radical approach to teaching and learning, it's no surprise that parents have moved to Bali specifically to send their kids to the Green School—sometimes having never even visited before. The 420 full-time students come from 33 countries, with North America and Australia being the two most popular. The school also boosts its international presence by hosting after-school programs that teach 320 local Balinese students about sustainability. As a member of the Round Square, it facilitates exchanges with schools around the world and participates in multicultural conferences showcasing student work.
McKee explains that after graduation from the Green School, students travel various paths around the world, from studying at an Ivy League university to taking a gap year. The first graduating class, the class of 2013, is just finishing up their higher education studies this year.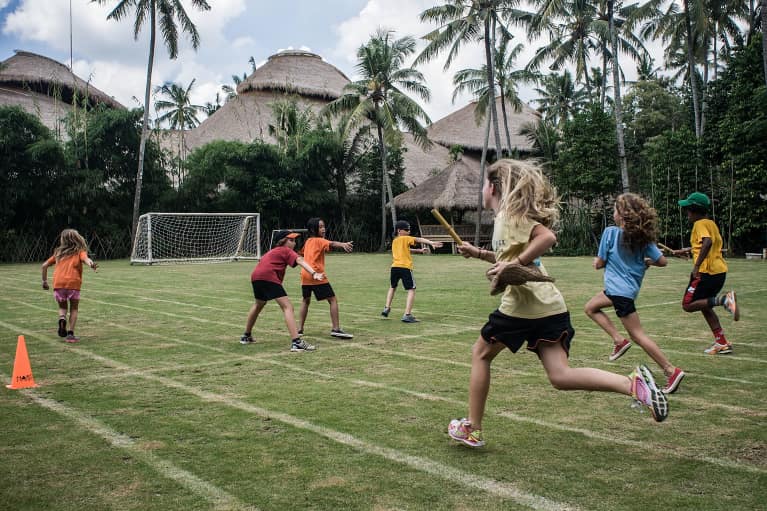 One day, the Green School hopes that its model is the norm and not the exception. To spread their message of interactive, project-based learning, administrators host daily campus tours and teacher education programs. "Green School is a model we built for the world," said John Hardy. "And you just have to follow these simple, simple rules: Be local, let the environment lead, and think about how your grandchildren might build."
And there are plenty of ways for parents who don't want to pack up to Bali or shell out tuition (a year at the Green School ranges from $7,000 to $16,000 a year) can promote a love for the natural world in their kids. McKee, who also has a daughter in kindergarten at the Green School, recommends starting with the following:
Bring a love of nature into your child's life by encouraging lots of mindful play outdoors. (An average student at Green Schools spends 60 percent of their time outdoors.)
Even if you don't live in a temperate climate, you can promote play-based learning experiences at home. The key is finding age-appropriate activities for your tot. One example is teaching them how to grow their own food—from planting a seed to nurturing a small garden.
Once they get older, encourage activism and a more action-focused way of approaching sustainability.