It's Scorpio Season: Here's What Your Zodiac Sign Says About Your Relationships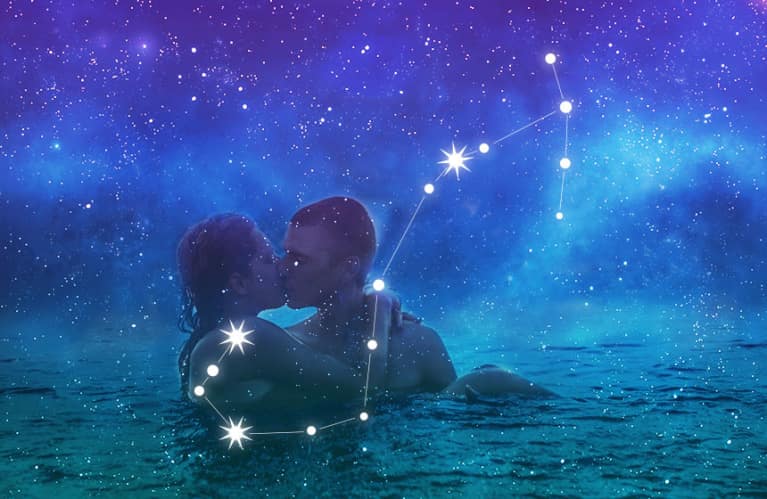 Are your zodiac signs compatible? How can you make a relationship work with any sign? Your love horoscope helps you understand romance through the lens of astrology.
Scorpios are born October 23–November 21. What is this sign like in love and relationships?
Scorpio rules the zodiac's eighth house of intense bonding. In love, you play for keeps. There's no middle ground for extreme Scorpio—you're either in or you're out. Your sign has quite a reputation. You're known as the "sex" sign: jealous, controlling, irresistible, obsessive…whew!
It's true, your passionate sign can be intense. One minute, you're aloof and mysterious, driving partners crazy as they vie for your ever-shifting attention. The next minute, you're in a committed long-term relationship. You are the sign that rules extremes and you can run hotter and colder than most. Take Scorpio Matthew McConaughey, who was voted People magazine's "Sexiest Man Alive." He can be the ultimate bachelor AND the world's most devoted boyfriend. You can't help it if you're "versatile"!
For Scorpio, relationships are like the stock market. You want to make sure the long-term payoff is worth the effort.
Suspicious Scorpios don't trust easily and will fight intimacy every step of the way. Love is both tempting and frightening to you. Deep down, you long to give yourself fully to that perfect soulmate. You're both threatened and intrigued by a dynamic, powerful partner. Still, you've got no interest in pushovers. As the zodiac's most passionate sign, you need someone who can hold his ground and keep you guessing.
In relationships, you don't just commit, you FUSE with the other person. For that reason, you're reluctant to dive in because you know you'll "lose yourself" once you do. Although this concept gets a bad rap, it's actually an essential part of intimacy (which Scorpio rules). When—and if—you surrender to love, you and your mate become one. Beautiful!
To get there, you must work through your control issues. Scorpio rules psychology, and a great therapist can be essential for you. You also benefit from yoga, meditation, spirituality, or any practice that strengthens you internally and calms your irrational fears.
For Scorpio, relationships are like the stock market. You want to make sure the long-term payoff is worth the effort. At times, this attitude can make you your own worst enemy. Like an undercover cop, you'll seduce prospective mates into revealing their most intimate thoughts. Pretending to be fascinated, you catalog every detail, building a case for or against this person. You may conduct a private investigation, too, snooping in diaries, checking pockets, or Googling for incriminating evidence.
Too much of this FBI approach could take its toll, though. True love requires risk and vulnerability—it's not always safe. If you pry without revealing your own hand, partners may bolt. But they should also be careful what they wish for. Once the Scorpio floodgates open, you can overwhelm partners with your intense energy and the need to lose yourself in a mystical, highly charged union.
Ultimately, Scorpio is a private sign. Paparazzi, step off! Once you settle on a mate, you like to build a quiet world for two, designed according to your master plan. Obviously, those secret Scorpio worlds must be enticing, as very few partners ever leave you!