How To Get What You Want Out Of Online Dating (Without Letting It Take Over Your Life)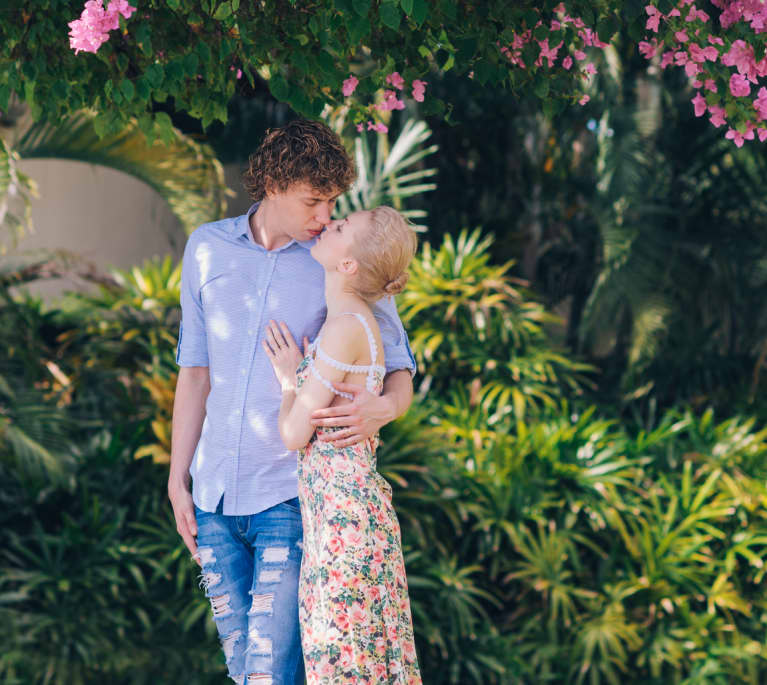 Let's face it: Being preoccupied with finding "the one" just sucks. You think about it nonstop, none of your conversations would pass the Bechdel test, and it creates a cycle of mania and self-loathing that's entirely dependent on male attention. You're unhappy, and the people closest to you are tired of hearing about it.
The best way to date is to have a Zen attitude. Make "it will happen when it's supposed to happen" your mantra. Not only will it ground you in peace, but you'll send out good vibes to potential mates.
Sadly, dating apps are not built on this principle. They're gamified—designed to be addictive.
But that addictive quality often results in quick burnout. Most people check the apps too often, and as you get used to the level of stimulus you're receiving, you have to up your interaction/investment to keep feeling the same kind of "high."
The time and energy that go into reading profiles and connecting with people via emails, texts, old-fashioned calls, coffee dates, etc., definitely adds up. On top of that, you might be juggling several "relationships" at various stages.
This type of behavior inevitably leads to what I'll refer to as DAB—dating app burnout. But, since dating apps are one of the most common ways to meet people these days, it may not be ideal to cut them out of your plan of attack entirely. With that in mind, here are six ways to simplify the process so you can stay in the game until you find a great partner (and not just quit 'cause you're overwhelmed).
1. Write a selective and well-tailored profile.
You don't have time to waste sifting through mounds of overtures from subpar suitors. So, put the games aside and be honest and direct about who you are and what you're looking for. Make sure that your photos are current and realistic.
Don't always say yes. Weed out people who aren't legitimate contenders. People who seem like they aren't your type usually aren't. Trust your instincts. Being picky won't keep you from finding your match. It'll help you hone in on potential partners much more efficiently.
Limit the time that you spend on any dating app. Set clear boundaries for the amount of time you'll spend looking at profiles, corresponding, talking on the phone, and going on dates per week.
4. Don't spread yourself too thin.
Don't put yourself on too many dating sites at once. Limit it to two. You can't possibly monitor correspondence and real-life meetings on more than two dating sites at a time.
By the same token, set a limit for how many different people you will be dating at once. It is difficult and time-consuming to manage the dating process with multiple people. Decide how many individuals you want to be engaged with at a time and stick to it. If someone great comes along, then you have to give up one connection to pick up that one.
5. Stop talking about it.
If you're constantly thinking about who's messaged you back and who hasn't, your energy is in the wrong place. You're likely also talking about your dating adventures way too much. Try to use cognitive behavioral tools (self-observation, thought blocking, or refocusing) to redirect your thoughts.
6. Take "holidays" to detox from dating apps.
If you start to feel consumed, exhausted, or discouraged, take a break. Delete all your apps and cleanse for at least 30 days. It's OK to take a break every once in a while. It doesn't mean you've given up completely. You're just giving yourself a chance to reset.
Actual human connection isn't something that you can find with one click or swipe. Remember that, for most people, meeting the mac to their cheese takes time. And don't forget to look up from your computer or phone once in a while. You never know who may be looking back at you.
Related reads:
How To Trust Yourself + Follow Your Instincts