Ethel's Club's Naj Austin On The Power Of Wellness Spaces Made For People Of Color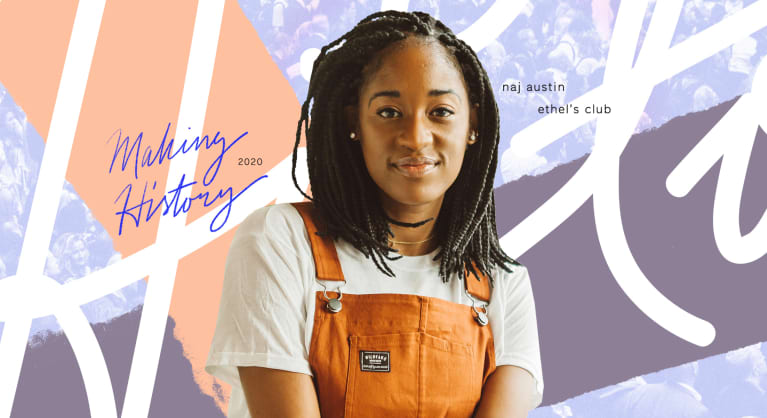 Our editors have independently chosen the products listed on this page. If you purchase something mentioned in this article, we may
earn a small commission
.
In our series
Making History
, we're talking to people who are leading the charge to bring much-needed diversity to wellness. They're sharing with us the work that they do, highlighting the voices that need to be heard and telling us what we aren't talking about—but should be. This week, we're talking to Najla Austin, the founder of Ethel's Club.
For years, Naj Austin watched as co-working spaces centered around womanhood began popping up and wondered if spaces centered around people of color would be next. When none appeared, she decided to create her own. As the saying goes, build it and they will come—and oh did they come.
Ethel's Club started with an Instagram page and quickly grew into a waitlist of 600 people wanting in on the movement. The club opened its doors in Brooklyn in November 2019, and by the following month, its waitlist had shot up to some 4,400 people. The space offers group meditations, yoga classes, sessions with on-site therapists of color, and other wellness workshops, in addition to co-working space, a book club, culture events, and opportunities for people of color to connect and create together. From the art on the walls to the shape of the chairs, Ethel's Club fully considers black and brown people, their bodies, and what they need in order to thrive personally and professionally.
The act of bringing your whole self into every space you enter as a person of color is not a simple one. However, it is revolutionary and necessary. The instant success of Ethel's Club shows how much people of color are craving environments centered around their own community, personal growth, and well-being. We got in touch with Austin to talk about the importance of creating places where people of color can confidently take up space.
Why were you so determined to make sure Ethel's Club became a reality?
Ethel's Club needed to become a reality because there's no other place in reality where it exists. We are the first social and wellness club for people of color, and because I had never experienced a space like this, but in so many instances felt that I needed a space like this, I was determined to see it to life. Because myself, my friends, my co-workers, my literal sisters and brothers, have all at some point needed a healing, gathering, social space such as Ethel's Club. Once I realized it needed to happen, I just started to put my idea out there and say yes to working with people who believed in its purpose as much as I did. And from there, it quickly started materializing into a real space.
Ethel's Club focuses on people of color's holistic well-being, from physical to mental. What do you believe that kind of consideration can do for people who are historically marginalized and disregarded?
First and foremost, I believe this level of care begins the cycle of healing. You can't be your best self—your best professional, your best creative, your best friend or best partner or family member or neighbor—until you've healed yourself. Once you fully heal yourself, you can then begin living, working, and creating the way you want to. You can start having the relationships you desire. And you can begin fully celebrating yourself and others. I don't think marginalized communities have ever been given the appropriate and intentional space to fully heal. But I think when you consider a whole person and allow people to see and consider their own full selves, anything and everything becomes possible.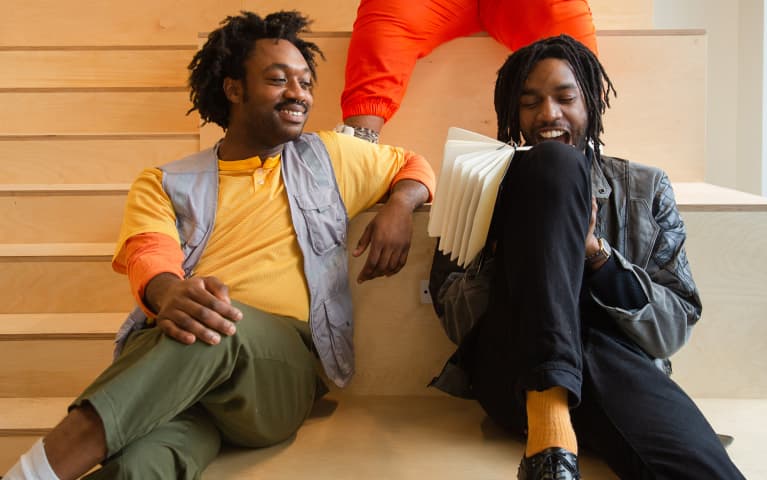 Your grandmother, Ms. Ethel Lucas, created a community gathering place out of her home, and now you've created a similar place in her honor. Why do you think generation after generation of black women has made it a point to create spaces for others like them?
If black women aren't the ones to do it, no one else will. I don't think there's any other group that considers the safety, healing, and celebration of marginalized people. I think that's why we are always at the forefront of creating the most inclusive spaces and movements.
How important do you believe in-person engagement is in today's virtual-driven world?
At the end of the day, I think online and digital community should always be a conduit to real-life interaction. I think virtual spaces can be a beautiful thing. I love my communities on Twitter and Instagram and, a lot of times, actually feel like a lot of care goes into those relationships. However, I also believe these platforms are great tools and starting points for in-person relationships and collaborations to be built. I don't think virtual worlds will ever be able to fully replace IRL interactions, communities, or relationships. But I do think, when these platforms are built with humanity and care at the center, they can be incredible in creating even stronger in-person communities.
It seems like having spaces for people of color to gather is becoming even more imperative with the changing landscapes of cities like New York and the way gentrification continues to limit spaces for people of color.
Yes, I think it has become even more critical that we have spaces we can escape to. There is both power and safety in shared, collective experience. People of color deserve a space where they can show up and not fear being excluded, considered, or discriminated against. The creative, professional, and social potential that comes with being able to bring your full self to the table is what we hope our members can access and achieve through a people-of-color-centered space.
Almost every person who has come into our clubhouse has told us how healing and welcoming and safe it feels. We often hear, "This feels like my home." I absolutely hope as more people come into the space, those feelings of safety, trust, and joy grow, while any and all fear becomes diminished.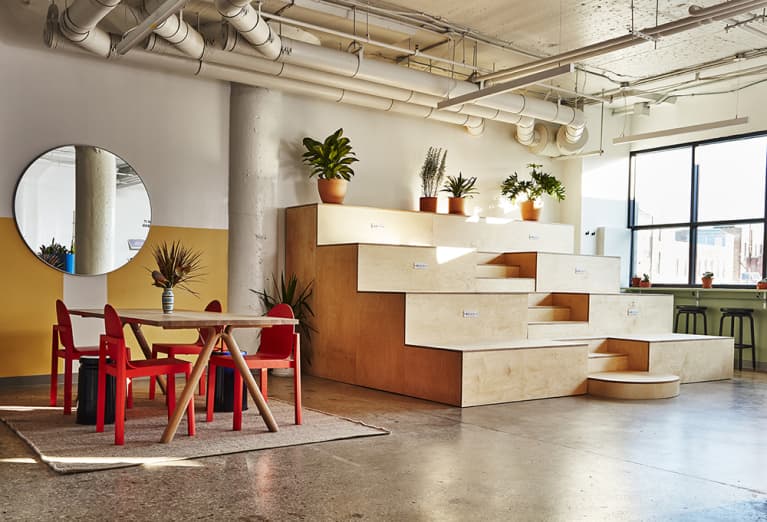 Social clubs have a history of being exclusive and elitist, but Ethel's Club is rooted in inclusivity. How do you balance that?
Inclusivity is definitely always at the forefront of every decision we make, which is one of the reasons we launched with a tiered membership—which we're proud to say provides an entry point that is more accessible than any other social club on the market. We are excited to announce that we're launching corporate memberships in early 2020, where we'll be working with startups, agencies, and other companies to provide memberships to their employees of color. While we are a social club, the goal of our private membership-based model is never to perpetuate elitism but to protect the intentionality that goes into creating truly safe spaces that celebrate people of color.
The club only opened its doors in November of 2019, but people's attachment to it runs deep. Why do you think that's so?
We've intentionally been super transparent about our process from the beginning, and I think that has created a shared, communal investment in seeing our doors successfully open. Before our doors even opened, we were sparking consistent dialogue with our communities on social media, whether it was engaging about relevant cultural moments or sharing one of the POC artisans we were working with or publicly admiring a creative's work. Our brand has always been about genuinely talking to everyone as if we're trying to cultivate a friendship or a real relationship with them. So naturally, we are an honest, playful, genuine brand. I think Ethel's Club feels like a neighborhood friend, even online, and everyone wants to see their friends win.
What is your hope for the future of Ethel's Club and its members?
Expansion is absolutely one of our goals for Ethel's Club. We know people of color need spaces to heal, gather, center, and celebrate one another, way beyond New York. We'd definitely love to expand in Brooklyn, as well as in Manhattan, where we can be more accessible to people of color traveling from all boroughs. And as for cities in the U.S., we'd love to be in every single one. I think it's just a matter of which ones we are able to get to first.
Interview has been condensed and edited for clarity.