A Natural Connection: Why Getting Outdoors Is The Ultimate Sex Ed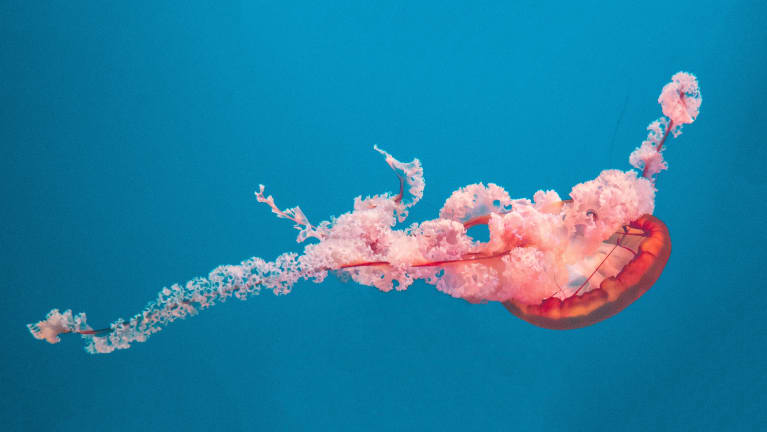 Our editors have independently chosen the products listed on this page. If you purchase something mentioned in this article, we may
earn a small commission
.
"Look, they're stuck to each other!" I squealed through my 7-year-old throat, jumping up and down in my childhood backyard.
Two slugs curled intimately around each other, glistening in the sun, while my mom held a camcorder. It was my first exposure to sex in real time, and we spent the next 20 minutes talking about what was taking place, my mom only stopping to nervously laugh once when I excitedly shouted, "There's his penis!" while pointing at the member protruding from the head of one of the slugs.
And while it was quite a memorable moment, I'd guess that this nostalgic story isn't wildly unique.
The reality is that a lot of people have a memory like mine (though maybe not as sticky, and probably not captured on film). In fact, when parents explain how they first introduce sex to their children, it's almost cliche to hear that they turned to nature to help paint the picture. Whether it's watching a neighborhood cat in heat, observing the way flowers spread their seed, or visiting an aquarium during particular mating seasons, the outdoors are so often a gateway to learn about "the birds and the bees."
The connection between sex and nature is expansive.
It doesn't take much digging to find that plants and animals, like us, exhibit a wide range of sexual behaviors and have their own identities and turn-ons. For instance, did you know that garter snakes have group sex in something called a "mating ball," or that jellyfish reproduce both sexually and asexually throughout their life, depending on their developmental stage? This barely scratches the surface of the unique (and sometimes quirky) sexual escapades going on in nature.
On the other side of the coin, human sexual activity has a huge impact on our environment. It's why there's a growing market for sustainable sex toys and etiquette for leaving no trace when getting down and dirty on a camping trip. (And who could forget how a massive wildfire was literally sparked by a gender reveal party last season?)
And yet, despite all these points of connection, you don't often hear conversations about sex and nature. In fact, you don't hear many conversations about sex at all. Factors like shame and expectation have made sex and intimacy a taboo topic for many people. But the outdoors isn't—which is where I started wondering how we can reintegrate some nature into the way we think and talk about sex as adults.
This idea led me to start a podcast featuring approachable, open conversations about sex, gender, and relationships—all with the outdoors as the centerpiece. (It's called Sex Outside, and it premieres on February 11!) Through these discussions, I've been reminded that the outdoors inherently gives people a more open forum to feel connected to their bodies. This kind of liberation, which can be challenging to access in many other aspects of our lives, makes it easier for us to start thinking about and talking about sex.
Nature's lessons on love and sex.
Maybe talking about sex will never come as naturally to us as it does to our 7-year-old selves, standing in the backyard over some slugs. But that doesn't mean we can't continue to use the outdoors as a jumping-off point for thinking about sex, pleasure, and identity into adulthood. Here are just a few sex-ed lessons I've learned from Mother Nature in the years since that fateful backyard discovery:
Whether it's holding off until the right season or waiting for a full moon to rise, animals and plants (even coral!) know that sex is best when it comes at the right time. The same goes for us humans. Feelings of sensuality and arousal happen at different times and life chapters for everyone, and that is totally natural.
2.
It's OK (even encouraged) to get creative.
As the earth evolves, so do the needs of all the systems on it. Plants and animals have gotten awfully creative looking for ways to make sex happen, and that's made the whole reproductive process better and more effective over time. The human lesson in there: no need to turn down a chance to try something new in the bedroom.
3.
"There's nothing straight about nature."
This is a phrase Elyse Rylander, founder of OUT There Adventures, coined as a way of reminding us that nature simply isn't straight. From jagged mountain ranges to undulating ocean waves, the shapes of nature are fluid. Humans, who for so long have held ourselves to a very unhelpful and harmful heteronormative gender binary, can work that lesson into gender and sexuality exploration, too.
Sex is a part of us, regardless of our relationship status or libido.
4.
You are a sexual being—with or without a partner.
There are a large variety of species that reproduce asexually, reminding us that sex is something that comes from within each of us, no matter who we do or don't act on the urge with (or how often those feelings of arousal come to the surface). Sex is a part of us, regardless of our relationship status or libido.
This is a simple, practical tip and not something nature alone can teach us...but if you've ever gotten a urinary tract infection while in the backcountry, you'll know why I wanted to spread this information far and wide.
It seems as though every other creature alive in this natural world has a fine time ignoring expectations and existing as the beautifully unique, shamelessly sexual beings they are. We as humans are a part of that, too. It's time we reconnect to those feelings, see them as natural and innate to who we are, and claim them in full. Maybe in the bedroom...and maybe outside.