6 Things You Need To Know Today (October 23, 2018)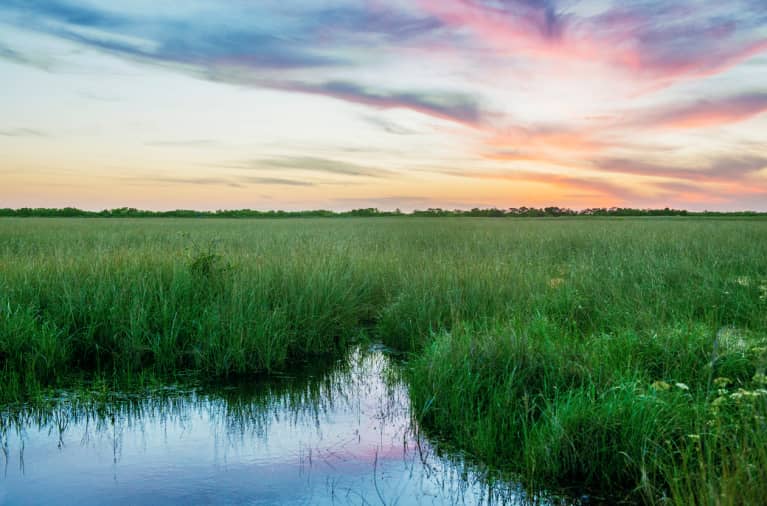 October 23, 2018 — 9:00 AM
1. Climate change needs to play a role in how we take care of natural lands. 
In important ecosystems like the Everglades in Florida, scientists are pivoting to start to model what damage climate change will do to the region years from now and use that information to dictate conservation efforts today. "I use the analogy of a hockey player. Maybe we should be skating to where the puck is going to be rather than where it is right now," said an environmental economist working in the region. (Science)
2. It might be time to go join your local kickball league. 
We've long known that exercise can help keep us physically and mentally healthy—and new research finds that team sports may send these benefits into overdrive. After surveying CDC survey data from 1.2 million adults, a team of researchers found that people who played team sports reported the fewest amount of "bad days," even compared to those who exercise regularly solo. (NPR)
3. Why do baby bumps look so different on different women?
Baby bumps, which typically appear in the 12- to 16-week range, come in as many shapes and sizes as the women who have them. But factors like being a first-time mom, having a tilted uterus, and obesity can really influence what they look like from person to person. (The Cut)
4. There's more troubling revelations about e-cigarettes...
A growing body of research suggests vaping might not be as harmless as many of its users assume. New studies have found toxic metals like lead that are found in cigarettes were also found in some e-cigarette brands; some of those toxins were even evident in users' urine. Vaping also appeared to be linked to an increased risk of heart attacks and a negative effect on wound healing. (Business Insider)
5. The very first hydrogen-powered, zero-emissions trains are here.
Sustainable rail service—running on hydrogen fuel cells and releasing only water and steam into the air—arrived in a northern region of Germany last month, and France hopes to have its first hydrogen train up and running by 2022. These green trains can reach speeds of up to 87 miles per hour and travel up to 600 miles without refueling—reportedly equivalent to the range of diesel trains. Your move, Amtrak. (NBC)
6. Immunotherapy might help extend the lives of people with a certain kind of aggressive breast cancer. 
That's big news. This is the first time an immunotherapy trial has proved to be an effective treatment for triple-negative breast cancer patients, allowing them to survive for an extra 10 precious months. Combined with chemotherapy, it even reduced the risk of death or the risk of the cancer progressing by up to 40 percent. (Medical Xpress)