I Tweeted At Kroger's New "Chefbot" & It Helped Me Use Up All My Wilted Kale
mbg Nutrition & Health Writer
By Eliza Sullivan
mbg Nutrition & Health Writer
Eliza Sullivan is a food writer and SEO editor at mindbodygreen. She writes about food, recipes, and nutrition—among other things. She studied journalism at Boston University.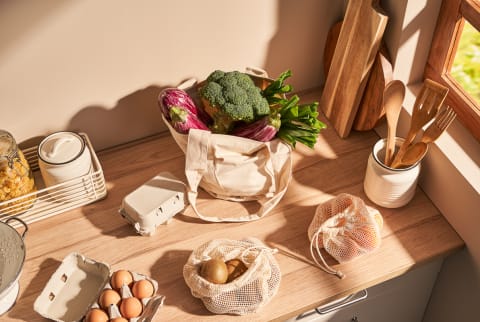 Image by Martí Sans / Stocksy
October 13, 2020
Our editors have independently chosen the products listed on this page. If you purchase something mentioned in this article, we may
earn a small commission
.
Still throwing out expired dairy or past-its-prime produce? Sometimes these things happen, but working to make it happen less—and eventually not at all—is critical to making your kitchen more sustainable. Because while food waste is a major industry problem, our own, seemingly small, habits at home matter too.
Tossing out less food starts when we diligently grocery shop and plan creative, whole-food recipes—be it for carrot greens tabbouleh, cauliflower stem soup, or brown banana muffins. That being said, sometimes you'll inevitably get stuck with ingredients you need to use but have no idea what to do with. For when that happens, Kroger now wants you to find inspiration on Twitter.
Advertisement
This ad is displayed using third party content and we do not control its accessibility features.
How this new tool aims to help.
The FDA estimates that up to 40% of the total food supply in the United States is waste, and a study published in the American Journal of Agricultural Economics in January found that the average home in the U.S. wastes about 31.9% of its food—and that adds up quickly.
That's where "Chefbot" comes in. Launched by the grocery brand, this little digital chef hangs out on Twitter, where you can ask it for help with whatever set of ingredients has you stumped. It will provide you with recipes and ideas on the fly, and you'll be able to get cooking instead of tossing things in the compost (or worse, the trash) without using them.
I tried it, and here's how it works.
To help customers decrease food waste at home, the brand is meeting them where they are: on social media.
Though my stack of cookbooks looks on accusingly, I often turn to my search bar for weeknight cooking recipe inspiration—and I appreciate that this new tool makes doing so even easier.
The process for using it is pretty simple: I snapped a picture of the three ingredients I had around and tweeted it @KrogerChefbot, who, in turn, confirmed it had identified my ingredients correctly. While it did mistake onions for cabbage, I was able to correct it, and we were off to a great start. Chefbot has access to Kroger's vast database of 20,000 recipes, which means it should—theoretically—have an answer for everything.
Once it knows for sure what ingredients it's working with, it will reply with a link to recipes using those ingredients—not necessarily all together, but in fun ways you may not have thought of before.
My favorite idea was using some slightly wilted baby kale in a warm kale salad to make the most of it. It was a great way to find inspiration from the ingredients I already had in my kitchen.
The program is a part of Kroger's Zero Hunger | Zero Waste program, through which they hope to help communities find a route to being free of hunger and free of food waste. The troubling reality is that though so much food is wasted, there are still many communities and people who don't have access to enough food, especially healthy food. According to the U.S. Department of Agriculture (USDA), 1 in 9 Americans were food insecure in 2018.
Food insecurity is a huge problem that, given the amount of food we toss, simply doesn't make sense. Chefbot is Kroger's latest initiative in a larger movement to become waste-free in the next five years.
While the best place to limit food waste at home is in your shopping, if you do find yourself stuck with ingredients you're unsure of that you need to use ASAP, Chefbot can help you find inspiration and recipes that use what you have, without having to sign out of your social accounts.
Advertisement
This ad is displayed using third party content and we do not control its accessibility features.
Eliza Sullivan
mbg Nutrition & Health Writer
Eliza Sullivan is an SEO Editor at mindbodygreen, where she writes about food, recipes, and nutrition—among other things. She received a B.S. in journalism and B.A. in english literature with honors from Boston University, and she has previously written for Boston Magazine, TheTaste.ie, and SUITCASE magazine.