This Diet Could Radically Transform The Planet, Report Says

By Elizabeth Gerson
mbg Contributor
Elizabeth Gerson is a former mindbodygreen intern and a student at Stanford University studying Psychology and Communication with a specialization in Health & Development.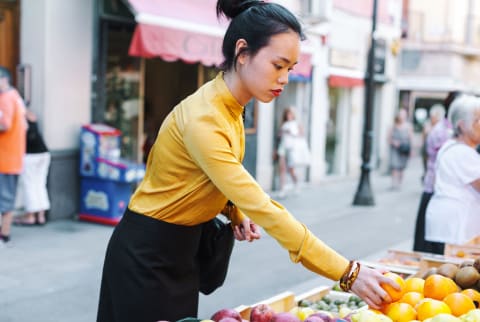 Image by BONNINSTUDIO / Stocksy
January 17, 2019
We know that diet is the key to unlocking your healthiest self, but this time, researchers have found a diet that could actually save the world.
Our food choices matter, and the current way we eat is threatening the future of our planet and our health. The EAT-Lancet Commission, a group formed to research the future of food and sustainability, released a summary report this Thursday that attempts to change these habits before it's too late. The report brought together 37 experts in this field from 16 different countries, specializing in fields like agriculture, political science, nutrition, and the environment to create guidelines for the healthiest diet in the world.
"Global consumption of fruits, vegetables, nuts, and legumes will have to double, and consumption of foods such as red meat and sugar will have to be reduced by more than 50 percent," the report reads.
In other words, the "planetary health diet" is comprised of 50 percent fruits and vegetables and 50 percent a mix of plant protein, plant oils, and whole grains. For our meat lovers out there, the report notes animal protein should be optional and consumed very minimally.
More specifically, fish, legumes, whole grains, fruits and veggies, and nuts all made the researchers' list of go-to foods. Besides most animal protein, other optional foods include eggs and poultry. Red meat, starchy vegetables, dairy, and sugar are advised against.
The report found adhering to this "flexitarian" diet could prevent about 11 million premature deaths annually. Researchers arrived at this conclusion by analyzing the global data of diet-related disease, like obesity and diabetes. By looking at factors such as risk of development and global burden, they found that these types of deaths account for up to 24 percent of adult deaths each year, making a complete diet overhaul a necessary step toward improving overall global health.
So this diet comes with major health implications, that's clear. While eating more fruits and veggies to improve our overall health could perhaps sound a bit obvious, the report emphasizes a sense of urgency: If the world needs to feed 10 billion people by the year 2050, adhering to this diet isn't just a suggestion—it's essential.
So how does this help our planet? The diet focuses on improving factors such as freshwater use, climate change, and biodiversity loss, each of which are necessary components for making sure our planet can sustain the generations to come.
Aside from outlining the diet, the report urges a transformation of the way we farm our food, which requires assistance from our governments, a shift in focus from quantity to quality, and a reduction in food waste.
Here at mbg, we believe in the power of food, but this report takes food's healing abilities to the next level. Understanding that the protection of our future starts as small as the choices we make for lunch or our next grocery trip is key to the health of our planet, our bodies, and beyond.