Meet The Sustainable Fabrics That Will Kick-Start Your Capsule Wardrobe

mbg Sustainability + Health Director
By Emma Loewe
mbg Sustainability + Health Director
Emma Loewe is the Senior Sustainability Editor at mindbodygreen and the author of "Return to Nature: The New Science of How Natural Landscapes Restore Us."
As crowds revel in the glitz and glam of New York Fashion Week in downtown Manhattan, waves of lesser-known designers are crafting an entirely different fashion revolution over the Brooklyn Bridge—one that could speak to the future of the industry.
The Brooklyn Fashion + Design Accelerator (BF+DA) is a community where aspiring and up-and-coming designers can gather for advice, materials and equipment. The catch? They have to be willing to create a line that is crafted with the planet in mind.
Advertisement
This ad is displayed using third party content and we do not control its accessibility features.
Founded by Deb Johnson, the BF+DA is in its third year providing studio space, fabric consultations and public events to help members craft items that are zero-waste, transparent, and charitable.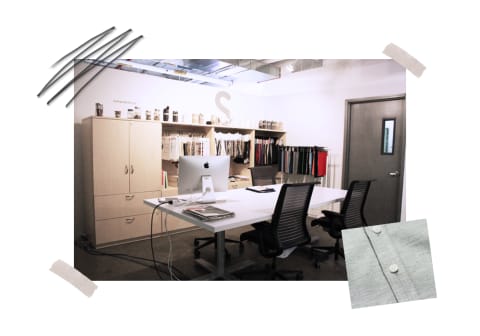 BF+DA Fabric Studio
Image by Emma Loewe
As soon as I walked into the massive Williamsburg warehouse earlier this month, I met flocks of passionate artists reimagining the clothes we wear. With a "petting library" of eco-fabrics as their muse, they utilized materials that spanned the alphabet from ethically sourced alpaca and angora down to recycled plastic bottles. A tactile feast for the eyes and the fingertips, the fabric menagerie reminded me that a simple touch can evoke a wave of memory and emotion. With this lush experience under my belt, I set out into the bustling world of eco-textiles and the people bringing them to life. What I found might just make you rethink the clothes on your back.
Big Brands, Small Impacts
It turns out that the sustainable principles that govern the BF+DA speak to a greater shift in the fashion industry. Yes, you'll still find synthetics that are made with a host of potentially harmful toxins on shelves—think polyester, nylon, and perhaps worst of all1, acrylic. And yes, even natural materials like cotton and silk are often still treated with harsh chemicals in the growing and dying processes. (In fact, The American Apparel and Footwear Association estimates that up to 250 substances used in clothing production are associated with some sort of safety concern.) But large-scale brands are also beginning to create lines that repurpose used materials and showcase new ones that have next-to-no environmental impact.
Take Mara Hoffman's new boho bathing suits made from recycled spandex, or Eileen Fisher's entire line of staples made from recycled cashmere, wool and cotton that's been re-spun into new fabric. Athletic companies are hopping on the green trend as well; Patagonia is repurposing plastic bottles and clothing scraps into polyester for its fleeces and jackets, while Adidas is designing sneaker material from ocean plastic. Meanwhile, popular younger brands like Everlane, Reformation, and Zady have all built transparency and sustainability into their business models from the beginning, using fabrics like organic cotton and tencel that's naturally dyed with colors straight from nature.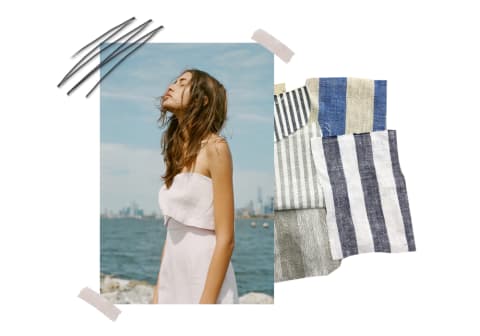 Advertisement
This ad is displayed using third party content and we do not control its accessibility features.
Eco Fashion Week (EFW) sets the stage for more innovation by welcoming green designers to Vancouver and Seattle every year. "EFW was born after a long career in the fashion industry—where I was far from being 'eco,'" says founder and president Myriam Laroche. "I needed a change. I still loved fashion, fabric, texture fit... but what is the point of running a business if you know the planet is suffering because of it?" In an effort to align her passion with her values, she kicked off the first show in 2010 with 15 environmentally minded brands. Fast-forward to today and her runways have showcased over 150 designers from around the world across 11 seasons. Though Laroche doesn't think that there is one official criteria that defines a sustainable brand, her eco-recipe prioritizes natural, organic fabrics and recycled materials.
Your 10-Years-From-Now Uniform
It looks like the fashion industry is finally starting to prioritize textiles that are as easy on the eyes as they are on the planet, but what does this mean for your closet? I asked the brains behind the Brooklyn Fashion + Design Accelerator and Eco Fashion Week about the tactile trends that they see taking over.
Advertisement
This ad is displayed using third party content and we do not control its accessibility features.
End-Of-Life Materials
This is a huge trend that most insiders can agree on. "People tend to be pretty rigid with their fabric sourcing, but the trends I'm seeing are with end-of-life items," BF+DA production coordinator Tara St James tells me, surrounded by the petting library's sea of fabric swatches. "Take-back programs, upcycling, reusing scraps...pre-consumer and post-consumer waste is starting to be considered where it wasn't before."
Pre-consumer waste refers to the scraps that designers often toss out during the production process. Brands like Brooklyn-based Zero-Waste Daniel are restoring these cast-asides into new clothes, saving roughly one pound of fabric scraps from landfill with every punchy patchwork garment. Thousands of miles away in Guatemala, The New Denim Project takes jean scraps and turns them into a soft, light blue fabric that you can now find stateside in stores like West Elm and Whole Foods.
"I am noticing more than eco-conscious designers are being mindful of waste through both the development and production processes," echoes Deanna Ansara of Vincetta. She uses cupro, a regenerated fabric derived from the often disregarded fibers that form on the outer shell of cotton plants.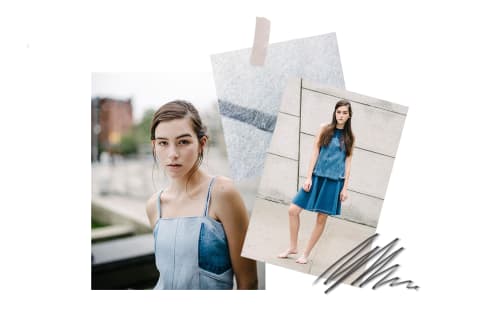 NOORISM, The New Denim Project
Advertisement
This ad is displayed using third party content and we do not control its accessibility features.
Post-consumer production, on the other hand, uses garments that have already cycled through a wardrobe or two. Breaking down fibers like cotton, linen and denim and re-spining them into new clothing isn't necessarily easy, but it's possible with the right technology and enough material. And now that clothing recycling services are becoming more mainstream and superstores like H&M and Madewell offer garment collecting initiatives, second-life producers have more to work with than ever.
You don't have to look past the BF+DA to see what this looks like in action—many of the designers in its structured mentorship program are breathing new life into old clothes. Take Noor Zakka, who uses reclaimed jeans in her line of structured dresses, bags and hats. "I founded NOORISM in 2015 after being disheartened by the volume of poorly-made, practically disposable clothes produced by the fashion industry every year," Zakka says. "All of our pieces are unique and slightly different since each old pair of jeans has its own individual story to tell." On the other side of the studio, Crystalyn Brennan uses surplus velvets reclaimed from interior design firms and leather scrap from factories in the city to craft her line of equally unique handbags.
Plastic Bottles
Finally, we've found a way to make plastic bottles slightly less terrible! By cleaning them and breaking them down into polyester, we can actually repurpose them into synthetic fabric. That's because plastic is petroleum-based in its original form and so is polyester. Plus, polyester is infinitely recyclable, meaning its fibers can always be recycled into new fabric without breaking down or getting too short to spin. The only problem is that when polyesters are washed, they leave damaging microbeads behind.
Newlife Yarns is a fiber mill turning bottles into yarn over in Italy, while Thread International is doing the same thing with bottles collected in Haiti, employing Hatains in the process. Back in the BF+DA, Laura Moffat and her partner Kelly are working on Kirrin Finch, a clean, androgynous line that features classic tees made from 50 percent recycled bottles (the other half is organic cotton).
Advertisement
This ad is displayed using third party content and we do not control its accessibility features.
Food Scraps
How's this for a fun concept: one day, your outfit might be made from pineapple, coffee and mushrooms. Over in the Philippines, Carmen Hijosa is turning pineapple leaves into a strong, flexible plant-based leather called Piñatex. "We don't have to use any land, water, pesticides, fertilizers...we are actually taking a waste material and 'upscaling' it, meaning that we're giving it added value," Hijosa tells FastCoExist.
MycoWorks is another vegan dream. The leather-like material is made from mycelium, or mushroom skin. The brainchild of artist Phil Ross, it requires less energy, has a smaller environmental footprint than cow leather, and is biodegradable. Plus, mushroom can actually adhere to accessories like buttons and zippers during the incubation process, meaning it doesn't need to be stitched or fussed with.
Companies like Portland-based Olderbrother are cooking up plant-based dyes that can bring any sustainable fabric into vibrant life with shades of roots, plants, trees and, most recently, organic coffee beans.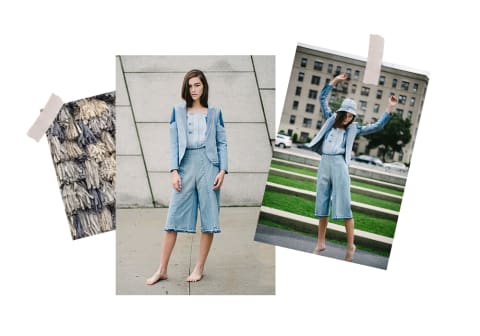 NOORISM, The New Denim Project
So there you have it: My investigation into sustainable textiles took me around the world a few times over, and there's still so much more out there to explore. Our clothes clearly tell some wildly impressive stories, so stay curious about what you wear, always prioritize natural and second-life materials, and please, please let us know as soon as you see a pineapple bomber jacket on shelves.