This Is The Difference Between Conscious Sex & Mindless Hookups
mbg Relationships Contributor
By Wendy Strgar
mbg Relationships Contributor
Wendy Strgar is a social entrepreneur, author, and the founder and CEO of Good Clean Love. She received both her bachelor's in french and literature, and her master's in organizational development, from the University of Minnesota.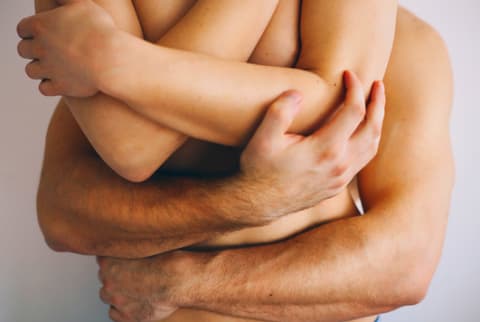 August 11, 2017
The time we spend on sex speaks volumes about our collective sexual health: The average sexual act lasts only 7 to 12 minutes.
If your sex is lasting 10 minutes, how much time can you be spending on foreplay?
Foreplay is more important than so many people realize. It's the period when the arousal mechanism in the limbic brain connects with our bodies, causing blood flow to our erogenous zones and making us want sex. When it comes to intimacy, more foreplay is better. Say someone has tried a new lube, and they feel like it "didn't work." If I ask them how they used it, and the response is, "Well, I put it on and then had sex," I have to explain that even the best lube in the world can't make you aroused. A body that is unprepared to be touched won't get there because of some magic potion.
It reminds me of an errant text I saw from one of my son's friends in his early college years. It said, "Does fingering even work?"
My first thought was, "It only works if you're thinking about what you're doing and not your own pleasure." There's much more to the mysterious dance of foreplay techniques, of course, but most young people don't know enough even to ask those basic questions. The truth is that the more attention we pay to the way we start our intimate acts, the easier and more successful it is to reach a satisfying conclusion. As the English say,
"We must start as we mean to go on."
Having deeply satisfying sex is a result of changing your perspective.
We all worry about climaxing, but by placing our attention on the "goal," we miss the juiciest, most compelling parts of coupling.
Becoming more comfortable and curious in the early give and take of sexual foreplay techniques is how we cultivate an abundance of passion and orgasmic pleasure that will surprise us.
So, where do you start?
1. Explore sexuality through the senses.
One way to shift your thinking about foreplay is to filter it through your senses. For example, trying to experience every part of sex with your olfactory sense (smell) will bring a sense of novelty to the proceedings that you may never have experienced before. Awakening the arousal mechanism doesn't start in your genitals. It starts in the limbic brain, which is co-located with the olfactory, where our sense of smell is processed.
I recommend Love Oil to aid in the arousal process. Anyone who has used it will tell you how it changes the entire act of foreplay. Not only do scented oils activate the brain, but the texture and consistency of Love Oil actually alters the sensation for both the person touching and the person being touched. The skin transforms under the touch of the human hand, and scent is our primary libido-awakening sense.
2. Give your hands your full attention.
Our hands are a work of art. Our fingers have some of the densest clusters of nerve endings in the body and provide the richest source of tactile feedback available to us. The sensations we feel through our hands are not just physical, either. They can both interpret and transmit energy. Our hands are the perfect instruments for providing pleasure. Their combined capacity for strength and flexibility allows us to make feeling and touching each other both the investment in and the payoff of our intimate time together.
Touch takes on a greater meaning when we give it our full attention. Arguably, we can say at least as much (and maybe more) with our hands as with our words. There is little room for misunderstanding and miscommunication when the body receives input from the hands. Yet, inattentive touch—the kind that makes an inexperienced boy wonder whether fingering does anything—can also make a girl recoil.
To really touch, we have to bring our full presence to the tips of our fingers. The tissue in our genitals is like none other in the body—and there may be nothing more erotic than spreading oil into those parts of us that are as unique as our fingerprints and alight with nerve endings.
3. Give up the end zone.
Deliberately expanding your comfort zone where foreplay is concerned will translate into not only a more curious and passionate sexuality, but it will be mirrored in an opening in the emotional relationship. Focusing on foreplay also reduces the performance pressure and anxiety often associated with the act of sexual intercourse, which is too often played as a race to an orgasmic finish you can't quite locate. The truth is that orgasmic potential builds over time, and when you stop chasing it, it can envelop you—even in foreplay.
Taking our time with erotic discovery is everything. Mindful touching is practically prayer. It is the difference between hooking up and making love. If you are not in a hurry to get somewhere else, lingering in this energetically charged exchange for as long as possible can only make the end better.
Set a goal—even if it's just an additional five minutes of foreplay each time you're intimate—to train your focus on the moment and away from the end goal.
Wendy Strgar
mbg Relationships Contributor
Wendy Strgar is the founder and CEO of Good Clean Love. Their all organic sexual intimacy and feminine hygiene products are sold nationwide and endorsed by physicians. Strgar is author of Love That Works and Sex That Works, and writes on the topics of love, sexual health, and positivity on her blog Making Love Sustainable. She is a sought-after speaker and workshop leader, where she shares the skills of sustainable love and positivity consciousness. She received both her bachelor's in french and literature, and her master's in organizational development, from the University of Minnesota.