Tulum Is Known As An Eco Wellness Destination—But Is It As Sustainable As It Seems?

mbg Sustainability + Health Director
By Emma Loewe
mbg Sustainability + Health Director
Emma Loewe is the Senior Sustainability Editor at mindbodygreen and the author of "Return to Nature: The New Science of How Natural Landscapes Restore Us."
Photo by The Dark Side of Tulum
January 31, 2018
With humble beginnings as a small fishing village, Tulum, Mexico, is now the fastest-growing city in Latin America. Given its stunning coastline, diverse wildlife, preserved Mayan ruins, and friendly, relaxed locals, it's no wonder tourism to the region (wellness-centric tourism in particular) has skyrocketed over the last few years.
But, according to filmmaker Rachel Appel and her team, Tulum has lost something in its rise to the top. Her upcoming film, The Dark Side of Tulum, uncovers the vacation destination's cloaked pollution problem.
"People come to Tulum because it's an 'eco-haven,' but it's a facade. It's on a path of destruction. Some places are trying their best, but at the moment it's really expensive to become truly sustainable here," Appel says from mbg's headquarters, about to jet off to begin raising money to bring the film to big screens.
She explains she'd been spending time in Tulum for years—first as a tourist and then a tour guide—before the locals tipped her off to the environmental destruction tucked away in their own backyard. "Tulum was built fast, and they didn't know what was coming," she says. In the rush to keep up with a tourist boom, hotels began dumping sewage straight into Tulum's aquifer system and running diesel generators day and night. Then, a massive landfill was created a few miles away from the city center.
While the everyday tourist may not catch wind of the city's faults (we go on vacation, after all, to escape reality and enjoy ourselves), Appel wants to open up our eyes to Tulum's misdeeds and show a more sustainable way of doing things. She's looked to Tulum's tourism boards, nonprofits, and science institutions for support with her project, and many have welcomed it with open arms.
"It's amazing that we are in the 21st century and we know the surface of the moon better than our own underground systems," Olmo Torres Talante, a biological scientist, says in the film's trailer. "[In Tulum] we have among the largest underground river systems in the world, so my advice for people who want to come and buy land for development: You cannot do it on the cost of the beauty of this place."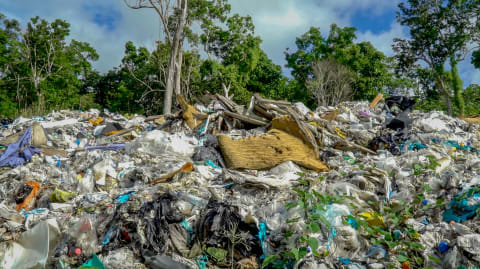 Photo: The Dark Side of Tulum
Heather Froeming of local nonprofit No Mas Plastik, echoes this idea that Tulum's rich natural landscape deserves to be cherished. "This jungle is amazing—it's full of so much life, and we're ripping through it at a devastating rate."
The project has also been met with its share of backlash, though, largely from people who think it will threaten the local economy, to which Appel says she's trying to make Tulum a more sustainable, profitable place for years to come.
"It's not just an environmental documentary—it's an environmental solutions documentary," she says. "We're not trying to end the tourism industry in Tulum. We're trying to make it sustainable so that interest in Tulum will last forever—not just the next 10 years." By identifying solutions to some of the peninsula's most pressing problems and establishing an NGO to set and enforce sustainable goals that businesses can work toward, she hopes to enact real change and regulate any and all green claims.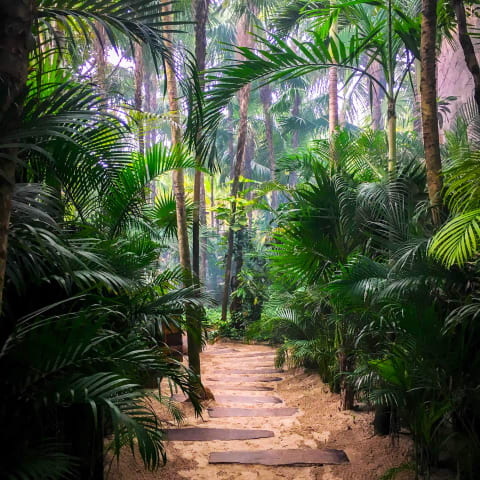 Photo: The Dark Side of Tulum
While the film likely won't hit big screens until next year (you can check out its Indiegogo campaign here), Appel says there are steps you can take to ensure your trip to Tulum—or any popular beachside tourist destination—is easy on the land. It all comes down to asking specific questions. Before you book your hotel or decide on a restaurant, call them up and inquire about the following:
How do you handle your sewage? (You'll want them to say that they have a system in place and are quick to fix any leaks. If they can't tell you where it's going, they're likely dumping it somewhere they shouldn't.)
How do you generate electricity? (Solar or another form of alternative energy is best. Beware of any place that runs on diesel.)
Where do you source your food? (The more local, the better.)
"I think we can do it," Appel says of restoring the natural grandeur of Tulum. "But it will take time, and the movie is just the first step."
Check out this guide to sustainable travel for more tips on how to be an eco-friendly visitor wherever you are in the world.