Why Seaweed Could Be The Next Fashion Statement
mbg Sustainability + Health Director
By Emma Loewe
mbg Sustainability + Health Director
Emma Loewe is the Senior Sustainability Editor at mindbodygreen and the author of "Return to Nature: The New Science of How Natural Landscapes Restore Us."
September 5, 2017
The Faroe Islands off the coast of Norway just hosted an epic eco-fashion competition that told designers to forget going green and go blue instead. In a "Chopped" meets "Project Runway" challenge, 11 finalists gathered to craft seal skin, fish skin, and algae into clothing.
Put on by the Nordic Atlantic Cooperation (NORA)—a government body that seeks to spur economic development in Arctic regions like the Faroe Islands, Greenland, Iceland, and Norway—The Blue Fashion Challenge sought out new and creative ways to use abundant local materials.
Advertisement
This ad is displayed using third party content and we do not control its accessibility features.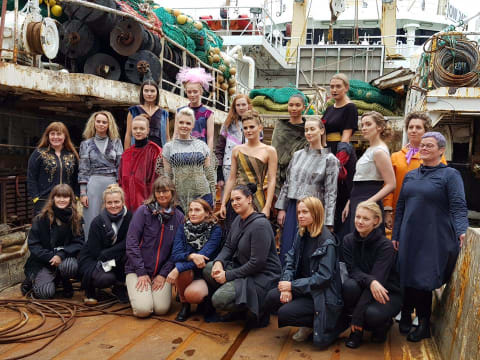 A colorful cast of characters was up to the challenge. From sustainable textile designers in Iceland to vintage-obsessed ones in Norway, the competition was fierce, and nobody had too much trouble turning biomaterials into beautiful garments (save the one vegan of the group who had to overcome a bit of trepidation about working with animal material). Ultimately, Faroe Islands native Karen Kristiansen took home the gold with her hooded seal dress made out of seaweed jersey and Japanese-inspired fisherman smock crafted of fish skin. Judged on a combination of aesthetics and technicality, it's hard to believe her looks come from such seemingly outlandish materials.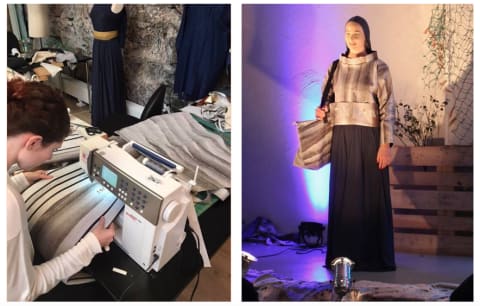 Blue Fashion Challenge Winning look (right)
Photo by Facebook/ NORA
Advertisement
This ad is displayed using third party content and we do not control its accessibility features.
Not only are the finished looks sustainable in that they feature only natural materials, but they also add value to previously underutilized resources. In the Faroe Islands, 70 to 80 percent of the economy stems from ocean products, so biomaterials like skin exist in abundance.
"In the end, the event was not a fashion event; it was a fish development event. The main aim of it was to develop our maritime sector in the North Atlantic area and prolong the marine value change into a fashion value chain," Jákup Sørensen, senior advisor at NORA and manager of The Blue Fashion Challenge, told mbg.
With this competition, NORA hopes to prove that ocean by-products can be used in a plethora of ways, especially as the demand for textiles continues to rise. And while wearing fish and sealskin products may not be so appealing to an animal lover, it's important to note that these creatures are never killed for their skin, and as it stands, now these skins are used as cheap fodder or discarded entirely.
"Our hope is this was the first small way to make these materials more mainstream," explains Sørensen. When asked about next steps, he said that it was time to take the resulting garments on the road as proof of concept. "The outfits and photos will go on a world tour, and NORA members will visit embassies to give a presentation about the possibilities."
He sees enormous potential for seaweed fashions in particular, envisioning vast seaweed farms replacing cotton ones. This challenge speaks to the fact that different regions need to tailor their sustainable efforts based on the natural resources they have in abundance. More than anything, though, it's a testament to human ingenuity sparking change from the ground (or ocean floor) up.
Think a seaweed dress is crazy? Check out these runway gowns made from kombucha.
Advertisement
This ad is displayed using third party content and we do not control its accessibility features.