How A Love For The Environment Fuels The World's Fittest Vegan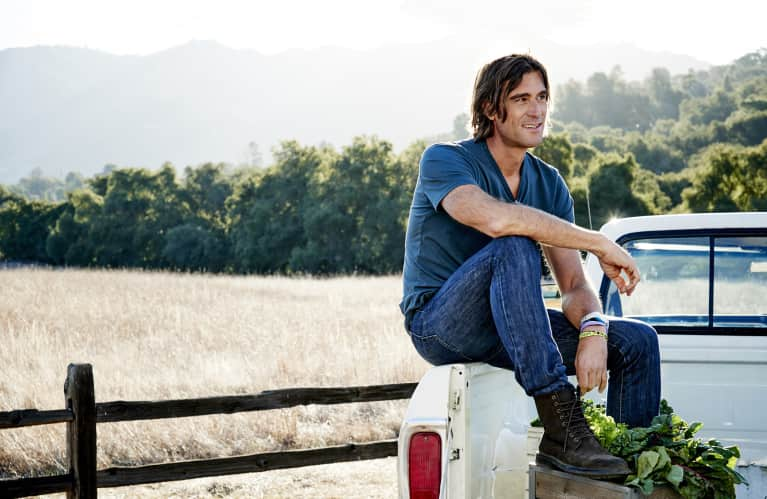 Our editors have independently chosen the products listed on this page. If you purchase something mentioned in this article, we may
earn a small commission
.
Just dubbed "the world's fittest vegan" by Men's Health, 51-year-old ultra-endurance athlete Rich Roll is a vibrant embodiment of the power of plants. When Roll stopped by mindbodygreen's headquarters earlier this month, we were eager to hear all about his diet, personal mantras, and connection community.
As detailed in his 2013 memoir, Finding Ultra, which was recently rereleased as a shiny, updated version, Roll first started eating plant-based during a moment of desperation: A recovering alcoholic, his unhealthy diet left him overweight, constantly winded, and worried about his future. Nudged toward the green juices and morning tonics by his wife and vegan chef Julie Piatt, Roll never turned back.
Nowadays, a daily diet of smoothies packed with dark leafy greens and antioxidant-rich fruits, hearty servings of veggies, and plenty of rice and beans keeps him fueled for hours (and we mean hours) of running, biking, and swimming. But there's also an environmental motivation that keeps him going back for more. Here's what Roll had to say about all the ways nature fuels him and how he and his family pay back the favor.
On his spiritual connection to nature.
In late 2017, Roll arrived at the Ötillö Swimrun World Championship in Sweden: a brutal swimming and running race that covers 46 miles. He describes the swimming conditions as treacherous, to say the least. "There was sideways rain, freezing water, 6-foot swells, and gale-force winds in this area of the Baltic Sea. It just looked like no human being should be out in this water," he says. A moment that most would find terrifying, Roll's reaction was one of respect and reflection. "The power of nature was so palpable that I literally started laughing. I couldn't believe that my life had taken me to this place, this crazy adventure. It gave me a sense of awe and a sense of humility. That's just one of the beautiful gifts of being out in nature."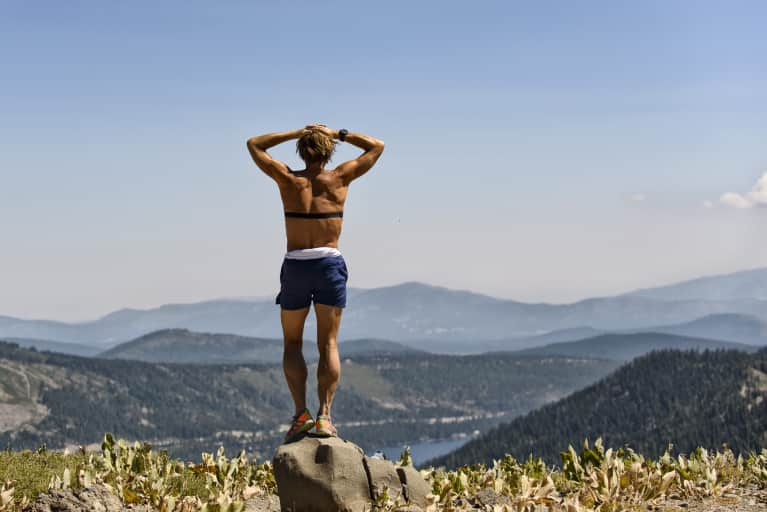 On the environmental impetus for his vegan diet.
Roll's diet is a testament to this reverence for our shared planet. "The choices that we all make every day, three times a day, have an impact on our environment at large. Many of our food systems are extremely environmentally damaging, so to the extent that you can eat lower on the food chain, buy local, shop at your farmers market, and avoid animal products, absolutely do it. At the end of the day, you can have a more delicate impact on the planet."
Roll cites the rise of plant-based alternatives to traditional meat and dairy products, like Ripple's milk products made from pea protein, as a testament to the fact that conscious, plant-based living is becoming easier by the day. "Who would have thought there would be pea milk?" he jokes.
On raising his four children to eat healthy and be better stewards of the earth.
Roll and Piatt have a specific, strategic approach for talking to their children about healthy eating habits. "Essentially, we are looking to take away a lot of the charged emotions around what it means to eat well. That means dropping judgment and approaching the topic from a place of adventure and exploration," he explains. In practice, that looks like bringing their kids along on trips to the grocery store and farmers market and explaining why certain items are making their way into the family basket. "We try to do it from a neutral place. We explain to them why we're making certain choices, without labeling anything bad or good."
And it doesn't end there: The couple has also welcomed their kids into the kitchen starting from a young age. "It's empowering for a kid to start learning a new skill. For example, we'll show them how to make chia seed pudding with avocado in it—which essentially tastes just like chocolate pudding—and then they have a certain pride in their ability to prepare that dish, and that's what they're going to want to make."
Although Roll and Piatt operate an entirely plant-powered household, they don't drive themselves (or their kids) crazy with rules either. "We remain neutral, and there's no judgment. I really don't care about what my 10-year-old daughter eats at a birthday party. What I do care about is what her food habits are going to look like 10, 15, 20 years from now."
Want exclusive access to Rich and Julie's kitchen? Check out their mindbodygreen course, The Ultimate Guide to Plant-Based Nutrition.