If You Need Us, We'll Be Adding This Addictive (And Eco-Friendly) Mylk To Everything

mbg Sustainability + Health Director
By Emma Loewe
mbg Sustainability + Health Director
Emma Loewe is the Senior Sustainability Editor at mindbodygreen and the author of "Return to Nature: The New Science of How Natural Landscapes Restore Us."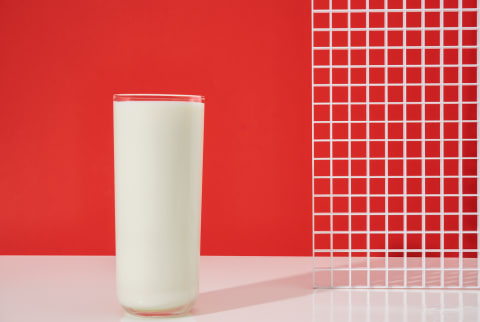 Image by Jeff Wasserman / Stocksy
May 16, 2019
We carefully vet all products and services featured on mindbodygreen using our
commerce guidelines.
Our selections are never influenced by the commissions earned from our links.
Can we all take a second to acknowledge just how much our milk aisles have changed over the years? If the average '90s shopper was teleported to a food store of today, they'd probably stand in front of the dairy aisle convinced they were being pranked. Once a modest collection of 1%, 2%, and whole milk—maybe the occasional soy or almond option—it now holds beverages made from coconuts, hemp, peas, oats…even fermented yeast.
Nailing down your dairy alternative of choice has become a rite of passage to the wellness sect turning away from traditional milk because of allergies, sensitivities, or concerns about animal rights and environmental welfare. There are the people who proudly take their lattes with oat milk (and will pay hundreds of dollars to keep it that way, thank you very much) and those who will always tag their breakfast #almondmilk like the 1.5 million others on Instagram have before them.
The alt-milk fever won't likely be going down anytime soon, with the global dairy alternatives market expected to reach $41.06 billion by 2025. (For context, it sat around $11.90 billion in 2017.) It's a glass-half-full time to be in the plant-based work. And the newest entrepreneur to enter the scene is betting that flax will be the future.
Will flax be the next superstar of the alternative milk scene?
Brittany Fuisz launched her company Malibu Mylk in early 2019 after autoimmune issues left her unable to stomach most milk alternatives on the market. The former chef and food writer had the idea to take flax, one of her favorite superfoods, and see if it would liquefy into a nutrient-dense drink.
"I've always loved flax so decided to try making a mylk with it, and I was so delighted by the product I was able to get with just a few very simple, clean ingredients," Fuisz tells mindbodygreen. The resulting vegan beverage she's selling to customers is USDA-certified organic, gluten-free, nut-free, and contains six ingredients (water, flax, salt, sugar, and gums to hold everything together).
Beyond a relatively short ingredient list, Fuisz hopes that Malibu Mylk's environmental accolades will stand out to the modern consumer. While it takes a lot of water to produce most alternative milks on the market, flax only needs natural rainfall to grow. Fun fact: This has made the crop a popular one in the eco-fashion world recently too.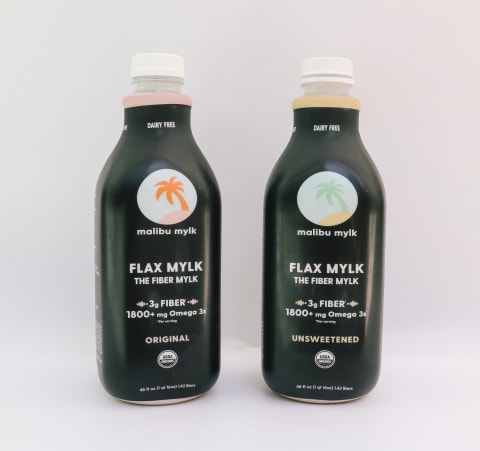 How healthy is it? And how does it taste?
In addition to being water-efficient to grow, flax is mighty healthy to eat. Legend has it that back in the eighth century, one king passed a law requiring his subjects to consume flaxseed regularly because of its nutritional profile. He might have been on to something. As nutritionist Alexandra Catalano wrote on mindbodygreen of the inspiration for her homemade flax milk, "Flax is one of the richest sources of plant-based omega-3 fatty acids in the world, one of the best nutrients to consume for balanced hormones." It's also high in fiber, phytosterols, and omega-3s, which may boost heart health.
In one 8-ounce serving of Fuisz's mylk, you'll find roughly the same amount of protein and fiber as 4 teaspoons of raw flaxseed. It's a rich, creamy drink that has a similar consistency to an oat milk. When team mbg gathered around our kitchen fridge to dig into the brand's two launch flavors—original and unsweetened—we were pleasantly surprised by the added cinnamon in the unsweetened one. It lent plenty of warmth and flavor, and we didn't miss the sugar at all.
"I like that it's a thicker mouthfeel," one team member said upon the first sip. "I feel like frothing it in coffee would be really good." Moments later, we confirmed that it does indeed hold up in coffee, unlike some alternatives which tend to split and curdle once they hit hot liquid.
In the days since our initial test, my desk neighbor has been using it as the base for her breakfast granola, and I've been adding a few swigs to my morning smoothie for some added health benefits.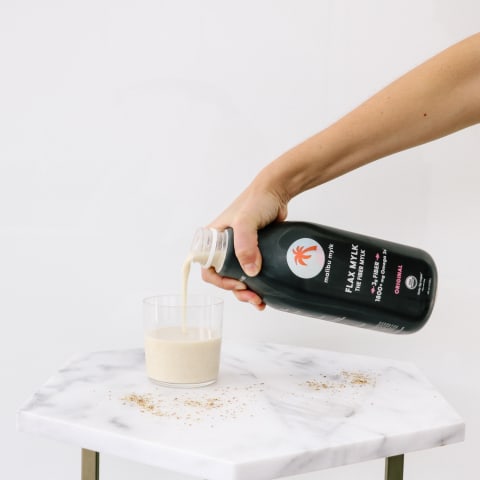 Where can I find it?
Malibu Mylk is a tasty new addition to a relatively empty market. The only other major brand of flax milk is called Good Karma. You can order Good Karma on Amazon and Malibu Mylk in Erewhon, Farmshop, and select Whole Foods Markets in the LA area.
As we saw with Oatly, which put oat milk on the scene seemingly overnight, it only takes one cult brand to make a metaphorical splash in the milk glass. Fuisz hopes that her product will get conscious consumers talking—and feverishly sipping—in a similar way.
"Consumers are becoming more educated than ever before," she says. "They are empowered. They read ingredient labels. They ask where ingredients come from and how they are grown. They care how that will affect our planet and how the things they consume help (or hurt) our bodies and our earth."