By Leigh Weingus
mbg Contributor
Leigh Weingus is a New York City based freelance journalist writing about health, wellness, feminism, entertainment, personal finance, and more. She received her bachelor's in English and Communication from the University of California, Davis.
August 14, 2017
Actress Nina Dobrev doesn't get much time off. Best known for her lead role in the TV series The Vampire Diaries, she's had a busy year. On top of working on the popular CW show, which wrapped up in March of this year, Dobrev appeared in three movies, two of which are in postproduction.
As busy as she is, having to be "on" all the time has made her prioritize her health more than ever. "It's tricky to do when you have a new puppy and a very demanding work schedule, but I try to do something active every day," she tells mbg, noting that her recent partnerships with Reebok and the Les Mills GRIT workouts have been helpful. "They're high intensity and very short. I'm in and out in 30 minutes, and I get my butt kicked! I leave drenched in sweat, and I wouldn't have it any other way."
As a childhood gymnast, Dobrev has long been a fan of working out. "It was always a dream to go to the Olympics, and some of my teammates actually did," she says. "When I got to the age of 15, I knew that wasn't in my cards, but I still loved to perform, so I took a different path."
Gymnastics aside, Dobrev is still a huge exercise fan. Here's what she had to say about her favorite outdoor workout, what she does on rest days, and more.
Outdoor exercise is ideal.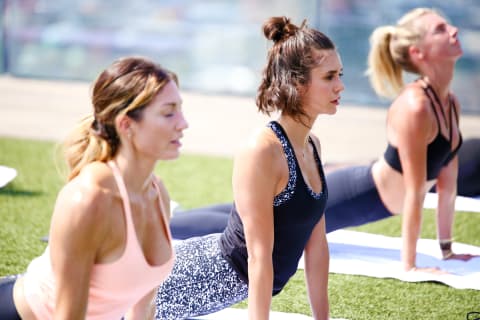 Dobrev doesn't get days off very often, but when she does, she takes full advantage of them. "On my ideal Saturday off, the first thing I do is wake up and snuggle with my puppy Maverick, then walk to meet my girlfriends for brunch," she says. "Then I go to the beach with said girlfriends and previously mentioned puppy. We usually have a barbecue and play volleyball. It's nice to be working out outdoors, in the sun with fresh air. From there, we watch the sunset and then drive home, cook dinner, and watch a movie. Doesn't that sound like a dream day?"
Dobrev adds that while she does love working out in the sunshine, she likes to have the option of working out indoors once in a while. "I love having variety. I get bored, so I like to change it up," she says. "But sometimes it gets too hot, so the air conditioner is a welcome change. It just depends on my mood and of course the weather!"
She has to force herself to take rest days, but it's always worth it.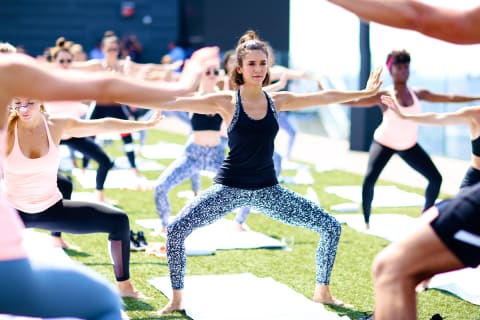 Not one to slow down, Dobrev has to talk herself into taking regular rest days. "It's usually against my will," she admits. "If I'm working crazy hours, sometimes I'm forced to take a break. I live in saunas and steam rooms. I have a steam room at my house, so if I can't go for a run I'll make sure to get my sweat on anyway. It's so great for your skin and pores to open them up and rehydrate. It's also very relaxing, which is so important. Mental well-being is just as (if not more) important than physical well-being. At the end of the day, it's all about balance.
She relies on healthy bars and staying in the moment to keep her going.
Because she's on the go quite a bit, Dobrev loves nutrition bars. "Simply Protein bars are a yummy, healthy snack. And if I have time, I love making my own smoothies! They taste like milkshakes, but they're packed with all kinds of super-nutritious things," she says. "Almond milk, cacao, almond butter, spinach, protein powder, coconut, cinnamon...so good."
She adds that one thing that keeps her going mentally is living in the moment. "I wish I could go back and tell myself to slow down and enjoy the moment," she says. "People used to always tell me when you get older time passes faster. I didn't understand it then, but now that I'm in my late 20s I'm seeing that this is very true!"
Love beach workouts? Here are five moves you can do on the beach for strong, toned surfer legs.

Leigh Weingus
Leigh Weingus is a New York City based freelance journalist and former Senior Relationships Editor at mindbodygreen where she analyzed new research on human behavior, looked at the intersection of wellness and women's empowerment, and took deep dives into the latest sex and relationship trends. She received her bachelor's in English and Communication from the University of California, Davis. She has written for HuffPost, Glamour, and NBC News, among others, and is a certified yoga instructor.