Let's Settle This: Is The Keto Diet Ruining The Environment?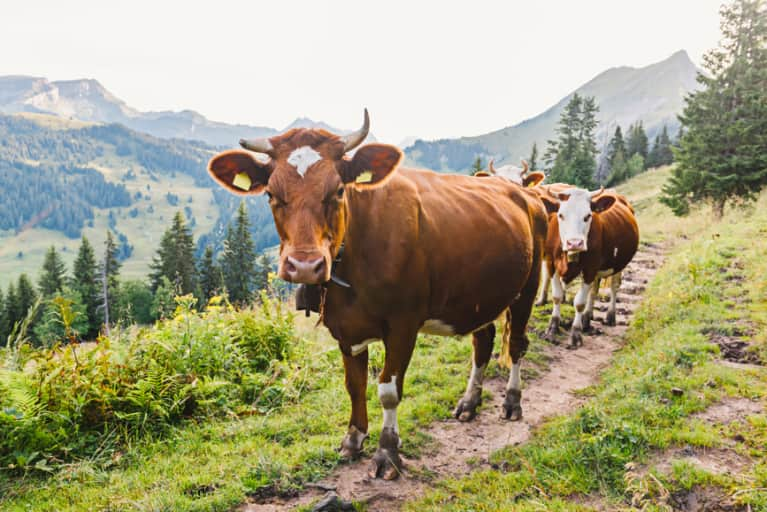 Recently, a lot of people have been jumping on the Keto bandwagon, myself included. For those of you who aren't familiar, the ketogenic diet is a high-fat, low-carb eating plan designed to help your body reach a state of ketosis, in which it burns fat as opposed to sugar. After just seven days in, I could see what all the hype was about: I had more energy, more focus, and a steadier appetite.
But with the knowledge that eating less meat is a way to reduce climate change, I couldn't help but wonder about the environmental impacts of my new, meat- and dairy-heavy diet. Was what's good for me actually bad for the planet?
Keto vs. your average non-vegan diet.
After consulting the research, I found that unless your alternative is going vegan, adopting a keto diet really isn't any more harmful than being on an omnivore human diet. In fact, it can be even better.
The objective of a ketogenic diet is to help the body use fuel more efficiently. Think about it this way: When your car gets better gas mileage, it winds up using less gas. The same is true about our bodies. On the keto diet, we get more mileage out of the food we consume, and therefore we're bound to eat less. If we are able to knock out those unnecessary carbs, we can lower our personal carbon footprint.
How can you make sure your keto diet is eco-friendly?
For those of you wondering, yes, it is possible to get the benefits of a keto diet while doing the Earth a solid and forgoing animal products altogether. However, it isn't necessarily easy. In order to bring you enough fat, your vegan keto diet will need to rely heavily on foods like avocados, nuts (macadamia nuts and walnuts in particular), flax products, and oils.
For those of us who want to make our keto diets more sustainable without giving up meat altogether, here are a few ways I'm doing so:
1. Choose the right dairy.
In order to keep dairy milk in your diet without ravaging the environment, choose dairy products from environmentally friendly farms that are committed to some basic principles of sustainability. This means making sure your milk and cheese are antibiotic-free (growth hormone called rbST is often given to cows in the United States, even though it's been banned in other countries), and USDA certified organic. If it's from a local farm, even better!
There's no way around it; even ethically raised beef is still pretty bad for the environment. Luckily, the ketogenic diet doesn't have to be all about red meat. Use it conservatively and instead opt for other meats and meat substitutes. You don't have to cut red meat entirely out of your keto diet, but limiting it will certainly help the environment.
By simply eating one plant-based meal a day, you'll reduce your carbon footprint significantly.
Whether it's beef, cheese, fruit, nuts, or milk, the less your food has to travel to get to you, the better it is for the environment. It's that simple. If your food had to take a 15-hour flight to reach your dinner table, then it's using up a lot of precious fossil fuels. Instead, shop at local farmers markets whenever possible.
No matter what kind of diet you choose, there will always be a way to minimize the impact it has on the environment. And it's up to you to take the necessary steps to do so!
Another big part of the sustainable eats puzzle? Food waste! Here's a shopping list to help you cut down on yours.