This Genius Hack Will Turn Your Home Into A Plant Oasis
By Summer Rayne Oakes
mbg Contributor
Summer Rayne Oaks is a green entrepreneur, working across fashion, beauty, food, and wellness. She graduated from Cornell University with degrees in Environmental Science and Entomology.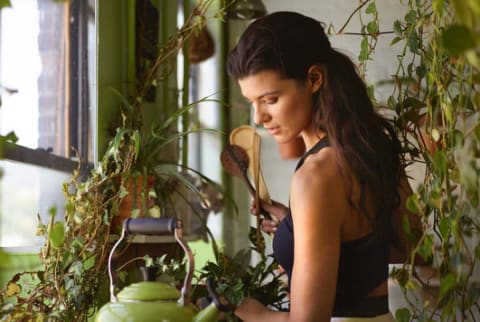 Photo by Homestead Brooklyn
May 13, 2017
Admittedly, it wasn't my idea to cast off my clothes and convert my closet into a garden. You can say the seed was planted (every pun intended) quite a few years back. A friend of mine had introduced me to a magazine editor who was looking to convert two people's closets into "kitchen grow" gardens. She needed not say more.
I had just finished installing a subirrigated vertical garden in my bedroom and a mason jar plant garden on my kitchen wall, so I was beyond thrilled by the idea of extending an indoor growing space—particularly one I could cultivate. I had moved into a Brooklyn apartment without a backyard after a childhood in the countryside, so needless to say I had the gardener's itch. I missed having my hands in the soil—a feeling that fellow city-dwelling gardenistas can probably relate to.
Advertisement
This ad is displayed using third party content and we do not control its accessibility features.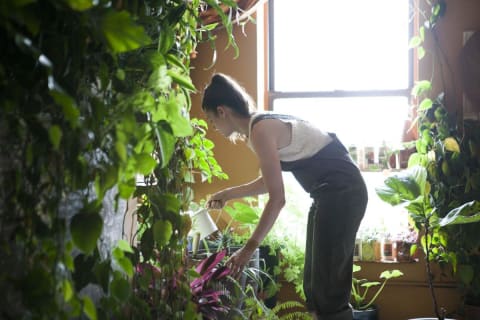 Admittedly, it was challenging to part with some of my clothes, which is silly to think, considering that we only wear around 20 percent of our wardrobe on a regular basis, anyway. But even before Marie Kondo had hit the scene, I was able to manage boxing up my clothes to Beacon's Closet with only a little separation anxiety. I think part of it was just from the sheer excitement of breathing new life (literally!) into my apartment.
The editor and I began making plans for the closet garden, but sadly they fell through. My closet would lay fallow for a couple of years. And my idea of having my own "backyard" garden in my closet slowly evaporated.
It wasn't until a few years later—in August 2015—that I revisited the idea. I sketched out the plans and then worked with a friend to map it out in Cinema 4-D to optimize for space and light. Most closets are normally hidden from view—and therefore window light, which can prove challenging, considering that plants literally eat light. Luckily, I had an "open" closet, which bordered a south-facing window, which meant I would get a lot of natural light that could easily be augmented with easy-on-your-eyes white LED grow lights.
Of course, if you have no light in a closet space, you'll want to do what weed growers figured out decades ago, which is lining your closet walls with those funky red and blue grow lights.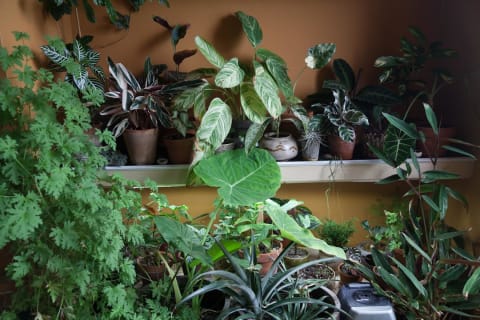 Advertisement
This ad is displayed using third party content and we do not control its accessibility features.
Originally the plan was to grow edibles, which I still do, like a bit of Cuban sage, curry, lemon basil, lemon-scented geranium, taro root, and sweet potatoes. However, my original food plants, like potatoes and celery, brought in quite a few pesky insects, so I opted to use the majority of the closet for lush, tropical varieties—begonias, alocasia, Calathea, Stromanthe, and more.
Luckily, I enlisted my handy dad, who had helped with some of my other plant projects. He bought some found wood at an auction and within a day our sketches came to life! Of course, if you don't have a dad or a friend with tools, you can easily rent some basic tools from your local hardware shop.
Life with plants, as I've learned, is quite rewarding—far more fulfilling than a closet full of unworn garments. Though clothes are meant to be worn and displayed, most of the time they end up behind closed doors. But plants are a different story. They are living creatures—eating sun, oxygenating our environment, and calming our minds. They are meant to be on display all the time, and as such, appreciated in all their glory every waking hour.
The closet garden, along with the vertical garden, is housed in my bedroom, so waking up every morning to a literal wall of plants, particularly in the city, has become a way of life. Though my plants are many, I really spend only around 30 minutes a day watering and tending to them, which for me is simply a moving meditation—a reminder to enjoy the simple things that life has to offer.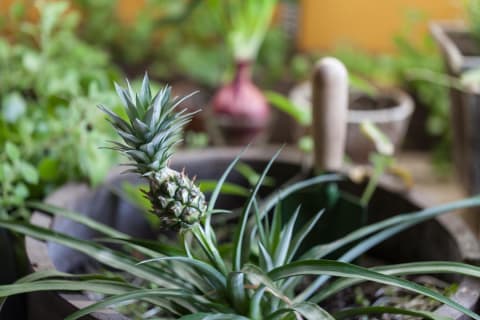 Turning a closet into a garden may seem like quite the undertaking, but it really is quite simple.
Advertisement
This ad is displayed using third party content and we do not control its accessibility features.
How to craft your own version:
1. See what closet in your home you'd like to "clean out."
Once you decide what closet you want to convert, remove any doors, if they exist.
Advertisement
This ad is displayed using third party content and we do not control its accessibility features.
2. Assess the direction your closet faces, as it relates to light.
If it faces or is near a window, assess what kind of natural light it gets, if any. South-facing light is bright and hot, particularly in the summer, and is amenable to light-loving plants like herbs, cactuses, and many blooming plants. North-facing windows have consistent light throughout the day but will never have bright sun. I've found orchids, begonias, and foliage varieties grow well in north-facing light. Eastern light means great morning light and typically is a good spot for a broad range of plants. Western windows are where the sun will set, so it's relatively warm and can be good for some sun-loving varieties. If you have no window, you may want to consider grow lights. I typically use LED grow lights because they are energy efficient and inexpensive.
3. Plan what you want to grow.
Once you have your light considerations, you can begin to plan what kind of plants you'd like to grow. You may find, like me, that it'll be an experiment and your plant choices will evolve. That's totally OK! That's all a part of the joy of gardening.
Advertisement
This ad is displayed using third party content and we do not control its accessibility features.
4. Take measurements.
Measure all aspects of your closet—the height, width, and depth. Decide if you want shelving in there or if you just want to put plants directly on the floor. I chose to do shelving so I can have some hidden storage space as well more tiers of growing space.
5. Sketch the closet garden.
Once you have all your measurements, sketch the closet out. I typically just draw everything out with a pencil and notebook. If I'm lucky, I'll convince my friend to draw it out in a computer program, like Cinema 4-D. This helps give you a perspective of what it will look like from all angles before you build it out.
6. Gather your tools.
You'll need to gather some basic tools, like boards, nails, hammer, saw, screws, and whatever else may be useful in finishing your shelving.
7. Hook up lights.
After the shelving is built out, you may need to hook up some grow lights. Even though mine gets great south-facing light, I chose to install some LED lights that are on a timer. Every morning they turn on at 8 a.m. and turn off at 8 p.m., ensuring that my plants get at least 12 hours of light every day.
8. Plant your garden.
When you're ready, it'll be time to get your plants, your pots, and grow your garden. Of course if you're growing plants hydroponically, then you'll be doing so in a soilless system.
Curious what the rest of Summer Rayne's plant-tastic apartment looks like? Check it out here!
Reset Your Gut
Sign up for our FREE doctor-approved gut health guide featuring shopping lists, recipes, and tips
Summer Rayne Oakes
Summer Rayne Oakes is a green entrepreneur, working across fashion, beauty, food, and wellness. After graduating cum laude from Cornell University with degrees in environmental science and nntomology, Oakes began to bridge her interest in ecological systems to industries that affect our everyday life—from what we wear to what we eat. She is a holistic nutritionist and launched SugarDetox.Me, a website offering guided Sugar Detox Programs, and wrote her first cookbook in March 2017. She most recently launched Homestead Brooklyn, Plant One On Me, and the Houseplant Masterclass—a website, YouTube series, and online audiovisual course respectively to help reconnect people to nature through the beauty of plants and gardening. She is passionate about helping people find healthier everyday choices—from what they wear to what they eat to how they live in their indoor environment. You may see her in Brooklyn hanging out at her local community garden with her pet chicken, Kippee, or tending to her own copious indoor jungle of 1,100 plants.