THIS Is The Next Wave Of Hygge (And It Could Save You Some Major $$)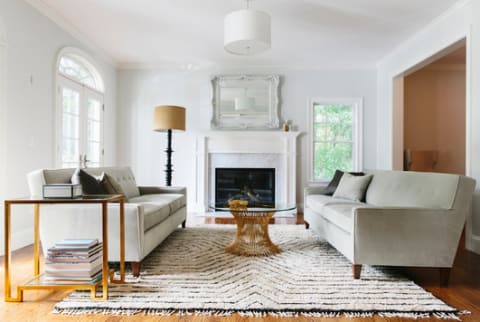 September 30, 2017
Who could forget the great hygge obsession of 2017? The Danish philosophy gave us all an excuse to get a little cozier in the name of our health. And now, a new Scandi buzzword is on the horizon:
lagom
, the art of having "not too little, not too much." Lagom: The Swedish Art of Balanced Living, a new book by Niki Brantmark, tells you everything you need to know about this frame of mind.According to Brantmark, lagom is all about conscious unselfishness—the idea that we all have the responsibility not to overconsume so that there's plenty to go around for everyone. Let's take a peek at how the Swedes adopt this innately eco-friendly mentality at home and how we can steal a page from their book.
In Sweden, wind, hydro, and solar power account for 52 percent of the electricity used, which places it at No. 1 in the world for sustainable energy use and puts it firmly on the path to becoming the first fossil-fuel-free nation. The Swedes have challenged all other countries to join the race.
These days, we're in the fortunate position of being able to choose between different energy providers. You can help your country join the movement by checking where your electricity comes from and, if necessary, switching to a company that uses more renewable sources.
How to keep your house warm (and cool), Swedish style.
In a climate where (in the North) temperatures can plummet to -30°C (-22°F), preventing heat from escaping your home is essential. A well-insulated home has a big impact on the amount of energy we consume—not to mention keeping you toasty when the snow falls outside.
Heating accounts for 42 percent of energy use in the average U.K. home. The escalating cost and environmental impact of this means that it makes sense to follow the Swedish example of checking that we're retaining heat (and in warmer climes, keeping our homes cool) in the most efficient way. Sometimes investments are required, but they pay off in the long run. Even small steps can help turn your home into an energy-efficient household, and it will save you pennies, too.
Layer it up.
If you're not ready to make a larger insulation investment just yet, or you're lucky enough to live in a climate where extreme measures aren't necessary, adding curtains, blinds, carpets, and rugs help keep the cold at bay and your home draft-free. They amp up the cozy factor, too. After all, the philosophy of lagom isn't about making things perfect; it's about putting in just the right amount of effort to ensure you're comfortable!
Wrap up.
According to a report for the U.K. government's Department of Energy and Climate Change, dialing down the thermostat by just 2 degrees (from 20ºC/68ºF to 18ºC/64ºF) is the No. 1 thing you can do to save energy at home. The report also recommended that you delay turning on your heating by one month (from October to November) and turn off radiators in unused rooms. Woolly jumpers at the ready!
Shut the door on goodbyes.
Whenever guests leave our house in winter, my husband shuts the door the moment their heel passes the threshold. I'm not kidding. As a Brit used to long goodbyes, I find this excruciatingly embarrassing, but for my husband it's a force of habit. He explains that having worked tirelessly to establish an ideal temperature indoors, he's not going to let all the well-earned heat escape during a lengthy farewell! I have, of course, kept my tradition of long goodbyes, but I do it inside instead.
How to adopt new energy-saving habits.
I've spoken to many Swedes about their engagement in saving energy at home, and more often than not it's a learned behavior from their parents and grandparents, driven by economic reasons. Now, I'm not saying you should start feeling your way around in the dark (although, of course, a Swede will tell you a few candles would be nice...), but there are simple, energy-saving habits we can all develop that will not only lead to a healthier planet but also help save money for a rainy day (or that next adventure).
Make the change.
The right lighting can create a wonderful atmosphere at home. It's little wonder that the average home now has 42 lights. But traditional light bulbs come at a cost. According to a report by the Swedish Energy Agency, they represent one-fifth of global electricity use, most of which comes from nonrenewable resources. Experts advise that by changing from a traditional incandescent light bulb to an efficient LED, CFL, or halogen incandescent, you'll use 25 to 80 percent less energy, and the bulb will last up to 25 times longer.
To reduce the amount of electricity you use, shine a light on the Swedish way of doing things—and make maximum use of natural light. Arrange furniture used for tasks requiring plenty of light nearer the window and keep the glass as unobscured as possible. Not only will your efforts be gentler on your wallet, but they'll reduce your impact on the planet, too.
If all American households changed from traditional incandescent light bulbs to LED, CFL, or halogen incandescents, the decrease in pollution would be the same as removing a whopping 1.3 million cars from the road.
Flip the switch.
In our rush to get out of the house in the morning, it's easy to leave the lights on. And really, what difference do a few light bulbs make, right? Wrong! A whopping 90 percent of the energy used by traditional incandescent light bulbs is released through heat, and the higher the wattage, the more energy (and money) you'll save by switching off.
Unplug at the source.
According to the U.S. Department of Energy, 75 percent of our electrical output from household appliances is consumed when they are not in use. To put this in perspective, if every U.K. home switched off its set-top box at the source each night, the energy saved would be the equivalent to the annual output of a power station. That's the equivalent of making 80 billion cups of tea. Yikes!
Boil what you need.
The U.K. Tea Council calculates that Brits gulp down 165 million cups of tea per day. With 67 percent of people admitting to overfilling the kettle each time, it's estimated that by only boiling what we need, we could save enough over a year to power half of the U.K.'s street lighting.
Stain-spot clothes.
In "the good old days" when clothes were hand-washed, people would get more wear out of them. Why not remove spots with a wet cloth and air your clothes to limit the number of washes? You could even give them a good steam by hanging them beside your shower.
Skip the dryer.
Save energy by drying your clothes on a clothesline in the garden or on a drying rack rather than using a tumble dryer. It helps your clothes last longer, too.
Looking to snag more healthy living secrets from Scandi? Check out this game-changing parenting philosophy from Denmark.

Niki Brantmark
Niki Brantmark is the creator of My Scandinavian Home, an interior design blog inspired by her life in Malmö, Sweden, where she lives with her husband and three children. Originally from London, Niki has an M.A. in psychology from the University of Edinburgh and is the author of Modern Pastoral, The Scandinavian Home, and Lagom: The Swedish Art of Living a Balanced, Happy Life.