Don't Throw Out Your Jars! Here Are 20 Things To Do With Them Instead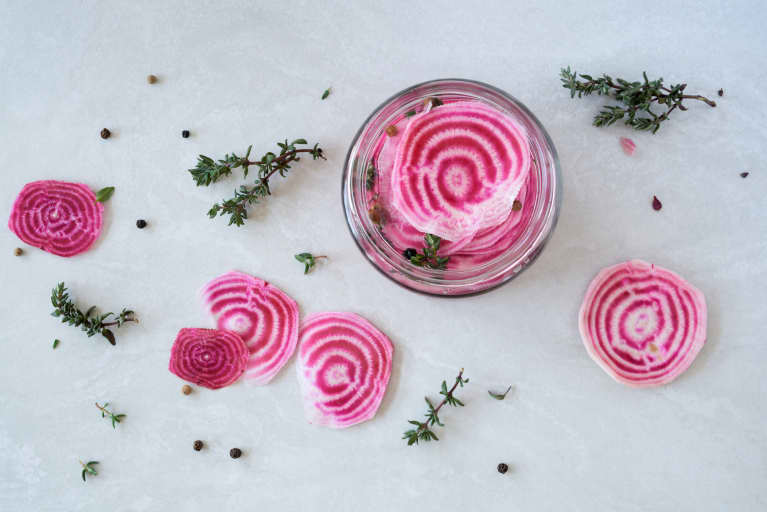 Wellness starts in a jar. These days, most of the superfoods, nut butters, beauty dusts, and powders we cycle through come encased in plastic and glass of various shapes and sizes. Instead of (properly!) recycling your jars after every use, see if the manufacturer has a giveback program that accepts old ones. If they don't, consider writing in and asking why, then repurposing old jars into something new entirely. Doing so will get you into the eco-friendly habit of reusing old items, and it could encourage you to DIY more of your home goods instead of always buying them new, which is usually the healthier, cheaper, and less resource-intensive choice. Here are 20 genius jar hacks to help kick-start your canned creativity:
Use large jars to store bulk-bin finds like nuts, seeds, and pastas. You can ask the cashier to take the weight of the jar before you get shopping.
Use small, lidded glass jars to make your own essential oil blend. Plastic won't work in this case, as oils are actually strong enough to break it down. Looking for immune support through the holidays? Throw together some tea tree and frankincense. Want a better mood in a bottle? Combine uplifting smells like ylang ylang, grapefruit, and neroli, and sniff as needed.
Take a spray nozzle and use your jar for a DIY perfume spritz. Check out this botanical perfumer's sensory secrets for inspo.
Use medium-size jars to pack lunches. (Psst...this not-sad-desk lunch is a great one to start with.)
Use smaller jars to mix portable restaurant-quality salad dressings.
If you have a favorite product that you go through really quickly, use the uniform jars for a pretty spice display.
Add a spray nozzle to jars that have narrower rims and DIY your own room spray using water and essential oils. Up the good vibes by throwing in a crystal or two.
Save your larger jars to store homemade cleaning supplies. A few simple recipes to start with include vinegar diluted with water to clean windows and shine stainless-steel appliances and lemon and vinegar for an antiseptic surface cleaner.
Head to Pinterest and check out the million and one ways to use jars as display cases for items found outdoors. Bringing more nature into your home is super healing, after all.
Turn your jar into a grown-up piggy bank and drop loose change in it.
Make your own clay mask and store leftovers in a jar for future spot treatment.
Use larger jars to house flower bouquets. Bonus points if your arrangement plays up the language of flowers.
Turn medium jars into a pen-and-pencil case for your desk.
Use larger jars to store knickknacks you have lying around. Designating a home for everything—even battery chargers and loose yarn—is one of the quickest ways to stay organized.
Keep a few jars of various sizes in your cabinet for quick leftover storage.
Get a little crafty and use a jar to house a homemade nontoxic candle. All it takes is some beeswax, a wick, and essential oils if you want a smell-good element.
For the green thumbs among us, turn your larger jars into a terrarium display.
Use small jars to hold tea candles.
Make your own natural deodorant (it's easier than it sounds) and store it in a medium jar.
Ditch the to-go cup and store your drinks in a lidded jar.