5 Ways To Make Your Next Move Way Less Painful (For You & The Planet)

mbg Sustainability + Health Director
By Emma Loewe
mbg Sustainability + Health Director
Emma Loewe is the Senior Sustainability Editor at mindbodygreen and the author of "Return to Nature: The New Science of How Natural Landscapes Restore Us."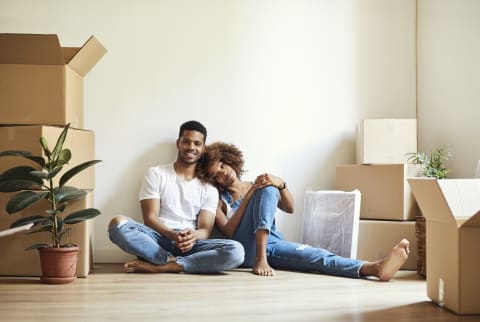 Image by Morsa Images / iStock
Last updated on September 10, 2019
Do the words "moving apartments" immediately spike your heart rate? I'm with you. In the weeks leading up to my recent move, my palms were sweaty and my brain ran amok with logistics. U-Hauls and moving boxes played a prominent role in my nightmares more than once.
As if the typical concerns about packing, parking, and paying for my new place weren't enough, this time I'd assigned myself the added challenge of keeping the move as low-waste as possible. During the packing and unpacking process, I wanted to avoid the trash can and recycling bins (the recycling industry is in crisis right now, after all) and make sure that everything I gave away was actually going to be reused.
Advertisement
This ad is displayed using third party content and we do not control its accessibility features.
This way of thinking definitely added time to my moving process. It did take some extra energy to find homes for all my different buckets of stuff. (And I realize that not everyone has the luxury of making a slow, methodical move like I did.) But doing things this way saved me some of the eco-guilt of throwing away perfectly good items like I had done in moves past. Here are some of the resources that I found most helpful throughout the process. May they save you at least one moving-box-related nightmare.
For clothing, look to resell first and recycle what's left.
My closet was the first thing I tackled, and I did a serious wardrobe edit about a month before move-out. As I did, the words of fashion industry waste expert Elizabeth L. Cline rang through my head. When I spoke with Cline for a story on what actually happens to clothes after they're donated, she told me, "On average, most resale stores and thrift shops only sell 20 to 25% of the donations they receive, and the rest is sent onward to exporters or recyclers." She added that around 1.7 billion garments are exported out of the United States every year.
The problem is that many of us are guilty of donating things that are tattered, stained, and outdated to the point that nobody else would ever want to buy them. Instead of lugging my piles of clothes to my local Goodwill and hoping for the best, I picked out the pieces that I thought could still be worth something and mailed them to ThredUp—an online consignment shop that pays you for the items it sells and then recycles the rest. The process was really easy: I printed a prepaid label from their website and sent in my clothes (after washing them and making sure they were in tiptop shape). A few weeks later, I got an email recapping what items the company decided to sell and how much I would make off of them ($12.47 richer, baby!).
After that, I was left with stuff that I didn't think could reasonably be resold, which I took to a GrowNYC drop-off location for recycling. Now, they probably exist as insulation or carpet padding or industrial rags somewhere. It's not the best-case scenario, but hopefully by my next move, it will be more common to see old garments be repurposed into new ones.
Give away your small appliances and household staples.
Freecycle was a godsend during my move. The online platform is similar to Craigslist, except everything is free. I posted things like mirrors, clocks, small furniture, hot water heaters, and fans. Everything was scooped up within a few days of posting, and it was easy to coordinate pick-ups via email and text. It was a win-win: I got rid of my stuff and gave it to someone who was genuinely excited to use it. Granted, I live in a central area of New York City, so it might be harder to find takers if you live in more remote locations, but I encourage anyone to try the service. I'm keeping an eye on the site for the next time I'm tempted to order something online because you can find some real gems.
I've also heard good things about Buy Nothing groups on Facebook, which serve a similar purpose. If you're hoping to make money off of higher worth electronics, Best Buy also has a take-back program for those. Oh! And I tried to use up most of my food before the move, but if you have any perishable ingredients on your hands, the OLIO App can connect you with nearby people who will gladly use them in their own kitchens.
Advertisement
This ad is displayed using third party content and we do not control its accessibility features.
Swap what's left with friends.
As Lindsay Miles writes in her new book Less Stuff, an overview on how to declutter responsibly, you shouldn't recycle anything until you've made sure no one else wants it! As a wellness editor, I'm sent a lot of beauty products, supplements, and superfoods to try—some of which I never actually use and just collect dust in my cabinets. But they're perfectly good! I asked around to see if my roommate, co-workers, friends, and family wanted anything and was able to find a home for most of it. I also attended a "swag swap" organized by Good Stuff, a circular economy pop-up, and started to think about how fun it would be to organize something similar with friends. Next time!
Rent reusable packing boxes.
Cardboard moving boxes are deceptively bulky, expensive, and annoying to get rid of. Instead, I used NYC-based reusable moving box company Gorilla Bins at the recommendation of a friend. The company delivered reusable boxes to my old apartment and picked them up from my new one a week later (another benefit of a service like this: It forces you to unpack quickly!) to be cleaned and reused. The boxes were well-sized, waterproof, and much sturdier than cardboard. Though Gorilla Bins is an NYC-based company, U-Haul offers a similar service nationwide.
Advertisement
This ad is displayed using third party content and we do not control its accessibility features.
Remember that the zero-waste mentality shouldn't stop when you move in.
Now that I'm settling into my new place, I'm trying to keep up the momentum by purchasing things that I won't need to just get rid of again during my next move. Instead of going with cheap furniture that's low in quality, I'm saving up to buy more expensive pieces that I know will last. I'm also on the lookout for secondhand pieces—AptDeco is a highly trafficked site in my browser right now—and am considering renting anything I can't see myself hanging onto in the long run.
For household items that usually come wrapped in disposable packaging (think shampoo, conditioner, razors, cleaning wipes, etc.) I've been using Loop—a new program that delivers products from companies like Unilever, Procter & Gamble Company, Coca-Cola, and Haagen-Dazs in reusable packaging that will be collected and reused when you're done with them. I was lucky enough to receive a trial Loop box to try out and I love it so much I've already signed up to become a regular customer.
I'm far from perfect, but my visits to my apartment building's trash room are definitely getting a little less frequent, and that's a win in my book.
Advertisement
This ad is displayed using third party content and we do not control its accessibility features.