Using Natural Dyes On Your Clothes Is Easier — And Trendier — Than You Think

mbg Sustainability + Health Director
By Emma Loewe
mbg Sustainability + Health Director
Emma Loewe is the Senior Sustainability Editor at mindbodygreen and the author of "Return to Nature: The New Science of How Natural Landscapes Restore Us."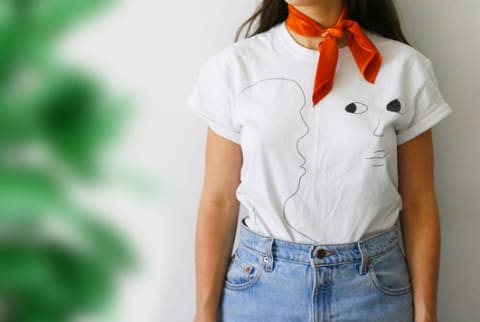 August 9, 2017
Maria Elena Pombo wasn't always color obsessed. When the Parsons fashion graduate landed a job with Michael Kors after school, she preferred working with crisp white fabrics. She almost didn't believe her boyfriend Griffin Moore—also a designer—when he told her that avocado pits could dye cotton a deep, vibrant crimson, and onion skins covered silk in rich yellow and purple hues. It wasn't until a color hunt through the aisles of a Wegmans grocery store in Upstate New York that her passion was born.
"We just tried with the onion skins first. We placed some fabric in them and it was only a matter of hours before they were so vibrant," she recounts out of her studio in Bushwick, Brooklyn, huddled over a bucket containing her latest creation. Years after that initial experiment, Pombo is the founder of her own natural dye company, Fragmentario.
A return to craft.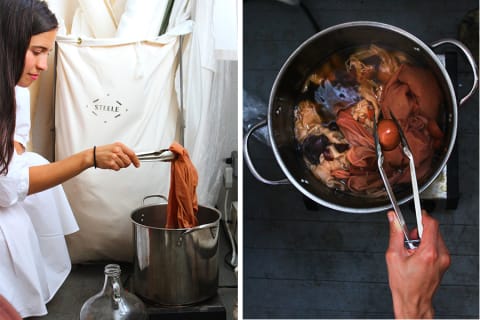 Natural dyeing—the process of using plant and animal matter and water to dye clothes without chemical additives—is experiencing a quiet resurgence. Like the macramé get-togethers and flower-arranging retreats that are gaining popularity, it's an Instagram-worthy return to craftsmanship. The adult version of tie-dye, the practice offers a form of expression that's mindful, rewarding, and environmentally friendly. The once-niche practice is becoming more accessible to the masses, and Pombo hopes to carry it even further into the mainstream.
With bags of onion skins and jars of chamomile, rose, and hibiscus at the ready, she brings fabrics to life for her customers and teaches the art of natural dying to curious creatives through workshops and DIY kits.
While someone can tell her what color they're after, the results are in large part unpredictable, and two pieces will never be the same. The material used, length of time submerged, and even mineral content of the water all affect the finished product. An avocado from America will leave a different mark from one grown abroad, and the water in upstate New York yields vastly different results from that in the heart of NYC. Indigo gives hemp a denim look but renders canvas a light, washed-out blue.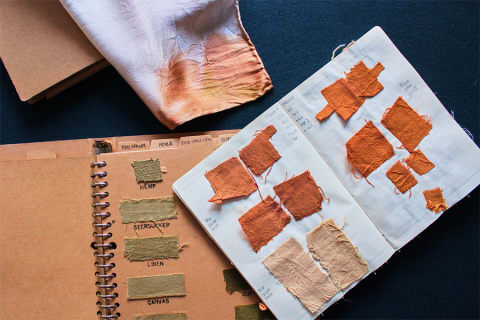 All of this makes natural dying part art form, part chemistry experiment, and part fingers-crossed magic. You never really know what you're going to come up with, and that's what makes it such an exciting hobby.
"Since a lot of us are stuck behind computers all day, we're all looking for an excuse to work with our hands," says Moore, leading into a story. "I grew up in upstate New York, in a pretty poor, rural area. I worked at the highway department one summer, with these rough-and-tumble older guys who I don't think I had a lot in common with. Then you talk to them about their weekends and you find out how much you actually do. This guy makes wine; this guy makes birdhouses. Everyone needs something like that."
The environmental appeal.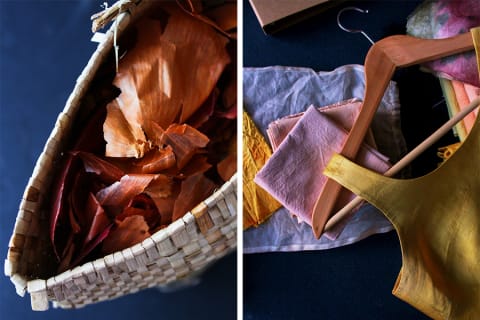 This handspun "of the Earth" approach to fabrics is also a more sustainable one. The majority of Pombo's ingredients would have otherwise been thrown away, like all the avocado pits she gets from the Brooklyn staple, Avocaderia (over 100, two to three times a week) and onion skins from local co-ops and farms. She enjoys the regionality of the process, often opting to include local staples in the workshops she teaches. Natural dyes present endless possibilities, and while ones that have tannins tend to leave more of a mark, there's room to play around with new ones. And compared to the traditional dye industry that exposes clothing, workers, and the environment to harsh chemicals, they are also an extremely low-impact alternative.
Though some big-name brands like luxury leather label Mansur Gavriel now use natural dying processes, they do so in a hushed way. Pombo thinks that they don't publicize the process much out of concern that customers will find it too hippie or worry that the coloring will fade quickly. In reality, natural fabrics only become richer with time.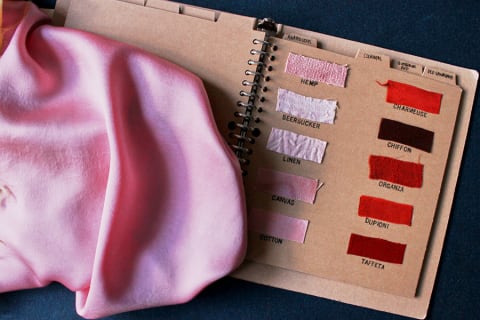 "There is the little niche of people who care about these things. I think that right now, not a lot of people know about natural dyes, but I think in five years people will become more aware. We ask so many questions about our food. Why shouldn't this be next?" asks Pombo, standing next to a rack of ethereal shirts colored in soft pinks, greens, and yellows.
"I'm hearing a lot of people talk about how they think the future of fashion is wearable tech: shirts with batteries, heated jackets for hunting and running. But I think this—the return to the past—is the way of the future."
Curious about what other innovations are changing the fashion industry? Check out these unique sustainable textiles and genius fabric recycling solutions.