Totally Doable Ways To Become A Climate Activist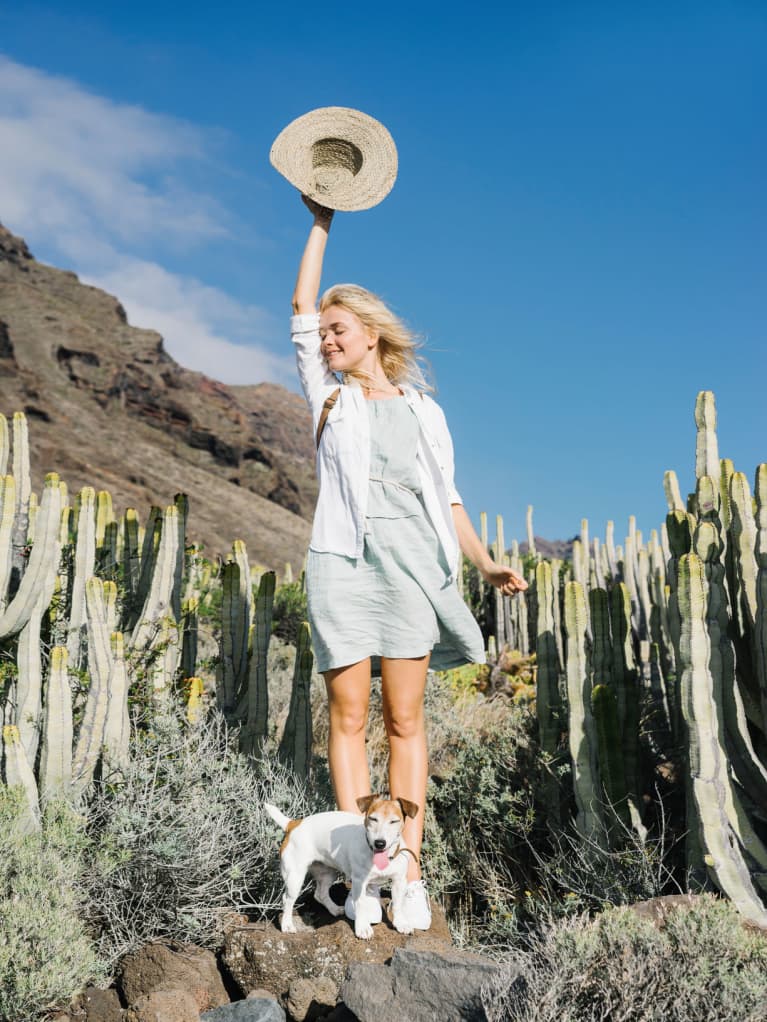 Our editors have independently chosen the products listed on this page. If you purchase something mentioned in this article, we may
earn a small commission
.
The word activism can be polarizing. You might picture people chaining themselves to trees or marching through streets, placards above heads, shouting chants. I remember doing an interview with a radio station and the host introduced me as an activist. It felt like such an extreme description and I left feeling embarrassed and afraid of what people would think of me. I couldn't shake the feeling for days, until a friend told me I was an activist, because I was acting my vision. From then on, I redefined what activism was and how I saw it.
For me, activism is about living in alignment with how you would like to see the world: choosing kindness, living with intention and taking responsibility. Activism is not confined to rallies and controversial gestures. It's seen in everyday choices: in how and where we spend our money, the people we support, the conversations we have, and what we do to lead by example. Activism in all its forms is important because it creates a dialogue for change.
Here are a few ways to become an everyday activist for the environment:
A personalized letter shows the time that went into physically putting it together. Letters don't have to be lengthy or full of statistics citing the end of the world. I form my letters by starting with who I am and then outline the issue. I'll then use bullet points to highlight ways to make changes going forward. I try to stick to one subject and not make my message too complicated.
I've never expected a response; my goal is to simply alert a company or government to the possibility of redesigning an item or system, why it's necessary for change to come about, and why it would benefit everyone. It might leave a deflating feeling to not receive a response or to see no immediate action, but your words may still prompt someone somewhere to do more research and set the foundations for change.
Fun fact: U.K. restaurant chain Pizza Express committed to stop handing out plastic straws after receiving a letter from a 5-year-old girl explaining that plastic straws are bad for animals, often getting stuck in their noses and mouths. This will stop 1.8 million plastic straws from being used each year by its London restaurants alone.
I know there are legions of people out there who see online activism as a halfhearted form of activism. I disagree. Since we all have varying levels of ability to get involved, the online world might be where someone feels they can share their views safely while making an impact.
Online activism through blogs, social media, apps, and websites has helped bolster the zero-waste message, giving urgent light to this social issue. Online petitions do raise awareness—and they can do so quickly. (For example, Anita Horan began her online campaign against overpackaged fruit and vegetables in supermarkets with the hashtag #plasticfreeproduce. The conversations created through this simple hashtag have now gone worldwide.)
The internet has given us a direct line of communication with businesses and our elected political leaders, and the visibility of comments shared allows others to join the conversation. You only need look through the number of local zero-waste groups set up on Facebook to see the power of conversations happening online. It's through these social channels that we are able to find out where and how we might want to participate in different levels of activism.
There are many wonderful movies dedicated to the topic of reducing plastic and waste. If you have been inspired to share the message in a fun and engaging way, I suggest hosting a movie night in your community. Some of my favorite movies to stream include The Clean Bin Project, A Plastic Ocean, and Bag It.
4. Engage with the government.
One of the fastest ways to curb our plastic consumption problems is through changing laws. A great example of this is the growing number of towns, cities, states, and countries around the world declaring bans on plastic bags. Many of these decisions have been a direct result of lobbying by citizens.
There are many ways to engage with different levels of government. Your local council might have an advisory group or board that invites members of the public to join and help find solutions to reducing rubbish within the local municipality. Political representatives declare themselves available to talk with their constituents on any issues they are concerned about, so take advantage and set up a meeting to ask what could be done in your area.
Three years ago, I received a message in my inbox from some very experienced environmental campaigners. They invited me to help start up a statewide campaign to ban plastic bags in Victoria. At first I was nervous, feeling very unsure I had any skills to bring to the table apart from my passion for the issue. But, by this stage of my journey into reducing my own plastic use and living zero-waste, I knew legislation would be one of the ways to get swift action. So I said yes, and Plastic Bag Free Victoria was formed.
The campaign's aim was to highlight and support local community efforts to stop the free distribution of single-use plastic bags while at the same time lobbying the state government for a ban on the free distribution of single-use plastic bags. We put together a petition to present to the government demanding a ban on plastic bags and spent just under a year collecting over 10,000 physical signatures.
Our petition went on to be one of the largest delivered to our state parliament in a decade. But when a bill was first tabled for a ban on plastic bags, it was knocked back. We were disappointed, of course, but we didn't give up hope. Our efforts had added to the conversation, and soon, awareness spread further. Retailers began declaring they would put an end to handing out plastic bags, and a year later the state government declared they would put a ban on plastic bags, to come into effect in 2018.
A campaign of this size required many volunteers with a variety of talents and skills. We relied on people to help spread the message online via social media, to email their local MPs and to stand on street corners asking for signatures. If people donated an hour a week or even just an hour a month, it all added up.
You might think writing a letter, hosting a movie night, or asking people to sign a petition won't amount to anything, but I have seen what is possible. There is a groundswell of people looking for a new way, where kindness, intention, and responsibility reign and treading lightly on this earth is normal. Just as I am writing this, a friend has emailed me from Scotland to let me know they are set to ban plastic straws by the end of 2019. I truly believe that from knowing comes caring and from caring comes change. We can all be part of the story of change in our own way. I am aware I might not see a completely circular economy during my lifetime, but I'm not without hope that it will get there. And, when it happens, I know it will be because of people like you and me. Our actions, no matter their size, are always powerful. Never forget that.
Excerpted with permission from Waste Not: Make a Big Difference by Throwing Away Less by Erin Rhoads, published by Hardie Grant April 2019, RRP $24.99, vinyl paperback.