Our Editors Share Their Absolute Favorite Easy Ways To Avoid Plastic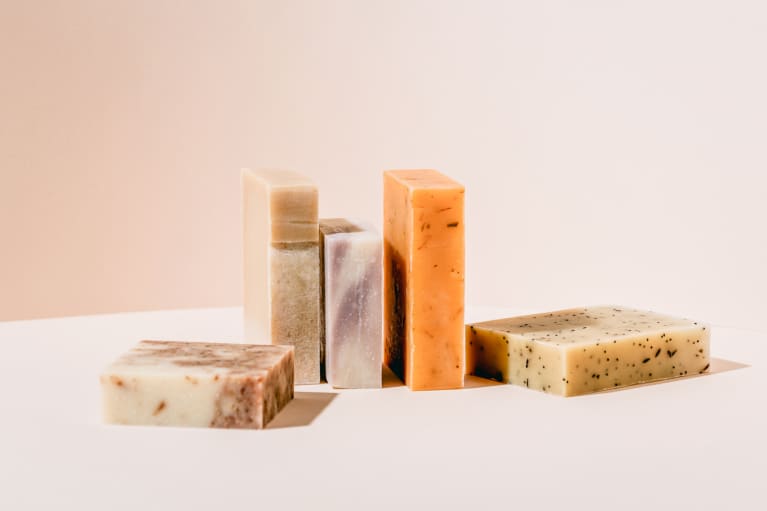 Our editors have independently chosen the products listed on this page. If you purchase something mentioned in this article, we may
earn a small commission
.
As editors at mindbodygreen, our team is always up for a new experiment in the name of wellness. We've sheepishly taken the mat in a naked yoga class, donned crystal deodorant for days on end, and tried out just about every strategy for avoiding single-use plastic. Because, after all, we can't be truly healthy if our planet is sick and clogged with toxins. Here are some of our favorite ways to live well while staying as far away from the trash can as possible:
1. Swap bottles for bars.
I recently switched to using shampoo and conditioner bars—literally after reading an mbg story about this—and I absolutely love them. The Ethique bars I purchase come in plastic-free, compostable packaging, and each bar is the equivalent of two to three bottles worth of shampoo. It's such an easy switch to make that tangibly reduces the amount of plastic waste you produce as an individual. The surprising bonus is that the bars also feel so luxurious, and I absolutely love washing my hair now. It's such a good reminder that the ethical, sustainable choice often gives you the highest-quality experience as well.
—Kelly Gonsalves, Contributing Sex & Relationships Editor
2. Bag up those gym clothes.
I've been able to cut down on a lot of plastic by remembering to bring not only a reusable water bottle to the gym but also a reusable bag for dirty clothes. Gyms and studios have hundreds of people coming in and out every day—and if every one of them uses a single-use bottle and bag, the amount of plastic really adds up.
—Ray Bass, Associate Movement & Wellness Editor
It's such a good reminder that the ethical, sustainable choice often gives you the highest-quality experience as well.
3. Find a replacement for all that plastic wrap.
These beeswax wraps are my new go-to alternative to plastic wrap. They're made from organic cotton cloth that's been coated in beeswax and coconut oil so they hold their shape when wrapped around half-eaten apples or avocados, and keep their seal when used to cover bowls of leftovers. Plus, they're pretty damn cute and last about a year. Simply warm them up a bit with your hands and mold them around whatever you'd normally store in plastic; when you're done, rinse with a bit of cool water and soap.
—Stephanie Eckelkamp, Wellness Editor
4. Invest in reusable pieces you'll actually want to use.
I recently made a commitment to reduce my use of single-use plastic and found myself constantly saying "no, I don't need a straw" while eating out—but occasionally wishing I had an alternative. I bought a glass straw from Simply Straws and am loving it. It's easy to bring out at restaurants or while on-the-go and has a nice aesthetic, which makes me want to use it even more. When I'm home, I use Stasher reusable bags to store food without the waste. I feel good knowing even small acts like these do make a difference in the fight to reduce plastic pollution.
—Caroline Muggia, Editorial Assistant
5. Support brands doing the work to lighten their impact.
As a beauty girl, it's not easy to avoid plastic. Every time I look at my stash—be it at home or in the office—I feel guilty about how much waste it will eventually create. There are, however, some brands that are making big changes to packaging—and it's important to highlight those, hoping that others follow suit. A few brands are starting to make plastic-like tubes and jars with sugar cane residuals, so they are biodegradable. (Bybi and Sephora Collection's new skin care offerings are two prime examples.) Also great: Refillable products. Recently Ren partnered with a new pilot program called Loop that lets you send your bottles back in and have them refilled instead of buying new ones.
—Alexandra Engler, Senior Beauty & Lifestyle Editor
Joining a CSA is an easy way to support your local food scene AND avoid packaging waste. It brings the food to you so you don't need to spend every weekend navigating the market for deals. Plus, CSAs tend to use way less plastic than your traditional grocery store or even farmers market, instead opting to lay out food loose and let customers store their own shares. After spending months stewing about the abundance of plastic in my supermarket, I joined Local Roots in NYC (listen to the founder Wen-Jay on mbg's podcast here!) and am super excited for a summer spent picking up new varieties of fresh fruits and veggies every week and bringing home my haul in a reusable tote.
—Emma Loewe, Sustainability Editor
Bonus: Let your four-legged friend in on the fun.
Soon after getting my first dog as an adult four years ago, I started to feel really guilty about the number of single-use plastic poop bags we were whipping through. At a rate of two (sometimes three!) a day, that's 730 plastic bags in the trash every year. After doing a little research, I discovered this greener option from Planet Poop. They're made out of vegetable-based ingredients like cornstarch and cassava (meaning, they don't end up leaching microplastics into our soil and water), and they're even compostable, completely biodegrading within 90 days. Even the cardboard core is made from recycled materials.
—Stephanie Eckelkamp, Wellness Editor