How HFCs Are Contributing To Global Warming + What You Can Do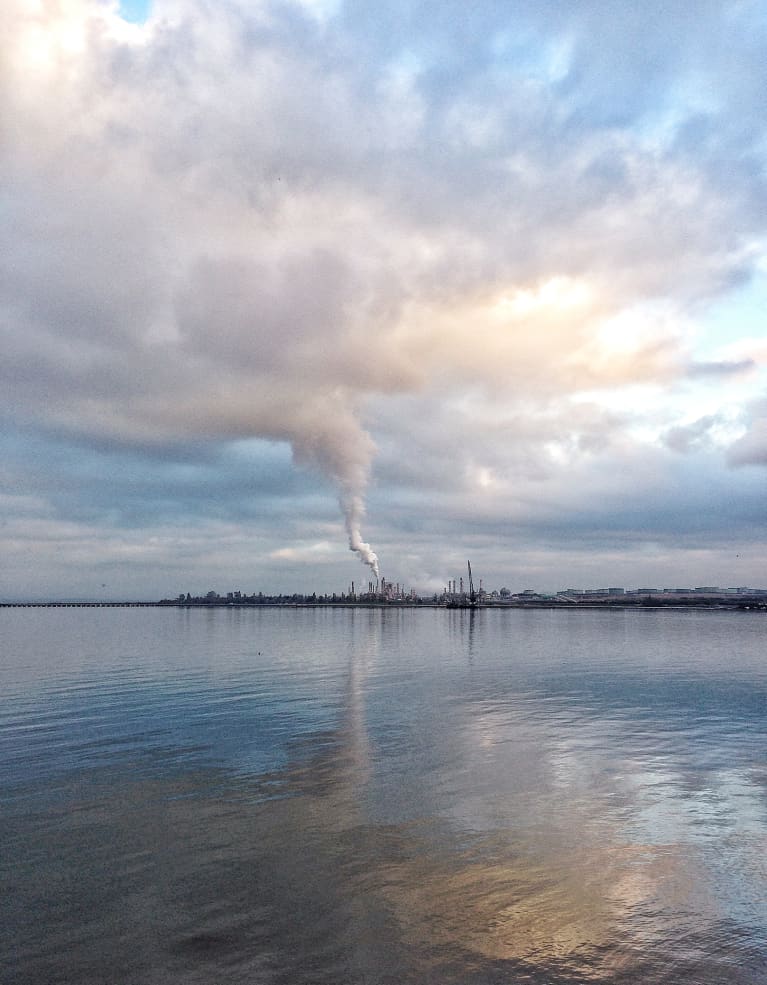 August 19, 2020 — 12:13 PM
Most of us are up to speed on the dangers of carbon dioxide, but we may not be as well-versed on another greenhouse gas that has the potential to trap hundreds of times more heat in the environment: hydrofluorocarbons. Hydrofluorocarbons, or HFCs, often fuel cooling systems like refrigerators and air conditioners and are powerful agents of global warming when they leak out into the atmosphere.
According to a new report by the U.N., replacing HFCs with more climate-friendly cooling alternatives could save the world up to 460 billion metric tons of greenhouse gas emissions (the equivalent of eight years of global emissions at 2018 levels) and reduce global warming by as much as 0.4°C by 2100.
If HFCs are such an important piece of the climate puzzle, why don't we hear more about them? Beth Porter, the climate campaign's director for environmental nonprofit Green America, suspects it has to do with the fact that HFC leakage is largely an invisible problem: "It's happening in supermarkets and in our home refrigerators, but it's kind of hidden from us," Porter tells mbg. To increase visibility for the issue, Green America just released the first public-facing campaign on how the average person can "cool it for the climate" and advocate for HFC reform. Here's what to know about phasing out this super pollutant in your own home and beyond.
How to manage HFCs at home:
1.
Check your fridge and AC units for a refrigerant code.
Finding out if your home fridge runs on HFCs is as simple as opening it up and looking for a sticker on the inside of the door. Once you spot it, look at the code in the "refrigerant" section. If it reads R600 or R290, your fridge is HFC-free; go ahead and close the door, do a happy dance, and skip ahead to point 3. If you see any other codes, your fridge more than likely contains HFCs. The same labeling applies to air conditioner units, so look out for stickers on those too.
2.
If your fridge and/or AC contains HFCs, monitor them for leaks.
If you have HFC systems in your home, getting rid of them right away and buying new is not the move. Porter says that the more environmentally friendly choice would be to keep them until the end of their life span but monitor them closely for leaks in the meantime.
Your fridge might be leaking if it consistently makes a hissing sound or has a sudden temperature increase. If your AC is dishing out warm air, it might have a leak too. If you suspect a leak, call a technician to patch up the problem but do a little research first to make sure they are section 608 certified. "It's a specific section from the Clean Air Act that focuses on reducing emissions from refrigerants," Porter explains, meaning that these folks will know how to fix the problem without inadvertently sending more HFCs into the environment.
3.
If your fridge and/or AC is a goner, get rid of it responsibly.
When it does come time to dispose of your HFC system, you'll want to be careful who call to help out with that too, since 90% of refrigerant emissions happen at the end of a system's life. If you live in the U.S., you can look up a certified Responsible Appliance Disposal (RAD) option in your area using this EPA database.
If you're buying a new model to replace the old one, here's a list of HFC-free options to look into. Bonus: They also tend to be more energy-efficient and could save you money in the long run.
How to push for broader HFC reform:
1.
Ask your local supermarkets and gas stations to eliminate HFCs.
Supermarkets lose an average of 25% of their HFCs to leaks every year—a pretty staggering amount when you consider the number of cooling units they tend to have. If the world is going to make a meaningful dent in HFC emissions, these stores need to lead the way. A few large chains like Aldi, Whole Foods Market, and Target have committed to phasing out their HFCs or making new stores completely HFC-free moving forward. It's a good start, but more public dialogue on the issue can continue to inspire change.
2.
Advocate for policy reform.
Sixty countries have now signed the Kigali Amendment—a global treaty to phase out HFCs. The U.S. is not one of them. In absence of federal regulation on the issue, some states are taking matters into their own hands: California, Connecticut, Maryland, New York, Vermont, and Washington will prohibit HFCs beginning in 2023. Advocate for more progress if you live in the U.S. by letting your representatives know that you support the phasing out of HFCs.
While HFC regulation won't single-handedly solve the climate crisis, nixing the cooling compounds could cut a significant amount of warming.