The Impact Of COVID-19 Travel Bans On Wildlife & Global Conservation

By Bonnie Culbertson
mbg Contributor
Bonnie Culbertson is an Ohio-based freelance writer and ethical travel consultant. She has a bachelor's in strategic communications from Miami University.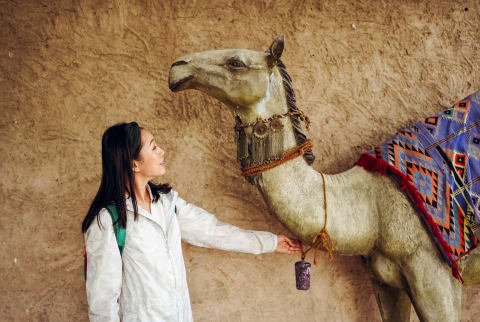 Image by Addictive Creatives / Stocksy
October 21, 2020
Our editors have independently chosen the products listed on this page. If you purchase something mentioned in this article, we may
earn a small commission
.
Last year during my travels, I had the opportunity to swim with sea turtles off the coast of Mexico, explore coral reefs in the Caribbean, and observe herds of elk and bison on the move here in the U.S. Every up-close encounter with the wild world deepened my commitment to caring for these animals and the wilderness they call home. That's the power of wildlife tourism. Now that tourism has ground to a halt, that power is in peril.
Advertisement
This ad is displayed using third party content and we do not control its accessibility features.
The link between tourism and conservation.
While early photos showing fish returning to rivers in Venice and wild boars roaming the streets of Haifa in Israel demonstrated how nature can flourish in the absence of human activity, that's not the full story.
Humans also serve as guardians of fragile ecosystems that would otherwise be at the mercy of extractive industries and corporate greed. As COVID travel restrictions have continued to keep us at home, wildlife reserves in much of the developing world—places where tourism dollars serve as crucial funding for conservation efforts—remain mostly empty. The result? Our wildlife guardians go unpaid.
According to the World Travel and Tourism Council (WTTC), in 2019 wildlife tourism resulted in a value of $120 billion. That funding, in turn, helped generate 21.8 million tourism jobs across the globe. Without these jobs, those who once led safaris or helped guard against poachers are in a precarious position and desperate to provide for themselves and their families.
Unfortunately, this can mean turning to poaching or logging for a source of income. Now we have fewer conservation jobs and more illegal activity putting wildlife at risk. It's a compounding problem.
"It's easy to look at something like poaching and write it off, saying 'Oh, well that's bad,'" says Kelley Louise, executive director of Impact Travel Alliance, an organization that helps educate travelers about sustainable tourism. "But by characterizing poaching in a negative light, we're also inherently characterizing poachers as bad—and that's not the case. Poachers are people. They have families, hopes, dreams—and more often than not, they're surviving in the best way they can."
Louise cautions against demonizing these people by pointing out the countless stories of nature guides who are reformed poachers. In normal times, tourism provides them with a revenue source that is safe, legal, and fulfilling. They become the eyes and ears of a place and they work to curate experiences like those I had last year.
You don't protect what you don't know.
This highlights another way the COVID-induced travel restrictions are negatively affecting conservation efforts. Without tourism, we are cut off from the ability to connect, in person, with the many creatures of this world that need our help.
"I always say that you don't protect what you don't know," says Louise. "The privilege to travel and see the world—to make eye contact with a mountain gorilla in the wild, to witness the northern lights in all their glory, to fall asleep to the orchestra of the rainforest—gives us an opportunity to connect with nature. In turn, those experiences can turn us into fierce advocates to protect our Earth."
Advertisement
This ad is displayed using third party content and we do not control its accessibility features.
How to support conservation during—and after—the pandemic.
In the absence of these experiences, animal lovers can keep connected to the natural world through important documentaries like Netflix's Our Planet, narrated by the Emmy-winning lifelong wildlife advocate Sir David Attenborough, or Elephant on Disney+, narrated by Meghan Markle. These films immerse viewers in stunning landscapes, introduce them to nature's most precious creatures, and, hopefully, inspire hearts to action. Even from a distance.
And there's a lot more that people can do beyond streaming wilderness adventures from home. Donations to nonprofit organizations like the World Wildlife Fund, The Nature Conservancy, and Oceana can keep conservation efforts afloat in at-risk regions around the world. This holiday season, consider giving a symbolic species adoption on behalf of friends and families or purchasing other gifts that help protect wildlife.
Once global travel restrictions begin to ease, travelers can choose hotels and resorts that prioritize environmental stewardship.
Many hospitality businesses are finding creative ways to support local conservation in the face of their new reality. To protect its delicate, local ecosystem, for instance, The Brando in French Polynesia leveraged its closure to launch a major eradication project for invasive rats, in partnership with its sister organization, the Tetiaroa Atoll Restoration Project (TARP). And in Mexico, The Viceroy Los Cabos is offering a "Virtual School" package that includes field trips to educate remote students about local wildlife, including a "Marine Biologist for a Day" experience, sea turtle conservation, and visits to San Jose's estuary and bird sanctuary.
Collectively, we've spent the past several months in a period of waiting and, hopefully, contemplative reflection. Since we know travel is unlikely to return to a prepandemic status quo, we can now ask ourselves: What world do we want to step into once this is behind us?
By using this time to become more aware and educated about how things like travel affect conservation around the world, we will be well equipped to make kinder, more ethical choices moving forward.
Advertisement
This ad is displayed using third party content and we do not control its accessibility features.

Bonnie Culbertson
Bonnie Culbertson is an Ohio-based freelance writer and ethical travel consultant. Through her blog, Earth Regarded, Culbertson seeks to empower people to make more eco-friendly choices while traveling, and help them feel more hopeful about the state of our planet by connecting them to the people and places across the globe working to create positive change. She received her bachelor's in strategic communications from Miami University.