This Is How Couples Can Maintain A Strong Relationship After Baby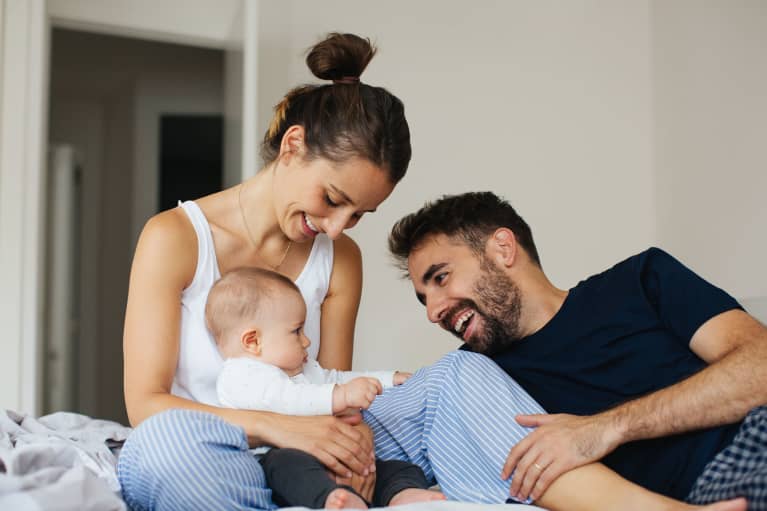 The first few months of taking care of a new baby can be tough on parents' relationships: Very little sleep, new responsibilities, and an ever-changing schedule can make it tough to find time to connect with your honey. One 2009 study found that parents typically experience a "sudden deterioration" in their relationship immediately following the birth of a new baby. I know, I know—that sounds less than ideal!
But there's hope: A new study published last month in Family Process looked at how parents might combat that sudden deterioration, and they found that maintaining a deep, loving relationship throughout new parenthood might be as simple—and as difficult—as trusting your partner to parent in their own way.
In this case, we're talking about the trust mothers place in their partners.
The problem with maternal gatekeeping.
The researchers used data from the New Parents Project, which looked at how successfully dual-earner couples adjusted to parenthood. This particular study drew data from 182 couples, most of whom were married, white, straight, and affluent. The researchers checked in with parents four times during their pregnancy and postpartum period: Once when the mother was in her third trimester, and then again at the baby's three-month, six-month, and nine-month milestones.
At three months, the researchers asked the dads questions about what the researchers called "maternal gatekeeping" behaviors, which occur when a mom either inhibits her partner's involvement in child care because she doesn't trust his skills, or allows him to help with explicit support. According to the study's authors, a "closed gate" looks like a woman taking over baby-related tasks because she thinks dad isn't doing them properly, or like a mom giving her partner explicit side-eye when he talks about his parenting theories. An "open gate" involves mom allowing dad to help with tasks like bathing the baby, or mom telling her partner that she appreciates his parenting skills.
At six months, the researchers asked the dads about "co-parenting closeness," or how bonded they felt to their partner as they became parents together. At nine months, the fathers rated their overall satisfaction with their romantic relationship.
After collecting all this data, researchers found that gatekeeping behaviors had a massive effect on relationship satisfaction. When moms "closed the gates," dads felt less satisfied with their relationship, which often led to an unequal distribution of parenting tasks and general unhappiness in the household.
"If mothers are critical and less supportive of their partners' parenting, it could have ramifications for the whole family dynamic," Sarah Schoppe-Sullivan, study co-author and professor of psychology at Ohio State, said in a news release. "Fathers may not only do less child care, but they may have more negative views on their relationship with their wife or partner."
Staying on the same team.
When moms "opened the gate," researchers found dads were much more satisfied with their relationships. The researchers note that this may help modern couples rethink the way they interact, especially because women may perceive asking for help as a behavior that annoys their partners. Instead, the opposite is true: "Gate opening was perceived positively by fathers. They felt it improved their relationship as a couple," said Anna Olsavsky, lead author of the study and a doctoral student in human sciences at the Ohio State University. In other words, dads want to help!
The researchers also noted that American fathers may require some extra support as social norms around parenting continue to change. In our society, moms are typically perceived as being automatic parenting experts. Because dads rarely receive societal support for their parenting participation, that extra support may need to come from their partners first and foremost.
Certified life coach and relationship expert Jillian Turecki tells mbg that tending to your emotional fitness is the most important job you have. If you're not satisfied in your relationship or you're mad at your partner, doing your own emotional work is a huge first step. Whether that means getting over your own inhibitions so that you can trust your partner to parent well or acknowledging deeply ingrained parenting habits you may have picked up from your own parents, all of the work starts with you.
She also reminds us that every relationship has seasons. Hard times (which are nearly inevitable in new parenthood) can still bring you together. "When you're in it for the long haul, it's normal to dislike your significant other from time to time," says Turecki. "It really is OK, I promise. Intimacy is not the absence of tension; it's what you do with that tension that matters."