Hilary Duff On The Eating Plan That's Helping Her Feel Happier & Healthier

mbg Sustainability + Health Director
By Emma Loewe
mbg Sustainability + Health Director
Emma Loewe is the Senior Sustainability Editor at mindbodygreen and the author of "Return to Nature: The New Science of How Natural Landscapes Restore Us."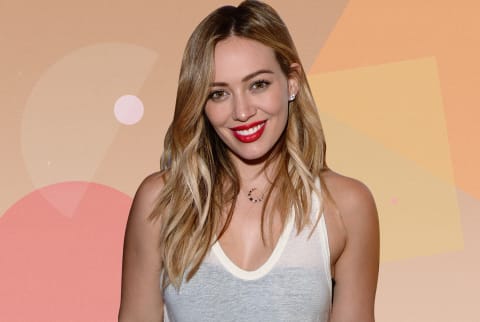 Image by mbg creative / Getty
October 9, 2019
Hilary Duff has escaped the curse of many childhood stars and grown into an adult life as a busy actress, singer, and entrepreneur (her vegan, cruelty-free makeup palette just dropped, and she also has an eyewear line). The 32-year-old Texas native now spends most of her time hopping between New York, where she shoots for the popular TV series Younger, and Los Angeles, where she hangs out with daughter Banks (11 months) and son Luca (7 years).
Needless to say, her days are back-to-back busy, but she's recently committed to making them more sustainable when she can. Climate change is a big topic on her whole family's mind, so Duff recently partnered with Unilever and Walmart on their Bring It to the Bin campaign that educates consumers on recycling best practices. "I care about the planet and the future of what it looks like for my kids...and generations to follow us. The time is now to be responsible and lower our carbon footprint," she says of the inspiration for the partnership.
Advertisement
This ad is displayed using third party content and we do not control its accessibility features.
We caught up with Duff to chat about the eco-friendly tweaks that make her home a little greener and the food philosophy that's keeping her energized these days. Of course, we also had to know what happened last week when she showed her kids the Lizzie McGuire movie for the first time.
On small, eco-friendly changes around the house that can add up.
"I try to do what I can, and we've made major changes in the house after learning some of the statistics. The fact that only 9% of plastic is recycled is quite shocking to me. We've pretty much transferred all of our zipper bags over to reusable ones, and we love it. I have reusable grocery bags in my car and reusable water bottles. The one thing we did recently that I honestly didn't even think about was recycling all over the house—not just in the kitchen. So when you run out of a hair product, all that stuff has to be recycled too. It's just taking the extra second to take it downstairs and put it in the right bin."
On getting her kids involved too.
"At home everything is bribery with kids: taking out the trash, making sure they're putting things in the right bin, switching over to reusable bags... All of that stuff, Luca knows why we're doing it. He's very touched and freaked out by the animals and thinking about trash going into our oceans—it really stresses him out. He's so funny. He loves New York but says that there's so much trash. He doesn't understand why people would just throw it on the ground. It breaks his heart—it's so sad but so sweet. To have him understand the severity of the problem is amazing."
Advertisement
This ad is displayed using third party content and we do not control its accessibility features.
On the food philosophy that she's loving right now.
"I am really being healthy right now, and for the first time in my life, I am actually really enjoying it. I had 10 pounds to lose after having Banks that were kind of hanging around, and I was about to start shooting again, so I started to count my macros. I'd never done that before, but I love it!
"Every time I've dieted before and cut carbs and sugar, there's been such a daunting feeling of 'I'm being deprived, I'm being deprived.' I'm a really balanced person, and I like to have freedom. With the macros it's cool because I haven't had to cut anything out that I love. It's just about making sure my body is getting the right amount of protein and fat and carbohydrates—and then I get to choose what those are. So if I'm feeling really hungry one day, I know that I need to eat a lot more of the healthy things to meet those numbers, but if the next day I'm not as hungry, I can have something I really enjoy... And I love to chew. Other diets have been like, oh have a soup, and I'm like no. I have to chew something.
"It's been awesome, and I've lost 10 or 11 pounds, and I feel really happy. I also feel really energized. I'm eating every three hours. I have to do that, just with kids and the pace I have to keep throughout the day."
On the snacks that keep her feeling full and energized.
"Today I'm going to have a big bowl of strawberries a few hours after breakfast. I'll have cottage cheese with dark-chocolate-covered almonds. Sometimes I'll put cinnamon and stevia in there to make the cottage cheese more exciting. Other days I'll have turkey and cheese roll-ups or a protein bar. And nuts—I love cashews. And Somersaults are the best crunchy snack: They're seed crackers made out of sunflower seeds and a couple of other seeds. They're so crunchy and delicious.
"[When I'm splurging,] I love pizza, breakfast sandwiches...and I love a burger. We just bought Beyond Burgers, and I think tomorrow is going to be our day to get dirty with a Beyond Burger, and we're so excited. And then drinking: I love wine. I love a margarita."
Advertisement
This ad is displayed using third party content and we do not control its accessibility features.
On showing her kids the timeless classic—The Lizzie McGuire Movie—for the first time.
"Luca was into it! He watched almost the whole thing and had a lot of questions. 'Why does she look so much like you?' and I'm like, 'She is me!' and he's like 'No, she's not'... It's weird because it's a part of my life and it seems all very normal to me, but then when I do something like show it to kids and they ask questions, I'm like, 'Oh yeah, I guess this is kind of not a normal thing.'"
Advertisement
This ad is displayed using third party content and we do not control its accessibility features.