An Interior Designer's Top Zero-Waste, Nontoxic Painting Tips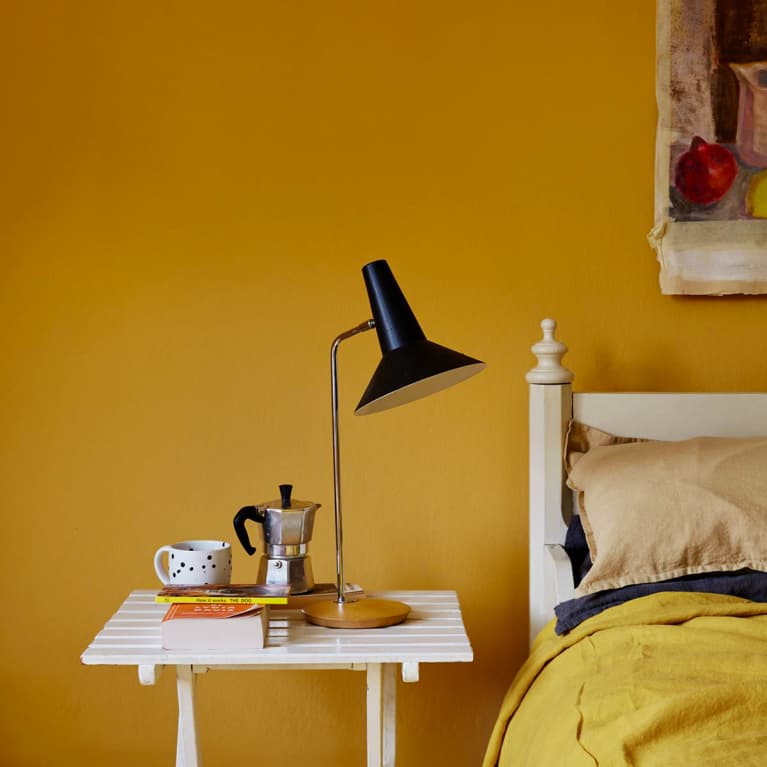 Since making an effort to become more environmentally conscious, I've realized the impact my work as an interior designer has on our planet and future generations.
Every interior is a little environment in itself, after all, uniting products, materials, finishes, and artwork into one overall entity. Starting my own eco-friendly design platform that prioritizes sustainably sourced materials and finishes, DESIGN \\' CARE, has shown me how rewarding it can be to create spaces that are respectful of our planet.
Along the way, I've noticed there's one thing that never fails to make a room feel more healthy and eco-friendly: a smart paint selection. Next time you're looking for a little revamp, here are a few tips for keeping your color choices as low-impact as possible:
First, look for low- and no-VOC paints.
According to the Environmental Protection Agency, VOCs, or volatile organic compounds, can slowly off-gas from traditional paint for years after initial application and may cause headaches, respiratory irritations, and other symptoms. The concentration of VOCs is often up to 10 times higher in indoor air than outdoor air, so you should try to avoid them whenever you can. Thankfully, low- and no-VOC paints are widely available on the market.
Nontoxic, organic formulas that use plant oil, milk casein, natural latex, and many other base materials are now replacing older models, and big-name brands like Benjamin Moore have released no-VOC lines to appease conscious consumers. Both lines are made with 100 percent acrylic paint that is easy to apply, covers well, and dries fast. Sherwin-Williams' EcoSelect Interior Latex Paint is another good option if you're on a tight budget. I'd also recommend Earthborn brand; it's a highly breathable water-based paint that doesn't use any oils or acrylics. When it comes to keeping it as low-waste as possible, though, my absolute favorite thing to use is powder paint. It's packaged in recyclable paper bags, and you just have to add water.
Then tackle your supplies.
After you select a proper wall paint, check out reusable paint storage options like these "kettles" and trays, made out of 100 percent recycled cardboard. When selecting brushes or rollers, look out for ones with handles made from biodegradable materials instead of plastic, like this one made of cornstarch. Once cleared of paint, these can return to the earth after about two years, versus the hundreds if not thousands of years it takes for various plastics to decompose. To protect floors and furniture, use an eco-friendly, 100 percent recycled paper fastened with painter's tape.
Consider getting a little creative.
If you're looking to get a little crafty, why not look to nature for inspiration? Turn fallen leaves from plants into stamps by dipping them in your choice of paint. Instant eco-friendly wallpaper! You can also upcycle pages of old books or newspapers and stick them on the wall and play around with reclaimed wood paneling and tiles made out of recycled materials. The sky's the limit, and there are so many ways to design a little greener.
Check out this starter kit that makes cutting down on waste super easy, and check out this store dedicated to zero-living if you're in NYC.