This Simple Tweak Can Make You Happier, Less Stressed & More Productive At Work

mbg Sustainability + Health Director
By Emma Loewe
mbg Sustainability + Health Director
Emma Loewe is the Senior Sustainability Editor at mindbodygreen and the author of "Return to Nature: The New Science of How Natural Landscapes Restore Us."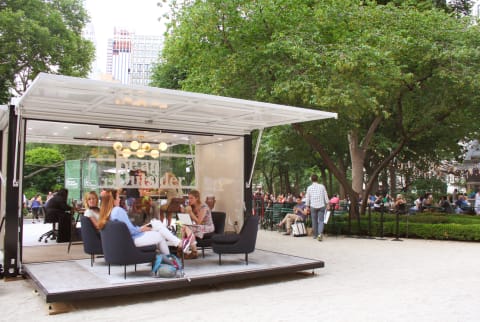 June 27, 2018
It's one of those perfectly breezy early summer evenings in New York, and it feels like the whole city is out celebrating. Well, the lucky ones who don't have to work, anyway. But weave through the crowds of Madison Square Park—past the fountain and around the Shake Shack—and you'll find a handful of people in business attire, holding meetings and brainstorms outside in the golden light.
A new pop-up co-working concept, Be an Outsider at Work encourages employees to ditch their indoor desks, reserve a spot outdoors, and reap the benefits of working al fresco.
The collaboration between L.L. Bean and co-working company Industrious filled a corner of the park with outlets, comfortable chairs, standing desks, cycling desks—all the appealing fixings of a modern office. Some desk clusters are encased in glass structures, others out in the open, but they are all filled with people looking to trade in their office views for something more dynamic.
"I've found that the crazy background noise kind of fades away. It's just like ambient noise," Leigh Stringer, architect, workplace strategy expert, and author of The Healthy Workplace, tells me from her makeshift desk. Stringer is well-versed in the benefits of taking your work outside, and she's on a mission to get more companies to do it. "Saving outdoor time for evenings and weekends is just not enough," she says, referencing the fact that the average American spends 90 percent of their time indoors these days.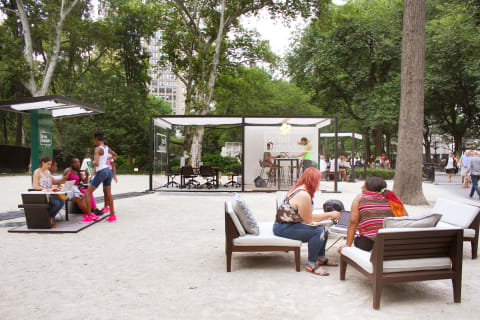 Why don't we work outside more?
Stringer worked with L.L. Bean and Industrious to bring the Madison Square Park space to life after some surprising survey findings. When she pooled employees around the country, 87 percent of them said they enjoyed the outdoors, but 75 percent of them rarely or never took their work outside. Their reasons varied—everything from inertia to bad weather to fear of what bosses and co-workers would think.
"There's a perception that if you go outside, you're not working, you're playing," explains Stringer. But in reality, research suggests that getting outdoors actually makes for a more productive employee. "The science is there: Being outdoors reduces your stress, your memory is better, you're happier. And happy, healthy, satisfied, creative people are really great at business."
The advantages of working outside with access to some sort of natural surfaces are far-reaching. Doing so has been shown to reduce stress1, especially if you live in an urban environment2, and lead to higher-quality, more creative ideas, especially when paired with walking. Employees who engage with the outdoors also tend to find it easier to concentrate and therefore are more productive. And they may even be better team players, with one study finding that the more people are exposed to beautiful nature scenes, the more they act in a trustworthy, generous manner.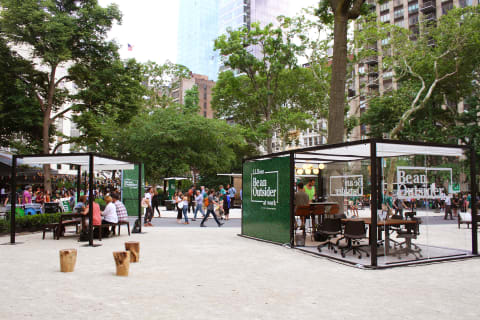 The health benefits of ditching your desk are equally pronounced. Employees who engage with the outdoors typically take roughly 15 percent less sick time off per year than those who don't. And working outside can help us maintain healthy circadian rhythms and avoid harsh indoor pollutants3. "Cleaning out an HVAC system is a lot of work. Walking outdoors is free."
While the outdoor co-working space was only set up in NYC for a few days (it will head to Boston, Philly, and Madison next), Stringer hopes that it showed employees and employers alike that adding outdoor time to the workday is simple and beneficial.
"I hope this becomes a movement—how could it not?" she asks, looking around and taking it all in. "It's so natural to us as people."
How to work outside more this summer—no matter your job.
Ready to give it a try this summer? If you work a desk job and an outdoor space is available to you, Stringer recommends creating a dedicated outdoor workspace—complete with Wi-Fi (or cell phone tethering), a portable charger, anti-glare screens, and some shade if possible. Or you can take your screenless meetings, calls, and brainstorms outside. If you're a manager, she says to make outdoor workspace at your company bookable so your employees know it's an option, or start holding check-ins and interviews outside to set a precedent. And while some professions don't lend themselves to outside work, everyone can prioritize getting outside more this summer, even just for lunch or a quick break.
One author spent years studying the restorative impact of nature. Check out her findings here.