Smart Ways To Go Zero-Waste (Without Buying Anything New)
Noticed a lot more Mason jars in your Instagram feed lately? That's because it's #PlasticFreeJuly—a monthlong challenge to cut down on plastic use. Join the movement with these tips on how to reduce your day-to-day waste, starting right now.
Certain household objects have become the face of zero-waste living. Think: Mason jars, stainless-steel straws, reusable coffee thermoses, menstrual cups. These are all well and good (and I'll cop to owning them all), but when we get caught up in the idea that going zero-waste has to look a certain way, we lose sight of the end goal: to get creative in our everyday lives and send fewer disposable objects to the landfill.
Zero-waste living isn't dictated by a set of objects you can buy in a store. It's a slow, sustainable shift toward simply consuming less. Full stop. Though you might find that later on down the road you'll want to purchase a few specific items, you certainly don't need to buy anything new at first. Here are some ideas for letting your ingenuity, not your wallet, rule this eco-friendly journey:
1. Repurpose what you already own.
Sometimes you don't need the perfect thing—you just need a thing. A metal fork pulled from your kitchen drawer and tucked into a cloth napkin is just as good as a special, brand-new kit of bamboo utensils. To bring leftovers home from a restaurant without relying on the Styrofoam clamshell they proffer, you don't need the prettiest stainless-steel container in the world: A piece of plastic Tupperware you've had for five years will work perfectly fine, as would a rinsed-and-reused cottage cheese container or a glass jar that pickles came in and you've scrubbed to get the smell out.
You get the picture: For so many scenarios, anything will pass. All you have to do is pull something from your cabinet and put it to a new use.
As you move away from single-use disposables, you'll find that you're recycling less, too. Buying food in bulk in your own containers means that you'll have fewer aluminum cans and cardboard boxes left at the end of each week.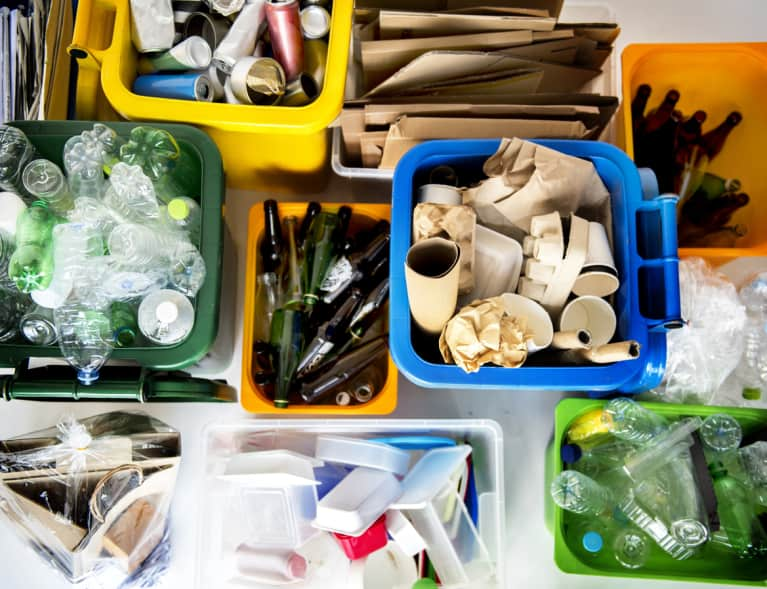 I'm guilty of tossing something into the recycling bin knowing it didn't contain that little number in a triangle, just because I didn't want to relegate it to the trash. But lately I've been making an effort to stop "wishcycling" items like this. In the end, it'll only jam recycling plants and end up in landfill anyway. An easy way to make sure items you recycle don't end up landfill-bound is to school yourself on the ins and outs of recycling in your area. It varies by city, so search for a local resource and print—or doodle—a small sign to keep above your bin to remind yourself what, exactly, belongs there. (I like Recycle by City, which offers city-by-city resources for some spots across the United States.)
3. Take advantage of community.
To get what you need to cut down on waste, consider tapping into the resources that already exist in your city. Maybe you can start a local "Buy Nothing" group on Facebook and offer up some of your old items and ask others about their extra reusable coffee thermoses. Or you can host a swap for a group of friends and walk away with a few new-to-you items you've been looking for. You could also search a hashtag on Instagram to find other zero-waste folks in your area. For example, in my city I've met folks through #zerowastechicago.
Sometimes speaking up about your environmental interests is enough to start building a little community. Once your friends know you're interested in fighting food waste, you might find yourself the recipient of their extra onions before they go on vacation. (I'd estimate about 80 percent of my friends have received an extra onion from me at some point. Hi, guys!) Or you might get asked if you can use the extra Mason jars your neighbors were planning to donate to the thrift store anyway.
4. Replace things as you use them up and not before.
But what do I do with my extra plastic forks, paper towels, and plastic toothbrushes, you might wonder? It's a personal choice, but while throwing them out wholesale and starting afresh might be tempting, I'd advocate using them up first—and then improvising a zero-waste alternative.
Sure, if you know your kid's school would take your open pack of paper napkins or that you could pass on your plastic plates to a friend who would use them, by all means clear them out of your life then and there and move on. I like the idea of going more slowly, however.
How to recognize when you do need to buy something new.
One way to make sure you're considering purchases more thoughtfully and buying only what you really need is to let yourself run out of the item in need of replacing first. So instead of filling your cart with what you imagine you'll need, you can find out what you actually do need over time. And then you can stock up on a few bamboo toothbrushes to replace plastic ones, a menstrual cup to replace the pads and tampons you used to use, or a compostable dish brush to take the place of a kitchen sponge. Slow and steady wins the race!
Ready to get started? Check out some beginner tips from people who have totally nailed zero-waste living.