Eco-Minded Engineers Want To Build Roads Out Of Used Face Masks

mbg Sustainability + Health Director
By Emma Loewe
mbg Sustainability + Health Director
Emma Loewe is the Senior Sustainability Editor at mindbodygreen and the author of "Return to Nature: The New Science of How Natural Landscapes Restore Us."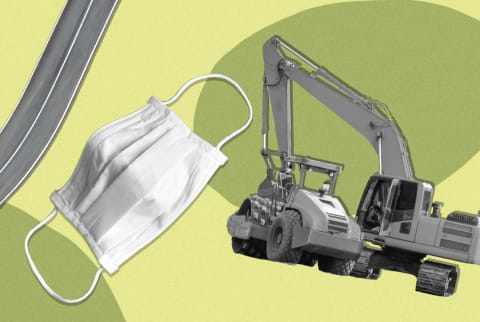 February 8, 2021
Over a year into the pandemic and used face masks still litter the world's streets, which made a group of researchers at RMIT University in Melbourne, Australia, wonder: What if we could work PPE into our streets instead?
Advertisement
This ad is displayed using third party content and we do not control its accessibility features.
Engineering a second life for PPE.
Jie Li, Ph.D., an engineering professor at RMIT and leader of the study, estimates that around 6.88 billion disposable face masks are being produced daily around the world. These single-use masks are not recyclable (they can clog recycling machines and pose a health risk to the people who run them), meaning billions of masks are destined for the trash.
"Since they are mainly made of nonbiodegradable plastics, these single-use masks will take as long as 450 years to break down in the environment," Li tells mbg via email. "Therefore urgent action at every possible level is needed to address this serious environmental threat."
His team, which specializes in recycling and reusing waste materials for civil construction, set out to find a second-life application for PPE. They had a hunch that surgical masks could be repurposed into a sturdy but pliable road material. To form the base of a stretch of road, they combined masks with processed rubble from construction—another abundant waste product.
They found that a mix of 1% shredded face masks to 99% recycled building material would be strong enough to do the job. Even at this relatively low percentage, the material would use 3 million masks per kilometer (0.62 miles) of two-lane road. So if it was used to build all of, say, Highway 1—Australia's longest highway at 9,010 miles—it would spare at least 43 billion masks.
The road ahead for face masks.
While the Highway 1 PPE renovation is probably out of the picture, Li's team does think this lab-born material could have real-world applications. And since the masks are encased below a layer of asphalt pavement, they shouldn't pose a threat to local wildlife and ecosystems, though Li adds that they would still need to be thoroughly disinfected before use.
"Our team is now looking to partner with local governments or industry who are interested in collecting masks and building a road prototype," he says. In other parts of the world, artists and designers are upcycling PPE into plastic furniture and hospital mattresses, but this would be the material's first civil construction application.
PPE-clad roads would help keep some of this massive new waste stream out of the landfill for now, as well as reimagine COVID-19's legacy. In the future, this one relic of the virus could serve as solid ground.
Advertisement
This ad is displayed using third party content and we do not control its accessibility features.