Gyms Across The Country Are Getting An Eco-Friendly Makeover

mbg Sustainability + Health Director
By Emma Loewe
mbg Sustainability + Health Director
Emma Loewe is the Senior Sustainability Editor at mindbodygreen and the author of "Return to Nature: The New Science of How Natural Landscapes Restore Us."
Traditional gyms are an energy bill's worst nightmare: always aglow with fluorescent lights, heat and air conditioning constantly whirring in the background, rows and rows of televisions, pop music blaring from colossal speakers. As our homes and office buildings become more eco-friendly and inspired by nature, the places we sweat feel stuck in a carbon-intensive past.
"With the dramatic rise in boutique fitness studios over the past few years, gyms are beginning to offer longer hours and more luxury amenities, like spa-enhanced locker rooms, to compete," Susana Cagle, senior manager, sustainability product management, of eco-consulting firm ENGIE Impact, tells mbg. "These extended hours and unique amenities result in higher energy bills and utility costs."
However, new innovations in equipment and design could mean the gyms of the future won't give the planet as much of a workout.
A new kind of sweat equity.
For the past decade, smaller gyms have opened around the United States touting specific eco-accolades. The Green Fitness Studio in Brooklyn has floors made of recycled rubber and living roofs that conserve rainwater and storm runoff, while across the country the Green Microgym in Portland boasts LED lighting throughout, solar panels, and an outright ban on selling plastic water bottles on the premises.
Lately, though, workout spaces that aren't explicitly branded as eco-friendly have started cleaning up their act with equipment that allows gym-goers to help power the building as they burn calories.
SportsArt, a popular player in the space that offers treadmills, bikes, and strength-training equipment that send electricity back to the grid, caters to international clients like Beach Fit in the United Kingdom and just started selling to hotel chains across the country like Marriott and Holiday Inn. According to one of their surveys, 63 percent of exercisers prefer to work out in gyms that offer eco-friendly equipment.
Eco Gym, a new build in Rochester, New York, that stocks 21 pieces of eco-friendly cardio equipment, most of them spin bikes, has seen this consumer appeal firsthand.
"The reaction of gym-goers has been very positive; they enjoy the immediate feedback of the user interface. Being able to see how many watts their workout generated is an added bonus," the gym's owner Mike Nolan tells mbg over email. "It offers visitors a highly visible and straightforward demonstration of renewable energy, and lets them participate in our sustainability goals." At full capacity, Eco Gym estimates that these bikes can cover about 5 percent of the 9,000-square-foot building's energy needs (another large portion of which comes from on-site wind turbines and solar panels).
Bringing the outside in.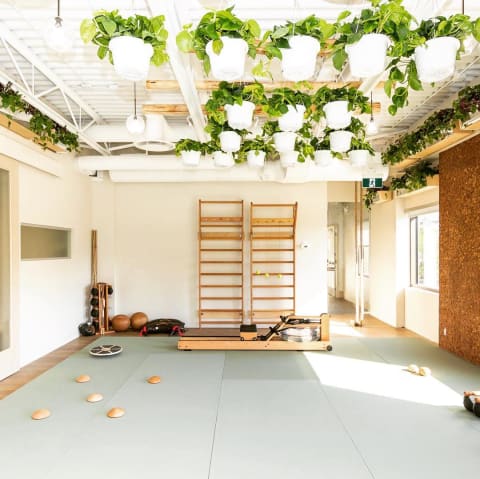 Energy-efficient equipment is just one option for gyms looking to go a little greener. Now, more fitness centers are also striving to help users feel like they're working out in the great outdoors, not a sweaty fluorescent room, using touches like plants, natural woods, and plenty of light. One company leading the charge is Biofit, a United Kingdom–based interior design startup that uses biophilic design principles to make gyms around Europe look more like jungles—complete with floor-to-ceiling photos of forests and faux moss draped over floors and walls.
And as sustainability continues to become more important to the everyday consumer (85 percent of mbg readers are worried about the future of the planet, according to a poll conducted earlier this year), larger fitness chains are also beginning to dip their toes in greener waters. Both Planet Fitness, with 1,400 locations in the United States, and 24 Hour Fitness, a health club serving nearly 4 million members, have recently teamed up with ENGIE Impact to cut down on their footprints.
"If a recycling bin or Dumpster is overflowing—or alternately, if haulers are picking up half-empty containers—the site manager calls our team to take action. The data we gather on-site about trash and recycling needs and container sizes allows us to establish the right sizing of pickup schedules, driving increased diversion from the landfill and ultimately more savings for the company," Cagle explains of their program at 24 Hour Fitness. ENGIE also collects data to help gyms lower their electric burden by adjusting for cooler temps during peak hours and warmer ones during off times.
"Gyms are more interested in sustainability today, both from a cost standpoint and from an emerging consumer demand," Cagle says. "Millennial customers are even willing to pay a little more to join a gym that limits its carbon footprint. Gyms now have an opportunity to meet this demand, attract more consumers, and effectively manage energy usage."
Here's hoping small boutique gyms, name-brand chains, and everyone in between continues to experiment with such eco-offerings, and a new, more mindful era of fitness is on the horizon.
Stuck in a fitness rut? These 10 hacks will breathe new life into your routine.